Posts tagged 'Joy of Tech'
---
The lowdown on Steve Jobs' future Woodside home
OK, so for about two whole weeks, the WWWW (Whole World Wide Web) has been a-buzzing about the supposedly exclusive plans that Gizmodo unveiled of Steve's future home in Woodside. Now that the story is a little more behind us, I thought I'd recap and use the occasion to come back on the whole Woodside affair, that's been going on for years.
1. Context
As most of you know, Steve has owned a mansion in Woodside since 1984. He bought it with the money he made at Apple after the company's IPO in 1980. The mansion — 14,540 sq.— was built in the 1920s by a copper magnate, Daniel Jackling, hence its nickname "the Jackling house". It is located in the exclusive neighborhood of Woodside, not too far from Larry Ellison's Japanese estate. Steve lived in it when he was a bachelor, roughly from 1984 to the early or mid-1990s (shortly after his marriage with Laurene). You can see pictures of Steve inside his mansion on all about Steve Jobs (I chose one of my favorites here).
One thing you will note is that most of the rooms are devoid of furniture. As a matter of fact, the only room that was fully furbished inside the mansion was the kitchen — not that Steve was a great cook, he hired a couple who cooked for him.
Understandably, Laurene refused to live in this empty mansion, and had Steve and their new family move to a less reclusive — and slightly more furnished — house in Palo Alto. The Woodside mansion has been abandoned since then. (more…)
---
Evil Steve Jobs on Joy of Tech
OK, the comic is from a couple days ago, but still a worth a look. It's making fun of Steve's paranoia regarding the secrecy around unannounced products: check it out.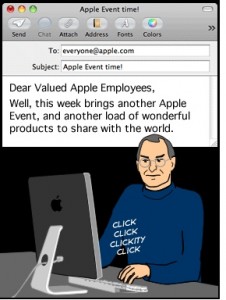 ---