Posts tagged 'Mark Zuckerberg'
---
Steve, a star for today's teenagers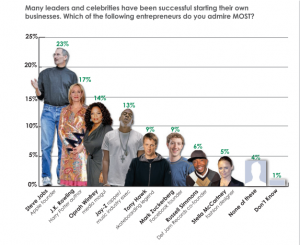 TechCrunch reports the results of a survey by Junior Achievement about entrepreneurs.
Junior Achievement surveyed 1,000 teens in the United States by telephone to get an idea of which entrepreneurs they admire most. Nearly a quarter of respondents named Jobs as the most admired entrepreneur, albeit down from 35% in the 2009 survey.

Even with Facebook at more than half a billion users, and the movie The Social Network taking the world by storm, Mark Zuckerberg only received 9% of votes for most admired entrepreneur, tying with skateboarding legend Tony Hawk.
Although it's obvious to almost everybody, I'm still stunned by how mainstream Apple and Steve have become. The same thought came to my mind a couple of days ago. I was sitting at Starbucks in Paris, enjoying my morning latte. Next to me was a group of 5 teenage boys (probably in high school) They were talking about a parody of Steve Jobs that was broadcast on the most famous French satirical TV show (it's a puppet show) last week. The piece showed Steve selling common objects by just putting an i in front of their name.
One of the boys said: "They'r exaggerating. We don't buy anything Apple makes. It's just that they make great stuff…". He was identifying himself as part of that crowd ready to buy anything Apple. When I was their age, I was the only one in junior high who even knew the name of more than one Apple product. The PC was the norm and Macs were seen as expensive, weird-looking computers that were too slow and had no software. As for Steve Jobs, no one knew who he was – they only knew Bill Gates. I'm talking about 2000-2002 here.
Wow. Things really change fast in this world. I wonder what people will say of Apple and Steve ten years from today.
---
Steve Jobs worth $6.1 billion, ranked 42nd richest American by Forbes
Forbes released yesterday their 2010 ranking of the 400 richest Americans. This year Steve Jobs is ranked the 42nd richest American (136th worldwide) with a net worth of $6.1 billion.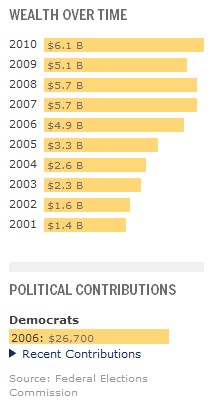 The graph on the right shows that despite the worldwide crisis, Steve's worth has kept growing over the recent years. Ironically, most of that wealth comes from Steve's involvement with Pixar (now $4.4 billion in Disney stock). As far as political donations are concerned, do not trust the  $26,700 figure given here. For years, Steve has given to the Democratic party using his wife's name, as can be seen here.
In the tech world, nothing is really new under the sun. Steve's good friend and future neighbor (in Woodside) Larry Ellison is now worth $27 billion, the 3rd richest American behind Warren Buffet and of course Uncle Bill (worth $54 billion). The Google guys Larry Page and Sergey Brin are each worth $15 billion, while Eric Schmidt is down to $5.5 billion. The talk of the town is more about Mark Zuckergerg, whose net worth is valued at $6.9 billion — hence more than Steve's.
Venture Beat interestingly comments by saying:
The dichotomy between the two CEOs points to an interesting fact: where as Jobs was fired from his company back in 1985, Zuckerberg has done a commendable job of keeping in power, still controlling an unprecedented 25 percent of the company and the majority of board seats. The young CEO probably learned a thing or two from Jobs' mishap, and it seems to have paid off. He also had good counsel from Sean Parker, the founder of Napster and Plaxo, who had been booted out of his companies. Parker, who was Facebook's first president until he was ousted, was determined to raise funding in a way that would preserve Zuckerberg's control of Facebook, and that strategy has by and large panned out.
My comments: (more…)
---