all about Steve Jobs.com news
As promised one post ago, here is a more detailed account of the changes that all about Steve Jobs.com has undergone with the latest update:
1. The biggest and most visible change is that of the website design and graphical identity — mostly inspired, as always, by apple.com. Not only does the website look much better, but, thanks to my improved knowledge of Web technologies, it also sports fancy things such as animation and fadings on several pages. My favorite one is probably the iOS-style folder on the Key moments movie gallery (More on the Web button 🙂 )…. Finally, I have redesigned all the PDFs on the website (the Bio and the Interviews) with a nicer, and more consistent, look.
2. I have also worked a lot on improving the "User experience", so to speak, in particular navigation-wise.
In general, pages are fewer clicks away from wherever you are. This is especially true of the picture galleries, as I have removed as many intermediate pages as I could.
With this same goal in mind, I have made the breadcrumbs highly visible, high up in the top navigation bar. This makes navigating back and forth within sections much easier.
I added a comprehensive sitemap to the footer, so you (and Google) can access any sub-section from any page.
There are no more pop-ups (except for "about the website" page). I have switched to overlays for all the picture galleries.
3. Of course, form matters, but substance too! The new version of the website came with lots of new exciting content:
new pictures of Steve aplenty, especially from the 1980s, both at Apple and NeXT. In addition to the latest events, of course. There are around 200 new pictures of the iLeader on the website.
exciting new caricatures, including those sent to me by fellow readers. My favorite one is that one the right (thanks Applerama!)
pictures of the new MacBook Air
updated texts in Being Steve and in the Biography section. I have made it clear that I will not update the bio anymore, this blog will substitute itself to it.
speaking of the blog… it's obviously the biggest new feature of the update. I hope you guys like it!
As I hope you can tell, I have worked very hard on this new version. I was thinking of some way to "tell the world" about it… but even before I was done, "the world" took care of it by itself! On November 15, I started seeing a very unusual increase in my traffic, 5x the usual. But traffic really exploded the following day, Nov 16, when over 70,000 unique visitors visited the site. Below is a chart of the traffic to all about Steve Jobs.com on that crazy week: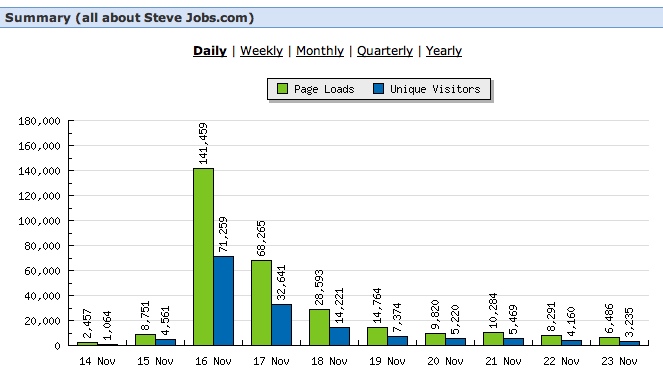 It was all due to the supposed "discovery" of pictures of Steve Jobs in his home office in Palo Alto, a photo shoot by Diana Walker from 2004. Here are traces of the buzz:
These pictures have been featured on all about Steve Jobs.com for over 6 months, so it wasn't really news to me and probably most of you! Anyway, I can't complain, it's quite gratifying to have over 150,000 unique visitors see your latest work in less than 10 days.
What about you? Have you been frequent visitors of the website for some time or did you discover it last week? And how did you find it? I'd love to know more about my fellow Steve Jobs fans! 🙂