News Feed
Welcome to the News Feed! Here I regularly post news about Steve Jobs, which are automatically cross-posted on the Facebook page and Twitter account. Follow us on your favorite platform!
RT @fromedome: The truth about how people use the iPad: http://read.bi/hpNufj (Prep work for my iPad panel at our conference tomorrow!)
---
Steve Jobs and Apple culture in paintings
Rather than starting the week by telling you about Steve's latest emails (folders in iBooks, AirPrint-compatible printers), and the rumors about the upcoming joint Steve Jobs/Rupert Murdoch keynote, I thought I'd start by showing you some artwork I stumbled upon a couple of days ago.
The artist is a 45-year old painter from Southern Cal, Alex Gross. His paintings are quite sinister… I just love them. 🙂 One of his dominant themes is today's consumer society, and it is frequently illustrated with references to Apple products and even the Apple culture. For example:
This one is particularly interesting:
As you know, ever since the 1980s, people who absorbed everything Steve Jobs/Apple said were famed as "drinkers of the (Steve Jobs/Apple/Mac/whatever…) Kool Aid".
Have you ever seen a painting with a Windows PC or an Android phone in it?
… me neither.
---
RT @Alltop: Who needs Santa when there's an Apple store? http://yfrog.com/0bxpb0j
---
Steve Jobs 1985 Playboy interview re-surfaces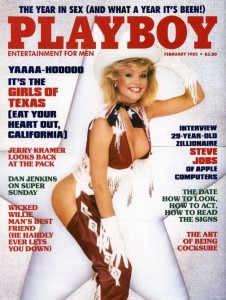 Most of you have already heard of it, but Playboy recently re-published their 1985 interview with Steve Jobs on their website. I had read lots of excerpts from the piece for some time, since it is abundantly quoted in Jeffrey S. Young's The Journey Is The Reward as well as Leander Kahney's Inside Steve's Brain… but I had yet to read it in its entirety.
It is a fascinating read to say the least. The conclusion is not a surprise for me, just a confirmation: despite popular belief, Steve Jobs hasn't changed much in all these years. I have gathered my favorite quotes from the interview to prove it:
In their foreword, Playboy makes a pretty accurate description of young Steve, which is just as true for old Steve (try replacing IBM by Google in the quote below):
But to hear Jobs tell it, the money isn't even half the story, especially since he does not spend it very lavishly—and, indeed, claims to have very little time for social life. He is on a mission, preaching the Gospel of salvation through the personal computer—preferably one manufactured by Apple. He is an engaging pitchman and never loses an opportunity to sell his products…
Unable to relent in his mission to spread the Apple word, he talked with solemn ferocity about the war with IBM—but then would punctuate his enthusiasm for an idea with 'Neat!' or 'Incredibly great!'
---
all about Steve Jobs.com news
As promised one post ago, here is a more detailed account of the changes that all about Steve Jobs.com has undergone with the latest update:
1. The biggest and most visible change is that of the website design and graphical identity — mostly inspired, as always, by apple.com. Not only does the website look much better, but, thanks to my improved knowledge of Web technologies, it also sports fancy things such as animation and fadings on several pages. My favorite one is probably the iOS-style folder on the Key moments movie gallery (More on the Web button 🙂 )…. Finally, I have redesigned all the PDFs on the website (the Bio and the Interviews) with a nicer, and more consistent, look.
---
all about Steve Jobs.com's new version now complete
Again, this past week has been very rich of  Steve Jobs news as well as for me on the website.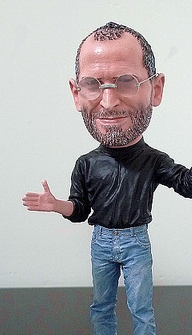 Several months of effort have culminated in today's latest upload on all about Steve Jobs.com. The new version of the website is now entirely complete, as I have finished the Timeline page, the new PDF bio and the Sources/Bibliography page.
I will come back tomorrow -and in the upcoming days- in great length about:
all of the new stuff on all about Steve Jobs.com
the buzz around the website generated last week by Diana Walker's 2004 photo shoot of Steve Jobs
all the exciting Steve Jobs news of the week, including the (now sold out) puppet pictured on the right, and that incredible article dug up from PlayBoy's archives, an interview with Steve Jobs a couple of weeks before he turned 30 in February 1985. Save yourself some time to delve into it, it's really worth it.
---
RT @philiped: Steve Jobs: The Playboy interview: The magazine has re-released the piece it published in early 1985, just… http://bit.l …
---
Handy Comic Guide to iPhone, Android, Blackberry Users via Cult of Mac http://bit.ly/cqXeSv
---
Whew! What an incredible week…
I have been very busy over the past week working on finishing the latest version of all about Steve Jobs.com. So much so that I've been unable to keep this blog up to date with Steve Jobs news, so I'm sorry about that. For the record, last week Steve Jobs picked up his phone and answered to three emails (one on Final Cut, one on AirPrint, and one on the demise of XServe)… ha, and there was that Beatles announcement today, too, I almost forgot 😉
While I intended to calmly release the remaining pages of the website over the course of this week, I was caught by surprise by an enormous increase in web traffic to all about Steve Jobs.com… I will give you the numbers with more details at the end of the week, but they are simply mind-blowing for a humble webmaster like me! 🙂 So what's the big deal? Several bloggers (I am trying to track down who was first right now, probably LifeHacker) "found" the Diana Walker photo shoot of Steve Jobs at his Palo Alto home in 2004. I am using quotation marks, because, as some of you know, those pics have been on the website for over 6 months… there's really nothing new about them! But I'd like to think the new package of the website has played its role in enticing them to explore all about Steve Jobs.com more deeply.
So let me go back to the point of this article: where do I stand on the latest update of the website?
the long bio is now finished and online. I've improved it and completed it with its last "Conclusion" page.
the short bio was uploaded yesterday
the PDF version of Steve Jobs' Bio is in the works and should be downloadable on Thursday
the Timeline (in the Bio section) should be up and running by tomorrow (Wed 17th Nov)
the Sources page too.
That's all for today folks!
---
iWear
This is fun: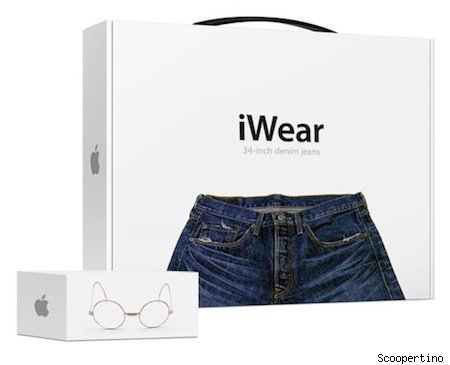 Reminds of me of a website (can't remember its URL) whose only page was a list of Steve Jobs' clothes. The guy who did it was interviewed by a major magazine (can't remember either, but I'll find it) as someone "influential in the Mac sphere". What a joke. Worst still, the list was almost all wrong. For example, it spread the error that Steve's turtlenecks are by St Croix. The truth: they're from Issey Miyake (John Lasseter in a FT article – warning: you have to subscribe for the whole story)
He found this one really great black turtleneck which he loved – I think it was Issey Miyaki [sic] – so tried to buy another one and they didn't have any more. He called the company and asked if they would make another one, and they refused. So he said: 'Fine, how many do you have to make before I can buy them?' So they made them – I think he has a closet full of them.
Source: TUAW (made by Scoopertino)
---