News Feed
Welcome to the News Feed! Here I regularly post news about Steve Jobs, which are automatically cross-posted on the Facebook page and Twitter account. Follow us on your favorite platform!
Fake report of Steve being upset at Kyoto airport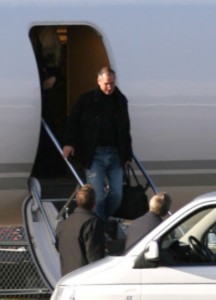 John Gruber at Daring Fireball is reporting a funny story involving Steve Jobs and the Kyoto airport staff :
Apple Inc. Chief Executive Officer Steve Jobs said he'll never come back to Japan after officials at an airport barred him from taking Ninja throwing stars aboard his private plane, SPA! magazine reported in its latest issue. […]

Jobs said it wouldn't make sense for a person to try to hijack his own plane, according to the report. He then told officials he would never visit Japan again, the magazine reported.
Unfortunately, the story is a fake, as reported by this "official" Apple report (probably a phone call to PR guru Katie Cotton):
Steve did visit Japan this summer for a vacation in Kyoto, but the incidents described at the airport are pure fiction. Steve had a great time and hopes to visit Japan again soon.
I'd find it hard to believe that Steve could have said anything close to "I will never visit Japan again". Remember he originally intended to spend his life a reclusive Japanese Zen monk.
UPDATE: some 3D agency made a short animation of what the fake encounter could have looked like… Enjoy.
---
What you will find on all things Steve Jobs
Hello again, World!
As promised, this second post blog ever on all things Steve Jobs will deal with the content of the blog. The list below is obviously subject to change; but again, I prefer to write down what my intentions are for this blog as it debutes, for the record:
Steve Jobs, Steve Jobs, Steve Jobs: as the name of the blog indicates, its main and perhaps only topic is Steve Jobs. That being said, I obviously keep the liberty to divert slightly from that topic from time to time, and I don't know how the blog's going to evolve, but for now this is what it's all about.
Steve Jobs news: I will do the job of aggregating and filering out information from various Mac, tech, entertainment (remember Pixar/Disney, folks), and business websites dealing with the iLeader and post them here.
Steve Jobs trivia: cryptic emails, one-to-one encounters and the likes fall into that category – less serious SJ news, so to speak. Parodies, jokes, vintage Fake Steve posts and other funny stuff will also be adressed.
Steve Jobs history: as mentioned earlier, I think the added value of this blog will mostly come from the historical perspective that I intend to give it. Having read pratically all Steve Jobs biographies that have been written – and countless articles too, Apple's CEO is now a familiar character to me. I will do my best to put all Steve Jobs news in perspective with his past carrer and to take out old stuff from the souvenir box from time to time.

(more…)
---
A new blog is born : all things Steve Jobs opens!
Hello World!
This is the very first post of all things Steve Jobs, a blog dedicated absolutely and entirely to our beloved hero Steve Jobs, and a nice addition to my "old" website all about Steve Jobs.com. I am starting the blog under the radar for a month or so, so nobody's probably ever going to read this, but for the record, here is a little manifesto I just made on why the blog exists  :
I was having a difficult time keeping the website up to date or, to be more precise, keeping the Biography up to date. As you all know, every 6 months or so, Steve takes the stage and announces a revolutionary or at least major product which has a lasting impact on one or more industries. All about Steve Jobs.com being a static website, the bio is pretty much like a book I have to rewrite after every such event. This tiresome process is now over: the bio will deal with pre-2010 events (stopping at the iPad intro), and this blog with the news.
there was no real reason for someone who had already visited all about Steve Jobs.com thoroughly to ever come back. Indeed, the website is pretty much complete as it is. The only parts that are updated are the pictures sections (after new Stevenotes and/or when new hardware comes out) and, once in a while, the bio. That's why I introduced the pic of the month in February – but obviously people don't go back to the website just to see this one picture. I hope this blog's content will be valuable enough to entice visitors to come back often.

(more…)
---
Steve Jobs was seen at Apple's Paris Opera Retail Store around 9pm #stevejobs
---
RT @Snaggy: Tip @Techmeme http://www.geekculture.com/joyoftech/joyarchives/1384.html Steve Jobs Email Reply Generator. (hey, a geek can dream, can't he?)
---
Interview with the creator of the Apple startup sound http://bit.ly/sosumi
---
allaboutstevejobs.com is open => go check it out!
---