Has NeXT changed Steve Jobs?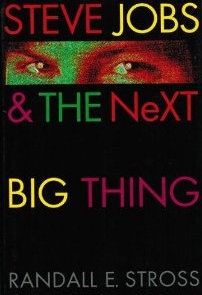 Randall E Stross wrote an article three days ago in the New York Times, that you hear a good deal about in most of the Apple blogosphere. Its title: "What Steve Jobs learned in the Wilderness". I'll add my two cents worth, as usual.
First, a word on Randall. The guy knows what he's talking about, since, as he points out in the article, he wrote Steve Jobs and the NeXT Big Thing over 15 years ago. I read the book some time ago and liked it a lot. It's a great resource on the obscure NeXT period (one I love, as you know or will soon know if you keep coming back to this blog). What Mr. Stross doesn't brag about, understandingly, is that his main point in the book was that Steve Jobs was basically a fluke with no management skills and vision on the industry whatsoever. He thought that not only NeXT but also Pixar, where his wife worked, both proved it. Hmm.
Now about the article itself. Quite frankly, I have mixed feelings about it. It's true that Steve was kind of humbled by his failure at NeXT. But, unlike what the article says, I don't believe that this newfound humbleness has remained with him all these years. I agree more with Alan Deutschman's theory in The Second Coming of Steve Jobs that once success came back, Steve Jobs' "mellowness" was quick to disappear. I especially disagree with Randall Stross' statement:
In this period, Mr. Jobs did not do much delegating. Almost every aspect of the machine — including the finish on interior screws — was his domain. (…) Mr. Jobs had learned from Next not to try to do everything himself.
This shows quite a lack of understanding of how Apple is run. Last time I checked, Steve delayed the launch of the iPad until he could find the appropriate word to describe it (namely, "magical"), chooses the music that's used in every Apple commercial — and, yes, still cares a great deal about screws. Just listen to the keynotes or promotional videos for the iPhone or the Macbook Pro, how they insist on the number of screws (or the lack thereof) in the machines, with the very same words that were used by Steve when he launched the NeXT Station… in 1991.
As I've pointed out before, the main difference between Steve's failures in the 1990s and his successes in the 2000s is not Steve himself. It's… LUCK. And a market finally ready for his vision.