---
I wonder how I should feel about this… Fortune comes out with a compilation of SJ interviews called: "All about Steve" tuaw.com/2011/09/27/for…
---
Newfound pictures of Steve from the NeXT era
I recently discovered this video straight from Stanford, which depicts the famed collection of Apple memorabilia that Steve Jobs donated to the university when he came back to Apple. This so-called 'Apple museum' includes exclusive documents and pictures from Apple's early days, namely its first twenty years (1976-1996). Steve Jobs himself mentioned it in the D5 interview with Bill Gates in 2007, saying it was important to focus on the future rather than the past. Still, I wonder if such a collection is being built for Apple 2.0, especially now that Steve is no longer CEO.
On that subject, I was blessed with two recent findings of great sets of photographs of Steve during his NeXT days (my favorite).
First, thanks to reader JB Durand who shared this with me back in July, you can find on Flickr a great set of pictures (by Esther Dyson) from the PC Forum shows of the late 1980s, including pictures of Steve for the 1984, 1985 and 1990 instances. One example below: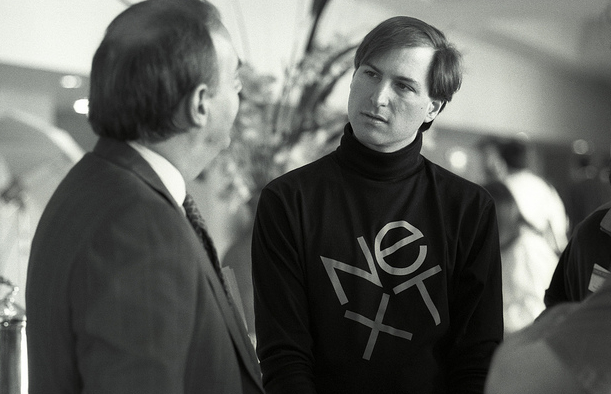 I was also fortunate to be contacted by photographer Robert Holmgren three weeks ago about portraits of Steve Jobs he made while Steve was still CEO of NeXT. Again, awesome pictures: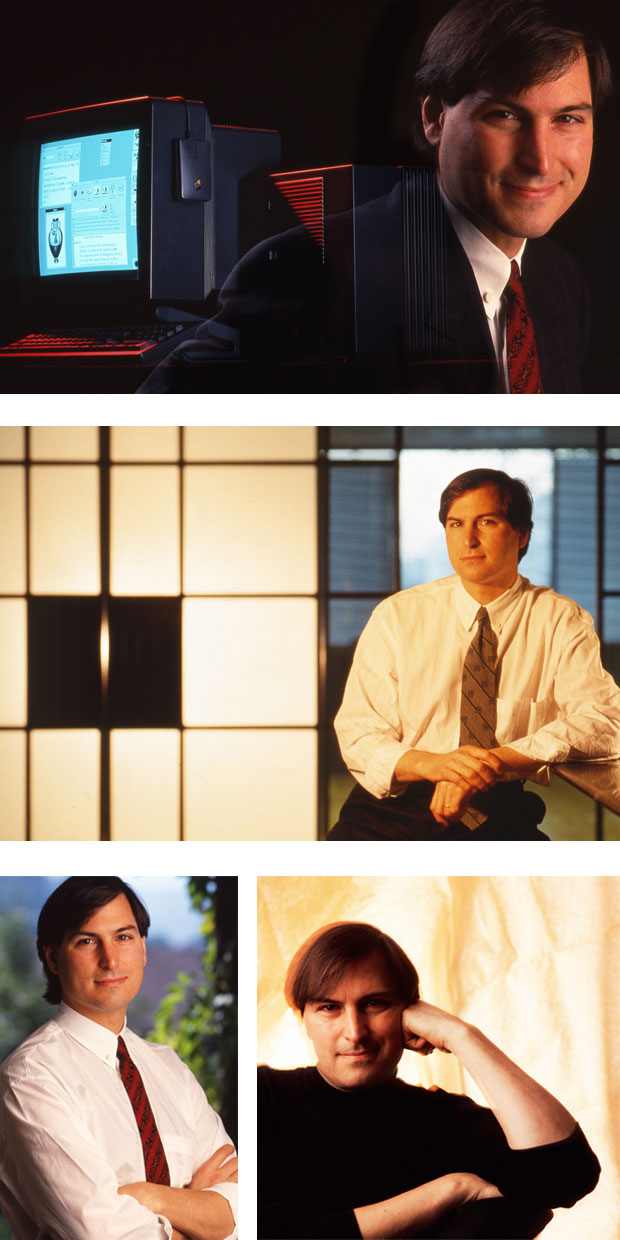 Robert has a couple of blog posts where he explain how he took those photographs and dealt with a difficult subject (complete with the hi-res versions of these pictures). He also has fun stories about his signed Macintosh and a trip to the Jobses' garage, including an encounter with Steve's father, Paul. Be sure to check it out.
I am not adding these pictures to the website just yet, because I am working hard on the next version of the website, which I hope to be able to release after the iPhone 5 introduction. They will be on that new version. Thanks Robert!
Lastly, compliment of a friend of mine, and still along the lines of a "Steve Jobs Museum", a great find on the original booklet made by Paul Rand to explain his work on the NeXT logo to Steve Jobs (scroll down to Identity Presentations). Steve loved it so much he hugged Paul as a sign of gratitude, as told by Randall E. Stross in Steve Jobs and the NeXT Big Thing. The booklet was actually the only piece of branded marketing made by NeXT in 1987, along with a Tshirt (before the NeXT Cube was introduced).
For more about Paul Rand, check out this YouTube video where Steve talks about their work relationship.
---
The original booklet Paul Rand handed to Steve Jobs in 1986 to explain his creation, the NeXT logo paul-rand.com/site/identity/ (scroll down)
---
nice montage by Fortune "Stevie Jobs, aka Stevie Wonder" tech.fortune.cnn.com/2011/09/09/ste…
---
Gems from the noise following Steve Jobs' resignation
I've been working on this post for a while but I have been overwhelmed by a number of things recently so sorry about the delay.
I've always thought that the only positive thing that would result from Steve Jobs' withdrawal from the public spotlight would be the flurry of stories to pour out from all corners of the Wold Wide Web. His recent resignation proved me right. To save you time and effort, here is my personal selection among the several dozens of articles and stories I have read in the past three weeks. If you think a worthy one is missing, do not hesitate to mention it in the comments.
The big news
Homages
Steve Jobs stories
Rediscovered treasures
On Steve's health
---