Posts filed under 'Steve Jobs personality'
---
Steve Jobs Stories on Clubhouse
Most of you have probably seen this by now, but for the record — journalist Steven Levy, investor Esther Dyson, and First Round partner Chris Fralic (a board member of the Computer History Museum) hosted a Clubhouse on February 23, the day before what would have been Steve Jobs' 66th birthday, inviting people to share stories about him.
People who follow this know I'm a sucker for Steve anecdotes — in fact, we have a whole section of the website filled with them. So this is perfect clickbait for me of course.
Fortunately, the session was recorded and shared on the Computer History Museum's YouTube page, you can watch it below. For those short on time, here is a brief walkthrough to help you navigate the video:
At 0:06:07, Esther Dyson recalls when she met Steve Jobs at an event hosted by Regis McKenna.
At 0:07:30, Regis McKenna talks about how he got to work with Steve Jobs as he was hired by him and Mike Markkula (who knew him from Intel) to handle Apple's marketing.
Former Apple CEO John Sculley jumped in at 16:00, and retold for the umpteenth time the story of how Steve Jobs seduced him to join Apple with the sugared water line. (I wish he had told a new one, considering how much time he spent with Steve in 1983-84).
At 0:24:00, Steven Levy recounted his first story on Steve Jobs and the Macintosh team.
At 0:27:40, Andy Cunningham, who used to run Apple marketing in the 80s, talked about how she had to play Billie Jean to get Steve Jobs to smile during a photoshoot. She compared Steve Jobs to "a big baby".
At 0:30:45, Andy Hertzfeld told the story of his first meal with Steve Jobs, where Steve said that after fasting, eating a pea could make your stomach explode, then refused to pay the bill despite having recently become a centimillionaire.
It was Bill Atkinson's turn at 0:33:00, explaining how Steve wooed him to join Apple in 1978.
At 0:36:35, Dan'l Lewin, who ran education sales for Macintosh, then became a founding member of NeXT (and is now president of the Computer History Museum), told the story of the lunch in London where NeXT and Canon celebrated their partnership, and the chair of Canon's chairman collapsed (there was nothing particularly about Steve Jobs in his story unfortunately).
At 0:41:40, photographer Doug Menuez, who documented the early days of NeXT, explained how one time he was challenged by Steve Jobs (and screamed at) on a photo shoot.
At 0:48:00, Mike Slade, who left Microsoft to join NeXT in the 90s, told the story of how Steve wooed him to move to the Bay Area to work at next with a line he stole from the Il Fornaio restaurant menu.
At 0:52:30, Steven Levy told another story about when he wanted to make a cover story about the iPod, and Steve berated him for having put a case on his iPod.
At 0:54:45, Mike Slade told a moving story of when Steve Jobs told him about his cancer.
At 0:59:07, Esther told the story when Steve Jobs told her he'd make up for a missed public appearance by speaking twice the next time.
At 1:01:20, analyst Tim Bajarin recalled when Steve Jobs told him he would save Apple with industrial design in early 1997.
At 1:05:15, Steven Rosenblatt, formerly of iAd, talked about his first meeting with Steve Jobs and how he later pushed him to sign ever-bigger ad deals in the early days of the product.
At 1:14:00, Chris Fralic told of the story when Steve Jobs refused to sign his Apple II (even though Woz had signed it already).
At 1:15:30, angel investor Bill Raduchel, formerly of Sun, told the story of when he met Steve Jobs at NeXT to negotiate a potential acquisition (probably in the 1994-96 timeframe).
At 1:20:00, Buzz Wood, who worked in Apple's education sales, told of when he attended a Steve Jobs Q&A in 2002, where Steve told one of the audience members who suggested to run an ad for education that Apple could do it with the money they'd save by firing him.
At 1:23:00, music industry mogul Ted Cohen told a story of a Steve Jobs meeting with a McKinsey consultant and the ensuing email followup.
At 1:25:30, Sonal Chokshi, formerly of Xerox PARC, told of an email she sent out of the blue to Steve Jobs and his brilliant response.
From 1:30:50, Steven Levy shared the last story, that of his last meeting with Steve.
It was overall quite an enjoyable discussion, and definitely worth your time.
---
Chris MacAskill shares memories from his NeXT days
Check out these great first-hand memories from Chris MacAskill, a former NeXT employee, who convinced Steve Jobs to speak at the 1991 Unix Expo.
Loved this bit in particular:
It seemed like a dream when, two years later, I walked into Steve's office to ask him to give the keynote at Unix Expo in New York. It didn't go well at first. I was nervous because I was new to the computer industry. Steve had a larger-than-life reputation.  His rapid-fire answer went something like this: "That's INSANE! That's a show for Unix weenies. They don't get it. It would cost $25,000 to get me with desk and computer there. No!" And with that he pointed me to the door.
And of course these two, which ring particularly Jobsian:
My coworkers explained that Steve had to have a certain desk for his presentations because it was NeXT black. Steve was incredibly fussy about colors so NeXT machines and peripherals had to be that exact black.

One Saturday I was at work when we got a delivery at the front door. I went down to sign for it and it was case after case of white shirts that Steve had ordered from his favorite tailor in Florence, Italy, where he had spent the week. He loved hanging out in art museums. My memory could well be off, but I remembered it as 300 new white shirts. He wanted a new one each time he dressed up.
That last anecdote about the shirt echoes the one from John Lasseter about Steve's collection of hundreds of black turtlenecks from Issey Miyake.
"He found this one really great black turtleneck which he loved – I think it was Issey Miyaki – so tried to buy another one and they didn't have any more," Mr Lasseter confided to the FT recently. "He called the company and asked if they would make another one, and they refused. So he said: 'Fine, how many do you have to make before I can buy them?' So they made them – I think he has a closet full of them."
---
John Carmack opens up about his ambivalent relationship with Steve Jobs
John Carmack remembers his work relationship with Steve Jobs. His last sentence sums it up:
"I corroborate many of the negative character traits that he was infamous for, but elements of the path that led to where I am today were contingent on the dents he left in the universe. I showed up for him."
One particular anecdote stood out to me:
"One time, my wife, then fiancée, and I were meeting with Steve at Apple, and he wanted me to do a keynote that happened to be scheduled on the same day as our wedding. With a big smile and full of charm, he suggested that we postpone it. We declined, but he kept pressing. Eventually my wife countered with a suggestion that if he really wanted "her" John so much, he should loan John Lasseter to her media company for a day of consulting. Steve went from full charm to ice cold really damn quick. I didn't do that keynote."
Here is his mention in the keynote on his wedding day that he is referring to. It's from Macworld 2000:
Notice that Steve is saying:
"John got married today. And this guy is so great, he offered to postpone his wedding to be here. And we said: no way. We'll make a video. And he said, I hadn't thought of that".
Let's say Steve's version of the argument is … interesting. I would probably trust Carmack's version on this one.
In general, it's nice to see people open up on their ambivalent relationships with Steve Jobs. John Carmack's story rings true to me. Steve's single-mindedness on getting things his way – here to get speakers at his keynotes – or his way to get people to argue with him and defend their point of view by arguing the opposite and see how prepared they are; these are all things we've heard over and over about him.
Steve Jobs My wife once asked me "Why do you drop what you are doing when Steve Jobs asks you to do something? You…

Posted by John Carmack on Monday, May 14, 2018
---
Gems from the noise following Steve Jobs' resignation
I've been working on this post for a while but I have been overwhelmed by a number of things recently so sorry about the delay.
I've always thought that the only positive thing that would result from Steve Jobs' withdrawal from the public spotlight would be the flurry of stories to pour out from all corners of the Wold Wide Web. His recent resignation proved me right. To save you time and effort, here is my personal selection among the several dozens of articles and stories I have read in the past three weeks. If you think a worthy one is missing, do not hesitate to mention it in the comments.
The big news
Homages
Steve Jobs stories
Rediscovered treasures
On Steve's health
---
July 2011 Steve Jobs news roundup
Busy month for me, hopefully Steve Jobs news have been somewhat slow too (apart from last week's).
Here's what I put aside for you:
July 9: A weird video surfaces from Taiwan. A tea brand shamelessly used an actor to play Steve Jobs and sell bottled tea in a TV commercial. See for yourself:


(via Cult of Mac)
July 8: French magazine Le Point reveals that Steve almost purchased a castle in the South-East of France. Pictured below, the property is valued at around €25m ($36m). Apparently Steve's wife, Laurene, toured the property herself.
The article also relates that back in 1985, Jean-Jacques Servan-Schreiber, a French journalist close to President Francois Mitterrand, apparently asked of the head of state a special present to Steve Jobs for his 30th birthday. I've read many stories about that famed birthday, where tons of celebrities attended, including Ella Fitzgerald who was the party singer. Anyway, JJSS (as he is often called) reportedly suggested that the French nationality was offered to the Apple co-founder as a special gift. The French President nonchalantly refused. I think Steve would have appreciated the gift, as he has often testified of his love of France (I have made a compilation of the many times he uses France in Apple demos).
July 11: a new Tshirt made it to the Apple Gift shop in Cupertino… making fun of the company's cult of secrecy. I'm buying it next time I go there! (via Macrumors).

July 21: John Gruber of Daring Fireball spotted a nice anecdote about Steve and his legendary curtesy. I am quoting the same thing he did:


The story goes that ESPN president George Bodenheimer attended the first Disney board meeting in Orlando, Florida, just after the company had bought Pixar, the innovative animation factory, and spotted Apple CEO Steve Jobs in a hallway. It seemed like a good time to introduce himself. "I am George Bodenheimer," he said to Jobs. "I run ESPN." Jobs just looked at him and said nothing other than "Your phone is the dumbest fucking idea I have ever heard," then turned and walked away.

July 21: Philip Elmer-Dewitt dug out a nice chart that compiles all the public data about Apple's reiumbursements of the expenses of Steve's famed private jet airplane. I think it is worth mentioning that Steve can use the jet for his personal use, but then of course the company doesn't reiumburse him of the cost of operating it. The chart is below:
July 23: after all the nonsense we've come to read about Steve's succession lately (which did grant us a new Steve Jobs quote: "it's hogwash", courtesy of the Wall Street Journal) — John Gruber wrote a very good article, the kind that only he knows how to write, on the topic: On Succeeding Steve Jobs. His conclusion: "the obvious structure for a post-Jobs Apple is simply Apple as we know it, without Steve Jobs." I believe he is 100% right and that's what we will see, perhaps as early as next year. BUT, and it's a big BUT, I am not sure Tim Cook can keep the fire alive as Steve did for the next decade. And as I've stated before, I think he will have trouble running the company unchallenged the way only the genius-founder Steve Jobs can. His authority to run the super-disciplined fruit company will probably be challenged a couple of years after Steve is gone… Time will tell.
---
Steve Jobs' new official profile page updated
As Apple is slowly updating all parts of its website to complete its late 2010 design refresh, the turn of the Executive Profiles finally came. Including Steve Jobs' page.
And it's cool. See for yourself:
Old design

New design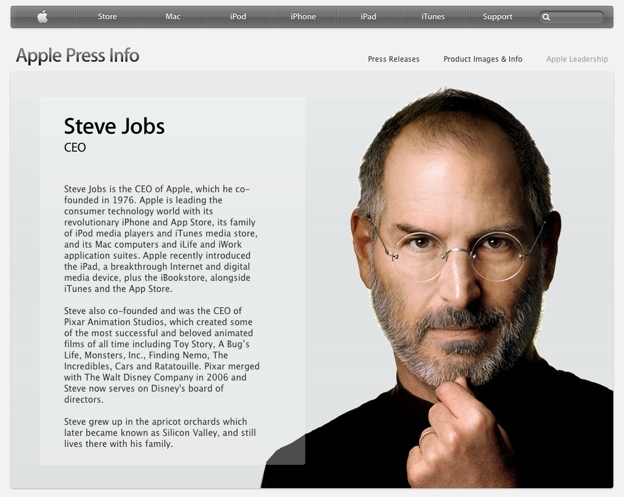 (expert eyes will recognize Albert Watson's portrait of Steve from 2006).
This is the kind of decision in which, although it has zero importance in the grander scheme of things, I'm 100% confident Steve Jobs has a say. It explains why it's the first time we're seeing this picture in color… And why, just like last time, Steve's portrait is quite dated (the one before was a picture from 1998 on which Steve posed with a 1st-generation iMac).
One thing that hasn't changed though is the mention of one Steve's pet peeves, the "apricot orchards" of Silicon Valley that he misses so much:
Steve grew up in the apricot orchards which later became known as Silicon Valley, and still lives there with his family.
There are countless examples of his using these exact words, e.g. this 1995 interview where he said:
My parents moved from San Francisco to Mountain View when I was five. My dad got transferred and that was right in the heart of Silicon Valley so there were engineers all around. Silicon Valley for the most part at that time was still orchards —apricot orchards and prune orchards— and it was really paradise. I remember the air being crystal clear, where you could see from one end of the valley to the other.
or even the recent presentation he gave to the Cupertino city council when he announced Apple's plans for its next campus — during which he actually insisted that the campus would host actual apricot orchards in its park!
As a side note, it's also actually quite telling that the bio is much shorter than some of the other executives' ones, although of course they have achieved much less than their boss….
---
The Book of Jobs, version 3.0
Most of you have probably heard the news already, but it's too important for me not to leave any trace of it on the blog.
The rumors surrounding Steve Jobs' authorized biography have been confirmed. The book exists indeed, written by Walter Isaacson, and will be published by Simon & Schuster early next year. I will be called (hold your breath): iSteve: The Book of Jobs. The news broke out thanks to Philip Elmer-DeWitt, who writes the Apple column of Fortune.com. PED makes an interesting portrait of the writer in his column. Apparently the idea was his, and he had enough nerve and talent to seduce Steve into writing his biography.
I am, as I imagine you are, incredibly excited by the coming of this book.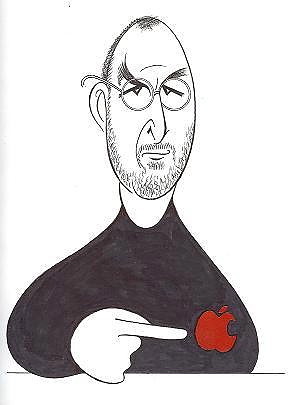 The biggest news is of course that the book is 'authorized', meaning Steve, as opposed to previous biographies, helped its making instead of blocking it. What usually happens is that whenever a journalist or writer tries to interview someone from Steve's entourage, he faces a wall of silence, akin to an omerta. Indeed, they should be wary of what they say, because historically Steve has shown some pretty harsh un-forgiveness with indiscreet friends and relatives.
The most famous example of this trait is Michael Moritz's 1982 piece, The Updated Book Of Jobs, which he wrote as Time Magazine's Silicon Valley correspondent (Moritz later wrote the first good book on Apple, and arguably the first Steve Jobs biography, The Little Kingdom). Moritz had been given carte blanche at Apple to write the portrait of Steve Jobs who was a serious candidate to become Man of the Year 1983. Instead, he turned out this much more critical piece, including a testimonial from Steve's college friend Dan Kottke: "something is happening to Steve that's sad and not pretty, something related to money and power and loneliness. He's less sensitive to people's feelings. He runs over them, snowballs them". Steve apparently broke all ties with Dan after that article was published.
But this time, Steve is said to give biographist Isaacson acces to his closest friends and relatives. I imagine among the friends there will be Larry Ellison, Bill Campbell, Bob Metcalfe, perhaps Al Gore. I am curious about Steve's relatives. Will Laurene speak up on her husband? I've never found any trace of her speaking of Steve in public. Or perhaps his biological sister Mona? That's more likely.
The active collaboration of Steve will have of course positive as well as negative effects. So far, previous biographies (such as my personal favorite, Alan Deutschman's The Second Coming of Steve Jobs) only could be based on interviews of ghosts from Steve's past life (I'm referring to you, Dan Kottke and Andy Hertzfeld), or of pissed off former employees who had regained their 'freedom of speech'. This is nicely put by Chris Smith in an article I will refer to below:
In recent years, several biographers have gamely tried to chart the depths of Jobs' psyche, with little help from the man himself. He rarely speaks to the press, save for tightly scripted sound bites, so all these accounts are based on talks with old colleagues and Apple Deep Throats, supplemented by occasional in-depth interviews he's granted to a few lucky reporters over the years.
Any journalist who's tried to go a little deeper had to endure Steve's legendary wrath, as described by Rich Karlgaard in his 2006 WSJ article Vladimir llyich Jobs? (for the heck of me I can't find a link to it, but I have a scanned version on my Mac): (more…)
---
New Steve Jobs infographic pops up
A new Steve Jobs infographic was sent to me by a friend a couple days ago.
Although it's mostly accurate (gee, all about Steve Jobs.com is quoted twice in the source list), it has its shares of mistakes. Where would the fun be if it hadn't?
Steve Jobs is NOT dyslexic. This is a recurrent fantasy that was never verified.
the brand of his turtleneck is not St Croix but Issey Mikake (whole story here or here on Quora). Who knows how many pairs of jeans he has? I doubt it's a hundred.
he is not a fruitarian. He certainly *has been* a fruitarian, during his hippie days, when he was 19. But those days are long gone
Here's the infographic anyway (source):

---
'A real life Willy Wonka'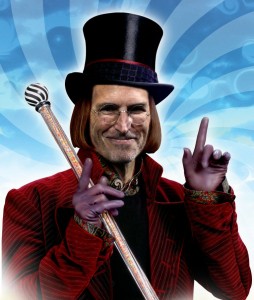 One day I was watching Tim Burton's Charlie and the Chocolate Factory, and a phrase caught my attention. It's a line when Augustus Gloop starts eating out the river, and Johnny Depp/Willy Wonka asks him to stop, insisting his chocolate must stay 'untouched by human hands'. The phrase reminded me of Steve during his NeXT years. He used the exact same phrase to describe the robots that built the NeXT Cube in his automated factory (see an example here).
This got me thinking of the many similarities that could be found between Steve Jobs and the Willy Wonka character. The most obvious are:
they're both widely-acknowledged geniuses at their art (respectively, creating chocolate and great technological products)
their products are magical and admired all around the world
they both work in super-secret environments (the chocolate factory, and Apple), and everyone wonders what must be going on behind the doors
they both have kind of a quirky personality (of course this is more obvious in Willy Wonka, but still, Steve Jobs is not your typical Fortune 500 CEO)
I didn't think about that metaphor much back then… But it came back to me four times, the latest of which was yesterday.
First, of course, Fake Steve wrote about it in one of his earliest posts. The Bono character said to FSJ:
Jaysus, Mary and Joseph, you're like Willy fookin Wonka in his fookin chocolate factory, out there baking up your fookin iPods, and meanwhile the fookin planet is fookin meltin, ya fooktard. I tell him, Bono, look, we all gotta do what we do, right?
The second instance was from more 'respectable' sources. It was the flurry of articles that got published when Steve was seen in Manhattan in early 2010 to pitch publishers about iPad. They all mentioned he was wearing "a very funny hat — a big top hat kind of thing" that evoked Willy Wonka (see here). Unfortunately there were no pictures — that's why the caricature above was drawn, to compensate for this lack.
Then there was Mike Daisey, the now-famous writer/comedian who is currently playing a show in Berkeley entitled The Agony and the Ecstasy of Steve Jobs. The show has been greatly covered in the tech press/blogosphere, and I wish I could give my own opinion on it. Unfortunately as you know I am a student in France, so I can't afford to buy airplane tickets just to see one show in California… so I didn't see the show. I hope it's been recorded and we'll see the video pop out at some point.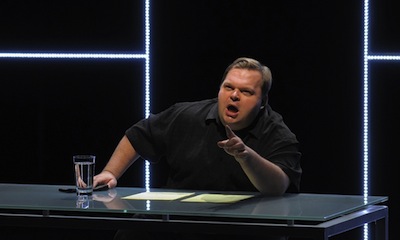 What's interesting is the way Mike pitched his own show:
In The Agony and the Ecstasy of Steve Jobs, Daisey dives into the epic story of a real life Willy Wonka. He examines how the CEO of Apple and his obsessions profoundly shape our everyday lives—and travels to China to investigate the factories where millions toil to make iPhones and iPods.
The metaphor finally reached its climax in the video I discovered this week, from CollegeHumor.com. They have gone all the way with a 4-minute video portraying Steve as Willy Wonka. He let 5 Golden iTickets in iPhone boxes to let children discover his magical Apple factory… It's very fun and enjoyable: so, enjoy. It's even got Oompa-Loompas/Apple Geniuses 🙂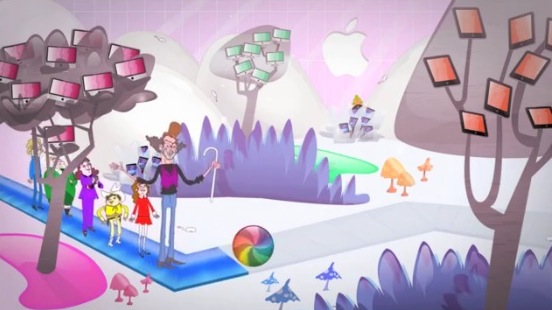 What do you think?
---
Steve Jobs 1985 Playboy interview re-surfaces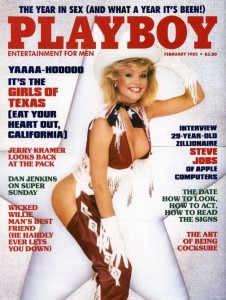 Most of you have already heard of it, but Playboy recently re-published their 1985 interview with Steve Jobs on their website. I had read lots of excerpts from the piece for some time, since it is abundantly quoted in Jeffrey S. Young's The Journey Is The Reward as well as Leander Kahney's Inside Steve's Brain… but I had yet to read it in its entirety.
It is a fascinating read to say the least. The conclusion is not a surprise for me, just a confirmation: despite popular belief, Steve Jobs hasn't changed much in all these years. I have gathered my favorite quotes from the interview to prove it:
In their foreword, Playboy makes a pretty accurate description of young Steve, which is just as true for old Steve (try replacing IBM by Google in the quote below):
But to hear Jobs tell it, the money isn't even half the story, especially since he does not spend it very lavishly—and, indeed, claims to have very little time for social life. He is on a mission, preaching the Gospel of salvation through the personal computer—preferably one manufactured by Apple. He is an engaging pitchman and never loses an opportunity to sell his products…
Unable to relent in his mission to spread the Apple word, he talked with solemn ferocity about the war with IBM—but then would punctuate his enthusiasm for an idea with 'Neat!' or 'Incredibly great!'
---