'A real life Willy Wonka'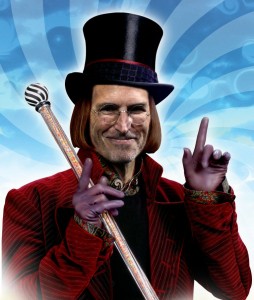 One day I was watching Tim Burton's Charlie and the Chocolate Factory, and a phrase caught my attention. It's a line when Augustus Gloop starts eating out the river, and Johnny Depp/Willy Wonka asks him to stop, insisting his chocolate must stay 'untouched by human hands'. The phrase reminded me of Steve during his NeXT years. He used the exact same phrase to describe the robots that built the NeXT Cube in his automated factory (see an example here).
This got me thinking of the many similarities that could be found between Steve Jobs and the Willy Wonka character. The most obvious are:
they're both widely-acknowledged geniuses at their art (respectively, creating chocolate and great technological products)
their products are magical and admired all around the world
they both work in super-secret environments (the chocolate factory, and Apple), and everyone wonders what must be going on behind the doors
they both have kind of a quirky personality (of course this is more obvious in Willy Wonka, but still, Steve Jobs is not your typical Fortune 500 CEO)
I didn't think about that metaphor much back then… But it came back to me four times, the latest of which was yesterday.
First, of course, Fake Steve wrote about it in one of his earliest posts. The Bono character said to FSJ:
Jaysus, Mary and Joseph, you're like Willy fookin Wonka in his fookin chocolate factory, out there baking up your fookin iPods, and meanwhile the fookin planet is fookin meltin, ya fooktard. I tell him, Bono, look, we all gotta do what we do, right?
The second instance was from more 'respectable' sources. It was the flurry of articles that got published when Steve was seen in Manhattan in early 2010 to pitch publishers about iPad. They all mentioned he was wearing "a very funny hat — a big top hat kind of thing" that evoked Willy Wonka (see here). Unfortunately there were no pictures — that's why the caricature above was drawn, to compensate for this lack.
Then there was Mike Daisey, the now-famous writer/comedian who is currently playing a show in Berkeley entitled The Agony and the Ecstasy of Steve Jobs. The show has been greatly covered in the tech press/blogosphere, and I wish I could give my own opinion on it. Unfortunately as you know I am a student in France, so I can't afford to buy airplane tickets just to see one show in California… so I didn't see the show. I hope it's been recorded and we'll see the video pop out at some point.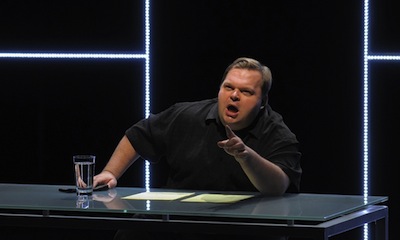 What's interesting is the way Mike pitched his own show:
In The Agony and the Ecstasy of Steve Jobs, Daisey dives into the epic story of a real life Willy Wonka. He examines how the CEO of Apple and his obsessions profoundly shape our everyday lives—and travels to China to investigate the factories where millions toil to make iPhones and iPods.
The metaphor finally reached its climax in the video I discovered this week, from CollegeHumor.com. They have gone all the way with a 4-minute video portraying Steve as Willy Wonka. He let 5 Golden iTickets in iPhone boxes to let children discover his magical Apple factory… It's very fun and enjoyable: so, enjoy. It's even got Oompa-Loompas/Apple Geniuses 🙂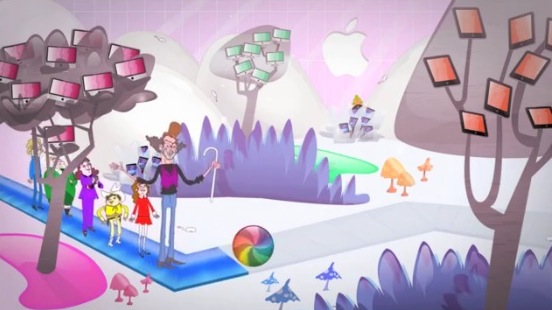 What do you think?