Posts filed under 'Steve Jobs trivia'
---
Steve Jobs Stories on Clubhouse
Most of you have probably seen this by now, but for the record — journalist Steven Levy, investor Esther Dyson, and First Round partner Chris Fralic (a board member of the Computer History Museum) hosted a Clubhouse on February 23, the day before what would have been Steve Jobs' 66th birthday, inviting people to share stories about him.
People who follow this know I'm a sucker for Steve anecdotes — in fact, we have a whole section of the website filled with them. So this is perfect clickbait for me of course.
Fortunately, the session was recorded and shared on the Computer History Museum's YouTube page, you can watch it below. For those short on time, here is a brief walkthrough to help you navigate the video:
At 0:06:07, Esther Dyson recalls when she met Steve Jobs at an event hosted by Regis McKenna.
At 0:07:30, Regis McKenna talks about how he got to work with Steve Jobs as he was hired by him and Mike Markkula (who knew him from Intel) to handle Apple's marketing.
Former Apple CEO John Sculley jumped in at 16:00, and retold for the umpteenth time the story of how Steve Jobs seduced him to join Apple with the sugared water line. (I wish he had told a new one, considering how much time he spent with Steve in 1983-84).
At 0:24:00, Steven Levy recounted his first story on Steve Jobs and the Macintosh team.
At 0:27:40, Andy Cunningham, who used to run Apple marketing in the 80s, talked about how she had to play Billie Jean to get Steve Jobs to smile during a photoshoot. She compared Steve Jobs to "a big baby".
At 0:30:45, Andy Hertzfeld told the story of his first meal with Steve Jobs, where Steve said that after fasting, eating a pea could make your stomach explode, then refused to pay the bill despite having recently become a centimillionaire.
It was Bill Atkinson's turn at 0:33:00, explaining how Steve wooed him to join Apple in 1978.
At 0:36:35, Dan'l Lewin, who ran education sales for Macintosh, then became a founding member of NeXT (and is now president of the Computer History Museum), told the story of the lunch in London where NeXT and Canon celebrated their partnership, and the chair of Canon's chairman collapsed (there was nothing particularly about Steve Jobs in his story unfortunately).
At 0:41:40, photographer Doug Menuez, who documented the early days of NeXT, explained how one time he was challenged by Steve Jobs (and screamed at) on a photo shoot.
At 0:48:00, Mike Slade, who left Microsoft to join NeXT in the 90s, told the story of how Steve wooed him to move to the Bay Area to work at next with a line he stole from the Il Fornaio restaurant menu.
At 0:52:30, Steven Levy told another story about when he wanted to make a cover story about the iPod, and Steve berated him for having put a case on his iPod.
At 0:54:45, Mike Slade told a moving story of when Steve Jobs told him about his cancer.
At 0:59:07, Esther told the story when Steve Jobs told her he'd make up for a missed public appearance by speaking twice the next time.
At 1:01:20, analyst Tim Bajarin recalled when Steve Jobs told him he would save Apple with industrial design in early 1997.
At 1:05:15, Steven Rosenblatt, formerly of iAd, talked about his first meeting with Steve Jobs and how he later pushed him to sign ever-bigger ad deals in the early days of the product.
At 1:14:00, Chris Fralic told of the story when Steve Jobs refused to sign his Apple II (even though Woz had signed it already).
At 1:15:30, angel investor Bill Raduchel, formerly of Sun, told the story of when he met Steve Jobs at NeXT to negotiate a potential acquisition (probably in the 1994-96 timeframe).
At 1:20:00, Buzz Wood, who worked in Apple's education sales, told of when he attended a Steve Jobs Q&A in 2002, where Steve told one of the audience members who suggested to run an ad for education that Apple could do it with the money they'd save by firing him.
At 1:23:00, music industry mogul Ted Cohen told a story of a Steve Jobs meeting with a McKinsey consultant and the ensuing email followup.
At 1:25:30, Sonal Chokshi, formerly of Xerox PARC, told of an email she sent out of the blue to Steve Jobs and his brilliant response.
From 1:30:50, Steven Levy shared the last story, that of his last meeting with Steve.
It was overall quite an enjoyable discussion, and definitely worth your time.
---
Happy 2013! a.k.a the End of 2012 Steve Jobs News Roundup
Dear reader,
The new year starts as it should, with the continuation of one of my worst habits: the posting of news roundups that gather the equivalent of what should have been five or six separate, timely posts. Still, I will write such an article, because it does contain some interesting trivia that you might have missed.
Let's start with the one-year anniversary of Steve's passing. Although I did post on that sad day, it was only later that I found out the following anecdote: The favicon was at half mast during the anniversary of Steve Jobs' death (from a great site, Little Big Details, which I recommend you check out).

That's right, on October 11 2012, the favicon of apple.com was "flying at half mast". Nice touch, and a reminder that the company continues to care about the smallest details (and to delight you when you happen to notice them). Of course, this was only the icing on the cake, and what a cake.
Another piece of news came from Steve Jobs's "other" company, Pixar. The Disney-owned animation studios had the graciousness to name the newest addition to their campus "The Steve Jobs Building". The building has a modernist look which SJ would probably not have disapproved of — it's even possible he was involved in its design, like the rest of the campus, but this is speculation on my part (Source: Pixar Times).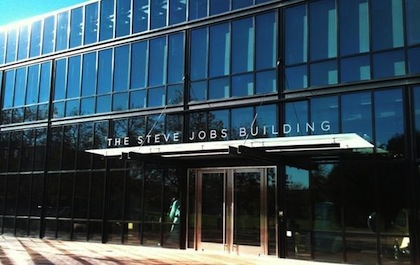 The Steve Jobs Building at Pixar in Emeryville
The day before the anniversary of Steve Jobs's death came another piece of news that might be of interest to the "Steve Jobs community": Chris-Ann Brennan, Steve's high school girlfriend and the mother of Lisa, will be publishing a "memoir", according to the NY Times blog. I wonder about its quality and content, since Chris-Ann has been known to be unstable and eccentric (this was confirmed in the Isaacson bio). It looks a lot like a get-rich-quick plan, but I won't make hasty conclusions before I've read the book. While waiting for the book, you can still read the article she published in Rolling Stone's commemorative issue after Steve's passing: Jobs at 17: Nerd, Poet, Romantic (cached version, the actual article starts about 80% of the way).
This confirms the theory I have long held that Steve's death would be followed by people untying their tongue, now that their fear of him (encouraged by the occasional threats) is gone. So far it has been mostly the usual suspects talking to the press or writing, but I do see a trend of former colleagues who begin to open up, too. Avie Tevanian in BBC's documentary, or Tony Fadell, are two examples.

My only confirmed picture of Chris Ann Brennan, from Facebook
I sincerely hope the trend continues, and that one day those who worked really closely with Steve start to speak up. Can you imagine a book about NeXT by former NeXTers, for example? I would be thrilled to see that happen. It would perhaps compensate for the usually negative image of Steve Jobs as a man, relayed by the people who had broken all ties with him and thus did not feel bound to respect him. Not to mention the shallowness of the Isaacson bio.
As far as pictures go, I've dug up a few interesting ones in these last weeks of 2012. Starting with this gallery of Apple I photos from Time Magazine's Harry McCracken. 'Wait', you might say, 'but I know plenty of pictures of the Apple I!' And you'd be right, dear reader, but these are special. They come from Paul Terrell's private collection. If that name rings a bell, it means you've done your homework: he was the owner of the BYTE SHOP, the electronics store (I daren't say computer store) which was Apple Computer's first client, back in 1976, before the garage — it was actually the order of 100 computers from Terrell which made the garage necessary, and made dollar signs flash in front of young-and-not-so-hippie-anymore Steve Jobs's eyes.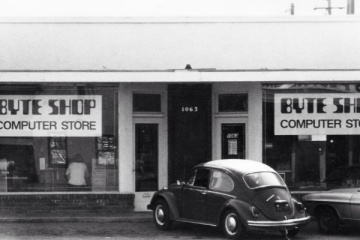 The first picture of the Byte Shop I ever saw, from the TIME gallery
(notice the groovy typeface for the logo) 
I will soon add those Apple I pictures to the site, along with a few I already added, from a few years later: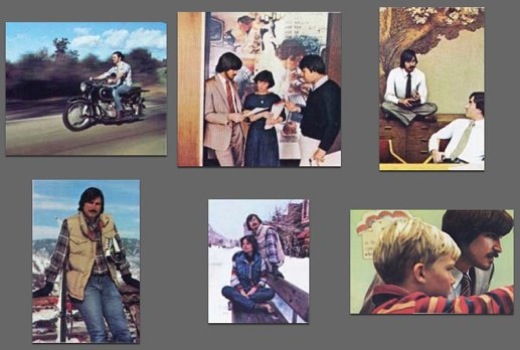 This batch of (too small) pics came from Vectronic's Apple World (a treasure trove for old advertisement of the fruit company). They show Steve around 1980-81, when he was 25, a.k.a. The Moustache Years. The top left is from a series we've seen before, where he is riding his BMW motorcycle. All others are news to me: the top middle and right show him at a "PR agency" (perhaps McKenna's, where he met his then-girlfriend Barbara Jasinski?) The bottom left and middle ones are probably in his ski destination of choice, Aspen. And the last one, the only large one, is obviously at a school. I will add more very interesting pictures of young Steve soon, so stay tuned!
In echo of my previous post, there was also some more talk of Steve's famed yacht, Venus, in the last days of December. The talk was really not that interesting, and Philipp Elmer-Dewitt made a great short summary of it (as he does) on his blog: Steve Jobs' yacht: The anatomy of a news cycle. Basically, French designer Starck was paid a percentage of the cost of the yacht. But the boat ended up costing less than planned (which is noteworthy), and so Starck was paid less than he expected — €3 million short (€6m instead of €9m). Apparently, Laurene quickly settled the case with him and the yacht, which had been temporarily seized by the Dutch authorities, was released a few days later. Big deal.
PED's analysis is interesting in that it stresses how such small events become hugely inflated by the blogosphere and even mainstream media, just because they give an excuse to have 'Steve Jobs' in the headline and attract click$. This is something I have observed as well, and it sometimes really becomes ludicrous. The article on Examiner.com Psychic makes contact with Steve Jobs, says things not well in afterlife certainly takes the palm in that category.
…
I can hear your voice – "But that's not all! He forgot about the movie! … I mean, the movies!" No, dear reader, I will speak of those movies. But they deserve their own post, and it will come very soon.
Although the blog has been quiet lately, I have been paying close attention to all things Steve Jobs all along, and even updated the site silently. Just last week, I added 22 new anecdotes and 2 new quotes to my growing collection. Rest assured that this will continue: as I've written before, I have some great content coming up soon.
Oh, I almost forgot… Happy new year! 🙂
---
Johnny Grey remembers his work on Steve and Laurene Jobs's kitchen
Reader Bertrand Hayotte pointed out to me a story by kitchen designer Johnny Grey about how "Steve Jobs and his wife Laurene almost had one of [his] kitchens."
The story gives an insight into the "private Steve Jobs" with details of his taste for a simple and authentic design for his kitchen. Grey only worked on the design part, going even as far as showing the drawing he made for the Jobses: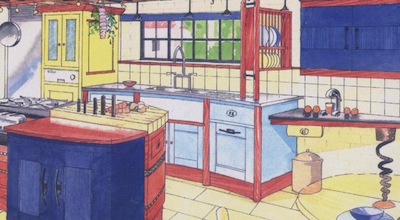 It is not known whether his design was implemented, since Steve Jobs apparently "was a very private person and reluctant to have any building work done, powerfully disliking noise, mess and invasion of their home".
Although I did know that Steve worked very hard on his kitchen and on his garden design, it is the first time that such details come out. The story also reinforces the idea that he  applied the same beliefs in all aspects of his life, from product design to kitchen decoration:
We once met in London at the Savoy hotel during one of his rushed, but highly publicised European trips. His comments, as you might expect knowing his track record at Apple, were brief and to the point, mostly in the direction of simplifying the design, staking out a more severe, monastic approach. Shaker simplicity was often his default position.
Thanks Bertrand!
---
July 2011 Steve Jobs news roundup
Busy month for me, hopefully Steve Jobs news have been somewhat slow too (apart from last week's).
Here's what I put aside for you:
July 9: A weird video surfaces from Taiwan. A tea brand shamelessly used an actor to play Steve Jobs and sell bottled tea in a TV commercial. See for yourself:


(via Cult of Mac)
July 8: French magazine Le Point reveals that Steve almost purchased a castle in the South-East of France. Pictured below, the property is valued at around €25m ($36m). Apparently Steve's wife, Laurene, toured the property herself.
The article also relates that back in 1985, Jean-Jacques Servan-Schreiber, a French journalist close to President Francois Mitterrand, apparently asked of the head of state a special present to Steve Jobs for his 30th birthday. I've read many stories about that famed birthday, where tons of celebrities attended, including Ella Fitzgerald who was the party singer. Anyway, JJSS (as he is often called) reportedly suggested that the French nationality was offered to the Apple co-founder as a special gift. The French President nonchalantly refused. I think Steve would have appreciated the gift, as he has often testified of his love of France (I have made a compilation of the many times he uses France in Apple demos).
July 11: a new Tshirt made it to the Apple Gift shop in Cupertino… making fun of the company's cult of secrecy. I'm buying it next time I go there! (via Macrumors).

July 21: John Gruber of Daring Fireball spotted a nice anecdote about Steve and his legendary curtesy. I am quoting the same thing he did:


The story goes that ESPN president George Bodenheimer attended the first Disney board meeting in Orlando, Florida, just after the company had bought Pixar, the innovative animation factory, and spotted Apple CEO Steve Jobs in a hallway. It seemed like a good time to introduce himself. "I am George Bodenheimer," he said to Jobs. "I run ESPN." Jobs just looked at him and said nothing other than "Your phone is the dumbest fucking idea I have ever heard," then turned and walked away.

July 21: Philip Elmer-Dewitt dug out a nice chart that compiles all the public data about Apple's reiumbursements of the expenses of Steve's famed private jet airplane. I think it is worth mentioning that Steve can use the jet for his personal use, but then of course the company doesn't reiumburse him of the cost of operating it. The chart is below:
July 23: after all the nonsense we've come to read about Steve's succession lately (which did grant us a new Steve Jobs quote: "it's hogwash", courtesy of the Wall Street Journal) — John Gruber wrote a very good article, the kind that only he knows how to write, on the topic: On Succeeding Steve Jobs. His conclusion: "the obvious structure for a post-Jobs Apple is simply Apple as we know it, without Steve Jobs." I believe he is 100% right and that's what we will see, perhaps as early as next year. BUT, and it's a big BUT, I am not sure Tim Cook can keep the fire alive as Steve did for the next decade. And as I've stated before, I think he will have trouble running the company unchallenged the way only the genius-founder Steve Jobs can. His authority to run the super-disciplined fruit company will probably be challenged a couple of years after Steve is gone… Time will tell.
---
Steve Jobs trivia from June
As June ends, here are the news items (or should I say pieces of trivia) that caught my attention in the past two weeks:
---
Did I get Steve Jobs' turtleneck bill?
Today I decided to share with you a funny story that happened to me two weeks ago. By funny I do not mean amusing but 'difficult to explain, strange'.
As you may or may not know, I often receive emails at my webmaster email address that are destined to Steve Jobs. The reason is quite simple: people who have little knowledge of Apple's CEO think all about Steve Jobs.com is his official website. They just click on the 'Contact' link thinking their message will go straight to Steve's famed iPhone email inbox, even though it would take them a 15-second visit to Google to figure out his real and hyper-famous email address.
Anyway, on May 26, I got the following email: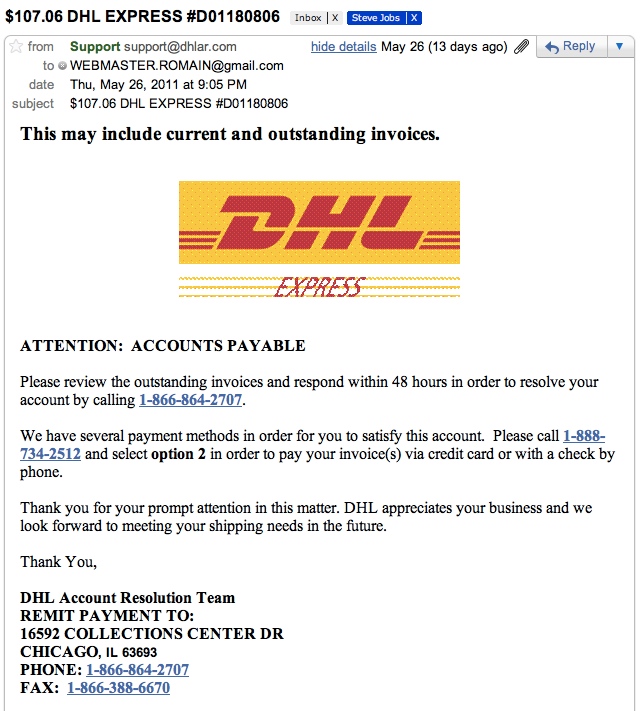 To which was attached the very interesting PDF below: (more…)
---
While you wait for tomorrow's keynote…
I am like all of you guys (I assume) eagerly awaiting for tomorrow's WWDC keynote. The rumor mill is acting crazy and I am sure I will spend the night dreaming of iClouded skies. Until this week, Steve Jobs news have been kind of slow lately — here's a roundup of the information I've collected in the past month, that some of you may have skipped:
The New Yorker did a story on the history of the computer mouse, back to Xerox PARC and the famous Steve Jobs visit that supposedly inspired Lisa then Macintosh. One of the mouse's inventors, Malcom Galdwell, recalls what we already know, that Apple didn't "steal" the mouse from Xerox. Unfortunately the story can only be accessed by subscribers — I didn't subscribe just to read it. The abstract is here (not very well done). It contains interesting old sketches and pictures of prototypes, as well as quotations from the piece, such as this one:


"I had a series of ideas that I wanted to bounce off [Jobs], and I barely got two words out of my mouth when he he said, 'No, no, no, you've got to do a mouse.' I was, like,'What's a mouse?' I didn't have a clue," Hovey told Gladwell.

(via Cult of Mac)

We've talked about it earlier: the building of the extension of Pixar's Emeryville campus, Pixar Phase II, is now over. Check it out on the excellent Pixar blog.

A curious piece of trivia, some study was made to prove that Apple had actually the same effect on fanboys that a religion (or, more appropriately, a cult) on its followers:


As discussed in the new BBC documentary "Secrets of the Superbrands", when you put an Apple fanatic under an MRI and start mentioning iPhone 5s and iPad 3s, neuroscientists found that Apple tends to stimulate the same parts of the brain as religious imagery does in people of faith.

No news to me.

And I thought I would never be able to find new keynotes… but no, two oldies came up this past month to add up to my impressive collection. I hope you guys take time to check them out, because they're both pretty interesting.
First, an interesting one (and in high quality, too) from 1996, where Steve Jobs still spoke as CEO of NeXT Inc. — but already famed CEO of Pixar — at a Microsoft Developers Conference, about NeXT's server technologies, WebObjects. In the video he is a late speaker, which is a testament to how unimportant he seemed to be. He is also very casual and humble, as depicted in a number of articles from that time (he was just coming out of his wilderness years). Watch the keynote here (via Daring Fireball).

The second one I just found, and on YouTube, too! it's a casual chat Steve Jobs had with then-struggling Mac developers at the end of the 1997 WWDC! Definitely worth a look if you're interested in Steve Jobs history. Again, it is a testament to Steve's unchanging character and principles. He stands by the same rules now as he did then,  including the most important one: building great products. He also mentions something I knew from a 1999 interview, quoted below:


About 10 years ago I put in a T1 to my house. I'm actually getting ready to put a 45 mg fiber to my house, because I want to find out what that will be like, because everybody's going to have that someday. But I have a pretty sophisticated setup; whether I'm at Apple or at Pixar or at my home, I log in and my whole world shows up on any of those computers. It's all kept on a server. So I carry none of it with me, but wherever I am, my complete world shows up, all my files. Everything. And I have high speed access to all of it. So my office is at home too. And when I'm not in meetings, my work is fundamentally on email.

in the aforementioned video, we discover Steve's been working in such an environment since 1990. This is thanks to NeXT's very advanced 'inter-personal computing' (i.e. networking) technology. So basically Steve's been living 'in the cloud' for over 20 years, while we mere mortals will probably find out  what it's like thanks to a product that he will introduce (if rumors are to be verified) tomorrow. The advancement of NeXT's technology still continues to amaze me.

Business Insider has published a thorough interview of Apple's first CEO, Mike Scott. Honestly I haven't had time to read it yet, so I wo'nt comment on it, but you can be sure I will pretty soon. (via TUAW) Same goes for the Fortune article Inside Apple, which I finally got my hands on last week, but haven't yet had time to write about.

Conan O'Brien dressed as  the iLeader in a baroque fresco by Fast Company:

(more…)
---
Steve Jobs appears on South Park
Steve Jobs appeared in a South Park episode on April 27, called HUMANCENTiPAD (Episode 1 of Season 15).
Disclosure: I am a huge South Park fan. However, I have to admit that when I try to convince friends or colleagues that it's one of the best TV series ever, I always have to fight the misconception that it's just an obscene show for teens that became popular by its heavy use of curse language and scatological humor.
Unfortunately, the aforementioned episode will not help my case. Its plot revolves around a new Apple device, the HumanscentiPad, which basically consists of three human beings tied together by a mouth-to-anus connection, tied to an iPad, as such: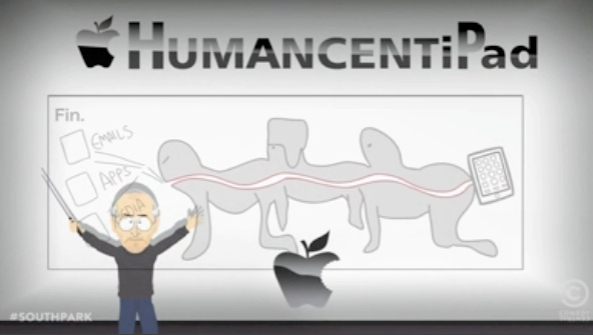 Overall, the episode gives a friendly look at Apple and its customs and peculiarities. I especially liked the Apple Geniuses Council and the way they join their forces with one another: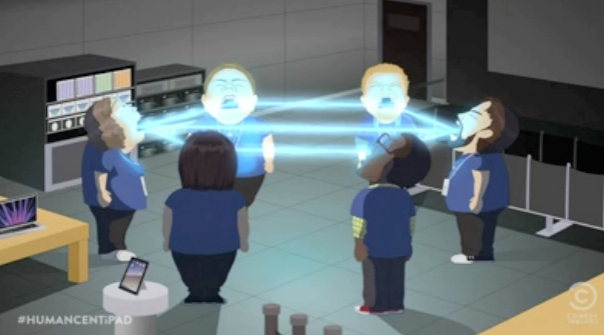 This is actually the second time that Steve Jobs is featured in a South Park episode. Last time it was The Entity (Episode 11 of Season 5 in 2001), in which Mr. Garrison invents a revolutionary new means of transportation to compete with air travel. IT is actually propelled by sucking on a tube and putting another tube in your behind… yeah (You're not helping me South Park here!) In that episode, Steve Jobs is one of the investors Garrison invites at his home to demonstrate his machine. He appears only for a dozen seconds and has just one line of dialogue (pretty badly cast actually, but at the time barely nobody knew what his voice sounded like).
The fact Steve now has a full episode dedicated to Apple and him is quite a sign of how far we've come in Apple's renewed popularity and increeasing penetration of popular culture.
Watch the full episode here.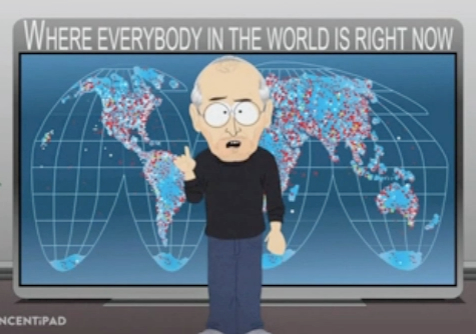 ---
Miscellaneous Steve Jobs trivia from the past three weeks
Where do I start?
April 25: a super-weird Chinese video emerges of a totally-fake-and-not-one-bit-realistic Steve Jobs incarnation, supposedly rehearsing the iPhone 5 introduction. Wait for it, the iPhone 5 would have… scent recognition. Who could be confused about that? I mean, please. (via TUAW)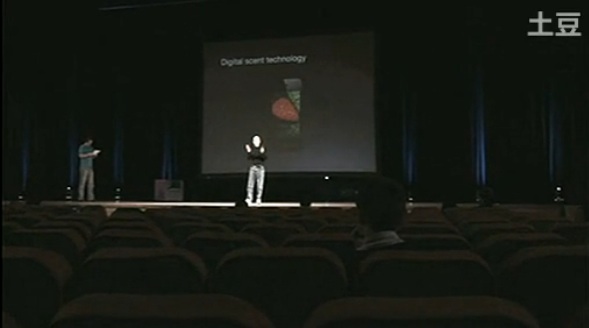 April 28: Cult of Mac reports a 'Steve Jobs lookalike' contest in which none of the participants look anything close to Steve Jobs. The guys (and the gal for that matter) just put on black turtlenecks… See for yourself: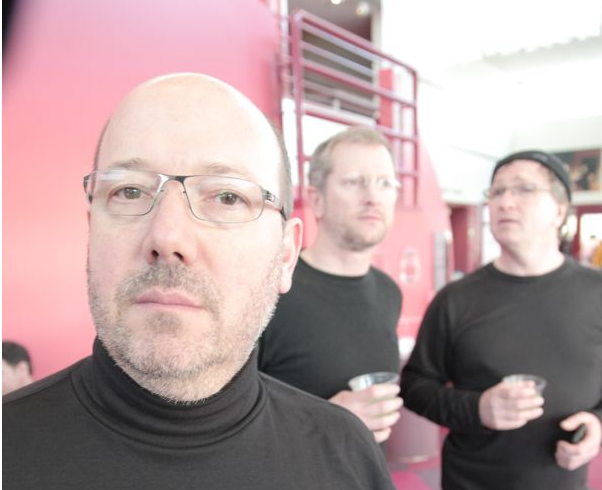 It was actually a PR stunt for the Seattle premiere of The Agony and Ecstasy of Steve Jobs by Mike Daisey.
May 2: from Cult of Mac again – one of many comics with Steve Jobs helping out in the Bin Laden hunt: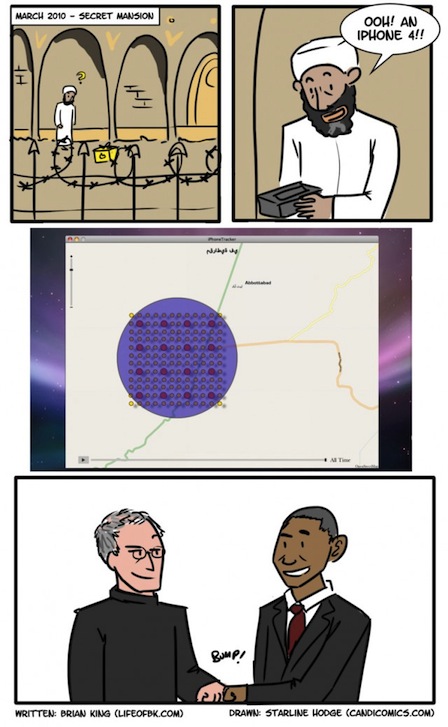 (this one for those of you who speak French is even funnier to me).
Last but not least: your fellow webmaster got his Steve Jobs in Carbonite iPhone case today 🙂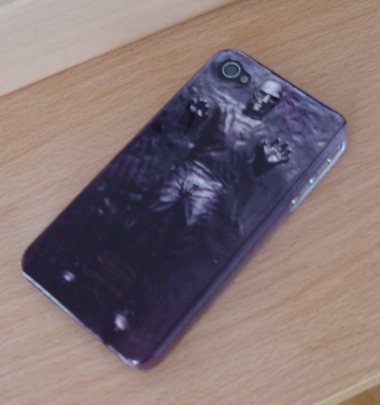 Thank God an interesting article about Apple from FORTUNE: Inside Apple, is coming soon. I still haven't been able to read it! But what I've read about it from Cult of Mac or Horace Dediu looks very promising. Looks we are going back to the old and delighting Good Steve/Bad Steve metaphor.
---
Serious and trivial Steve Jobs news roundup
Hi folks!
It's been quite a while, as usual, since the last time I wrote on Steve Jobs news. But then the aforementioned news have been kinda slow lately, so I don't feel that guilty after all.
Here's my news rondup of the past 3 weeks:

Serious news
Steve's authorized biography is still in the works
Kara Swisher of the WSJ (you know, the gal that interviewed Steve at D5 and D8 with Walt Mossberg) reassures us all about the upcoming Steve Jobs authorized biography by Walter Isaacson. I imagine that just like me you cannot wait to get your hands on that book (metaphorically speaking of course, since to pay a proper homage to Steve we should buy all it on the iBooks Store ;). I have recently been contacted by a French journalist who will soon publish his own biography of Steve in France. I told him how I felt about printed books, such an old fashioned way to tell the story of Steve. this is actually one of the reasons I built alla bout Steve Jobs.com. We are gifted with thousands of pictures and hundreds of videos of Steve Jobs and his work, why limit ourselves to text on paper? Moreover, the story will be outdated as soon as it's published, since Steve keeps surprising us month after month…
Latest Steve Jobs glorification
Last month, both Waren Buffet and Richard Branson had their say about Steve — and he is an inspiration even to them.
Waren: "Admitting he didn't know that much about the company, Buffett equated Jobs to Steven Spielberg, and his effect on his company. He said the talents of Jobs is a main reason for the company's success over the past 15 years."
Richard: "He's the entrepreneur in the world I most admire and I think [Apple] is the brand I most admire. He's the greatest come-back artist as well. He's twice been down and out and he's fought his way out and created a brilliant global company."
You should watch the video of Branson (wait a minute… Virgin Apple.. that reminds me of something: ah yes, one of Fake Steve's earliest posts 🙂 )
Nice website by the Computer History Museum
The Mountain View museum has a new website with a very interesting and rich timeline on the history of computing, you should definitely check it out. It's got some pretty interesting pictures of young Steve, including one I'd never seen before.

Steve Jobs trivia
Emails from Steve
If one relates to the frequency of his emails, Steve is still actively running Apple. He wrote two emails in the past 4 weeks: in the first one, from March 23, he confirmed that "We have no plans to" discontinue the iPod classic. The following day, he wrote a much-discussed email to an iPhone app developer whose 'radiation measurement app' (sounds like BS to me) was rejected on the App Store: "No interest", the email said simply.

TUAW made a funny analysis of Steve's apparent age based on photographs of him using the iPhone app PhotoAge. I think the job is biased because of the quality of the picstures they picked, especially for 2010
Minyanville did an interesting and pretty complete piece entitled Apple's Steve Jobs: Myth Vs. Reality. I checked it out, and surprisingly it's error free. The end paragraph ("Rumor: Steve Jobs is dead"…) is a little borderline IMHO… but it's worth checking out anyway.

The crazy rumor of the month
This month it's from Cult of Mac: Steve Jobs Is Rumored To Be Resigning From Apple. At first I thought it was a (bad) April Fool's Day joke… but I don't see any such disclaimer. I hope this is the usual BS we Steve Jobs fans have grown accustomed to these recent months.
---