Posts filed under 'Steve Jobs trivia'
---
Steve Jobs and Apple culture in paintings
Rather than starting the week by telling you about Steve's latest emails (folders in iBooks, AirPrint-compatible printers), and the rumors about the upcoming joint Steve Jobs/Rupert Murdoch keynote, I thought I'd start by showing you some artwork I stumbled upon a couple of days ago.
The artist is a 45-year old painter from Southern Cal, Alex Gross. His paintings are quite sinister… I just love them. 🙂 One of his dominant themes is today's consumer society, and it is frequently illustrated with references to Apple products and even the Apple culture. For example:
This one is particularly interesting:
As you know, ever since the 1980s, people who absorbed everything Steve Jobs/Apple said were famed as "drinkers of the (Steve Jobs/Apple/Mac/whatever…) Kool Aid".
Have you ever seen a painting with a Windows PC or an Android phone in it?
… me neither.
---
iWear
This is fun: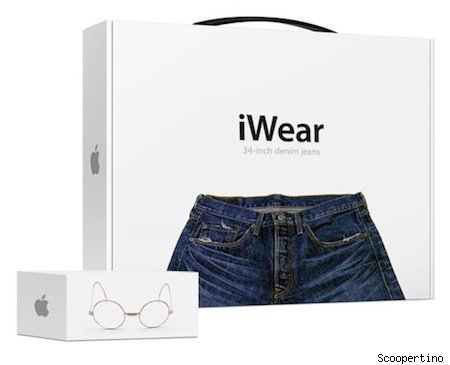 Reminds of me of a website (can't remember its URL) whose only page was a list of Steve Jobs' clothes. The guy who did it was interviewed by a major magazine (can't remember either, but I'll find it) as someone "influential in the Mac sphere". What a joke. Worst still, the list was almost all wrong. For example, it spread the error that Steve's turtlenecks are by St Croix. The truth: they're from Issey Miyake (John Lasseter in a FT article – warning: you have to subscribe for the whole story)
He found this one really great black turtleneck which he loved – I think it was Issey Miyaki [sic] – so tried to buy another one and they didn't have any more. He called the company and asked if they would make another one, and they refused. So he said: 'Fine, how many do you have to make before I can buy them?' So they made them – I think he has a closet full of them.
Source: TUAW (made by Scoopertino)
---
China pirating Steve Jobs
Looks like China cannot limit itself to counterfeited iPods and iPhone. The iLeader has to be copied too: Chinese (fake) Steve Jobs.
Via Gizmodo.
---
More stuff with Steve Jobs on them
There's so much stuff bearing Steve Jobs on them these days that I'm thinking about launching my own online store. The new ones this week are:
A "psychedelic" portrait based on the 1984 red-tie-and-red-apple picture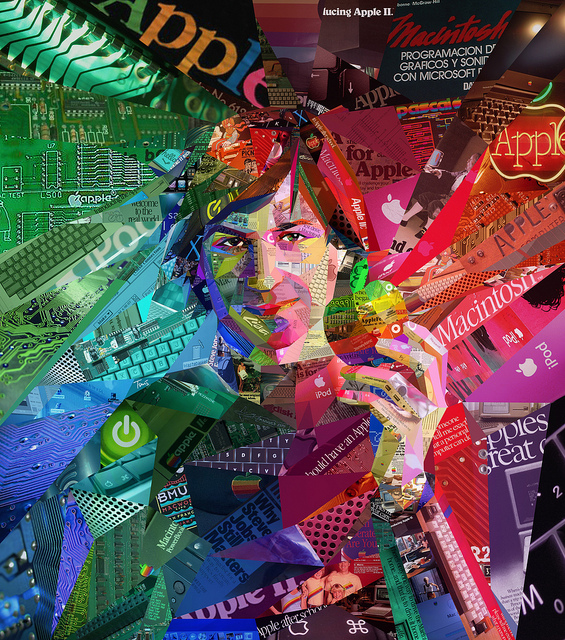 and
A weird leather iPad case based on the 2006 hand-on-bearded-chin picture.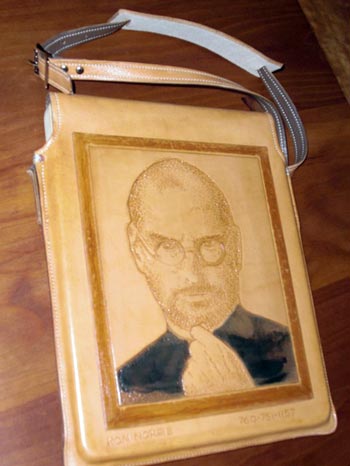 ---
Pathetic website: Where's Jobs
I have nothing against Steve Jobs humor – I was an avid reader of Fake Steve when he was an active, satirist blogger. But I think we've crossed the line of pointlessness with Where's Jobs, a website where people submit fake pictures on which they've added teeny-tiny pictures of Steve Jobs (à la Where's Waldo). See for yourself.
---
The iPod ninja
Scoopertino ("unreal Apple news") made a funny parody in reaction to the fake story about Steve at the Kyoto airport:
Steve Jobs ninja stars revealed to be iPod prototypes.
Check out the product design 😉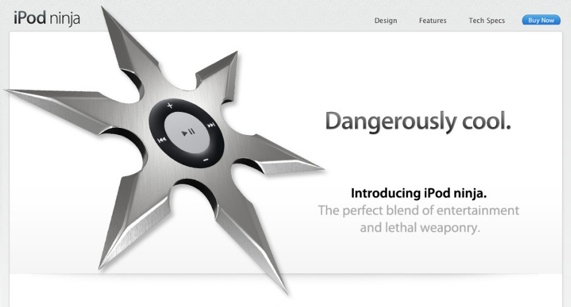 ---
Decorate your desk with a bust of Steve
Dutch artist Metin Seven built a small, Lego-like bust of Steve Jobs so that you can have the iLeader always keep an eye on you. It was made using an advanced 3D-printing process (although it looks vintage with its pixel-like appearance and Steve's dark hair) and will cost you $117.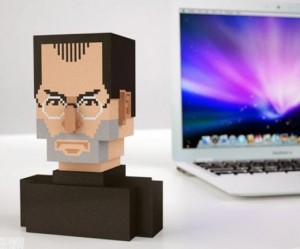 Source: Technabob.
---
Steve Jobs officially sick of receiving whiny emails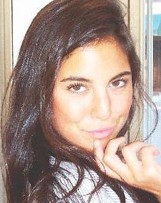 Valleywag is reporting today a new delightful exchange of emails between Steve Jobs and a random person. This time we are dealing with a senior student in journalism from Long Island University (pictured here) who emailed Steve complaining she didn't get answers from Apple's PR department for her school work.
I'll start by saying this exchange has to be handled with all usual precautions, because it's happened before that supposedly "authentic" emails were in fact 100% fake. But let's consider this one real.
The first comment I'll make is on the obvious bias of Gawker Media toward Apple's CEO, which is obvious if you have a look at the actual exchange (below) before reading Valleywag's depiction of it. The post conveys the idea that the student is being insulted by a "stubborn" super-rich CEO who treats customers like shit. The feeling I got reading the emails is pretty different.
---
Evil Steve Jobs on Joy of Tech
OK, the comic is from a couple days ago, but still a worth a look. It's making fun of Steve's paranoia regarding the secrecy around unannounced products: check it out.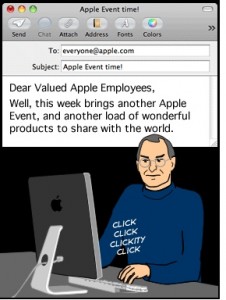 ---
Fake report of Steve being upset at Kyoto airport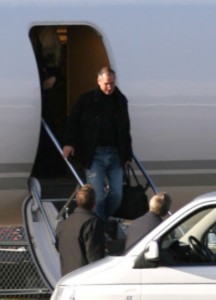 John Gruber at Daring Fireball is reporting a funny story involving Steve Jobs and the Kyoto airport staff :
Apple Inc. Chief Executive Officer Steve Jobs said he'll never come back to Japan after officials at an airport barred him from taking Ninja throwing stars aboard his private plane, SPA! magazine reported in its latest issue. […]

Jobs said it wouldn't make sense for a person to try to hijack his own plane, according to the report. He then told officials he would never visit Japan again, the magazine reported.
Unfortunately, the story is a fake, as reported by this "official" Apple report (probably a phone call to PR guru Katie Cotton):
Steve did visit Japan this summer for a vacation in Kyoto, but the incidents described at the airport are pure fiction. Steve had a great time and hopes to visit Japan again soon.
I'd find it hard to believe that Steve could have said anything close to "I will never visit Japan again". Remember he originally intended to spend his life a reclusive Japanese Zen monk.
UPDATE: some 3D agency made a short animation of what the fake encounter could have looked like… Enjoy.
---