Fake report of Steve being upset at Kyoto airport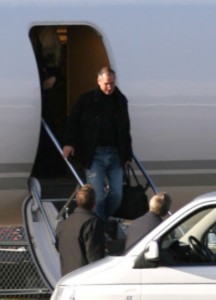 John Gruber at Daring Fireball is reporting a funny story involving Steve Jobs and the Kyoto airport staff :
Apple Inc. Chief Executive Officer Steve Jobs said he'll never come back to Japan after officials at an airport barred him from taking Ninja throwing stars aboard his private plane, SPA! magazine reported in its latest issue. […]

Jobs said it wouldn't make sense for a person to try to hijack his own plane, according to the report. He then told officials he would never visit Japan again, the magazine reported.
Unfortunately, the story is a fake, as reported by this "official" Apple report (probably a phone call to PR guru Katie Cotton):
Steve did visit Japan this summer for a vacation in Kyoto, but the incidents described at the airport are pure fiction. Steve had a great time and hopes to visit Japan again soon.
I'd find it hard to believe that Steve could have said anything close to "I will never visit Japan again". Remember he originally intended to spend his life a reclusive Japanese Zen monk.
UPDATE: some 3D agency made a short animation of what the fake encounter could have looked like… Enjoy.