About all about Steve Jobs.com
The story behind the website.
---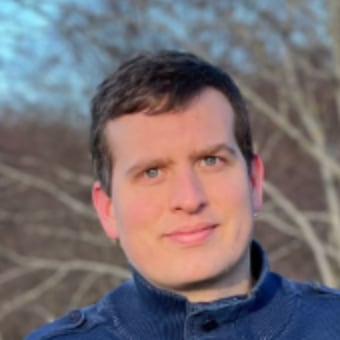 My name is Romain Moisescot and I'm the man behind All About Steve Jobs.com.
I grew up in Paris (France), in a Mac family. My first interactions with a Macintosh was with my dad's Mac Performa during the dog days of Apple. At the time I wished we had a Windows PC, so I could play more games.
But my love for the Mac really started at age 12, when my parents agreed to buy an iMac DV Special Edition and put it in my bedroom. I have some fond memories from that time, including staying awake late at night to watch a live webcast the Macworld 2002 keynote.
I was around 16 when by I started becoming obsessed with Steve Jobs. My passion really picked up after reading The Second Coming of Steve Jobs by Alan Deutschman. Though the book had a sardonic undertone, it fascinated me by recounting the story of Steve's nadir years at NeXT and Pixar, from his ousting from Apple in 1985 until his return in 1997.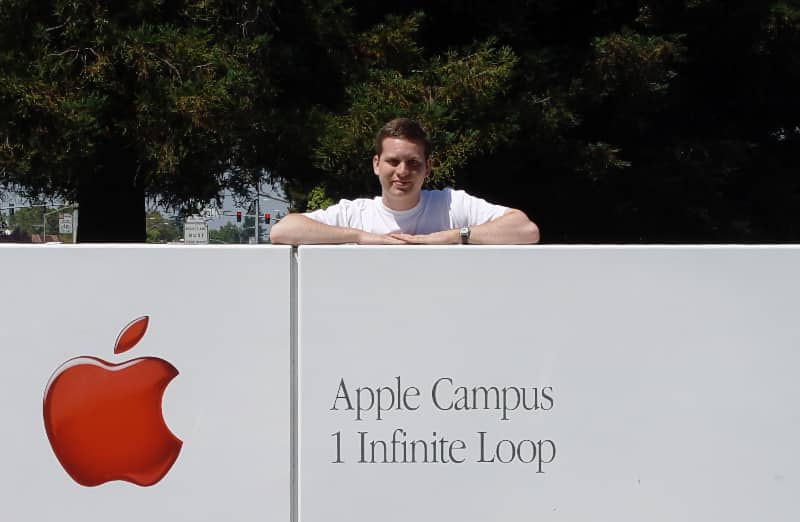 I was desperately looking for more information about Steve Jobs on the web, and was stunned there were no websites dedicated to him and his whole career — though there were plenty of website about Apple, none were talking about NeXT's or Pixar's history. Like many websites back then, I created All About Steve Jobs.com to fill that gap, i.e. because I wanted such website to exist for myself. I was confident I could to this, since I had done this before, building my first website in 1999 at age 12, about Royal Caribbean's Voyager class cruise ships.
The first version of the website came out on Steve's 51st birthday (which also happened to be my 19th, as we share the same birthday!), on 24th February 2006.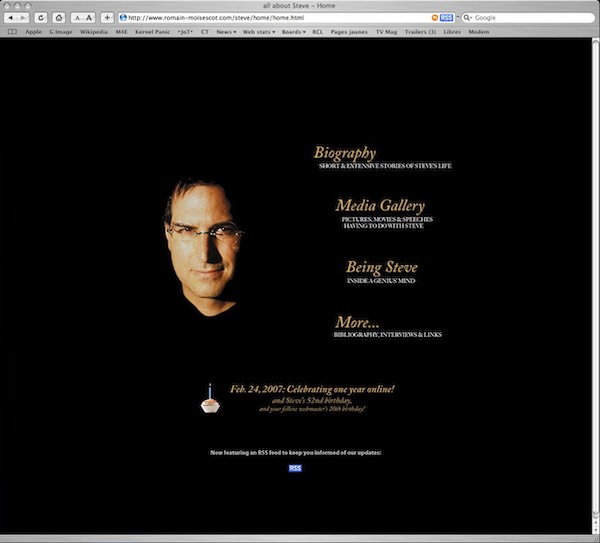 I advertised the website on a few Mac forums and blogs. I had some early successes in this, including my Boom! YouTube video being linked by John Gruber at Daring Fireball, and being mocked by Fake Steve Jobs in his blog (both blogs were known to be read by Steve Jobs occasionally). Another highlight came a few years —and many website updates— later, when I was interviewed by the San Jose Mercury News, Steve Jobs' local newspaper. The website had reached the #2 result on Google (second only to Wikipedia) for the "steve jobs" query back then.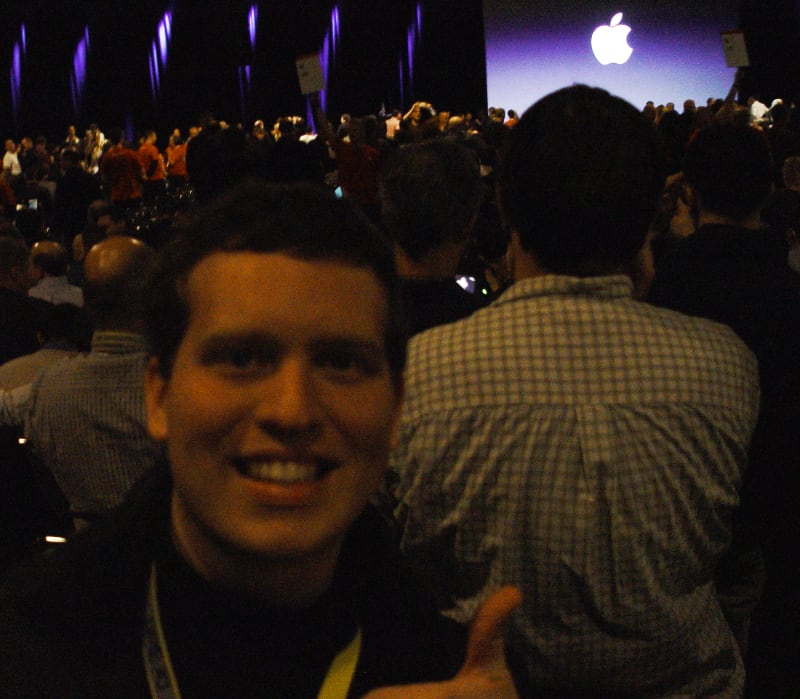 In 2009, I travelled to California for a university exchange program. I had it all planned perfectly so that I could attend a Steve Jobs keynote for the first time, at Macworld 2009. But fate would have it another way: it turned out the be the year of Steve's liver transplant, and his attendance at the keynote was cancelled on short notice. He would never show up at an event open to the general public again, and I would never get to see him in the flesh.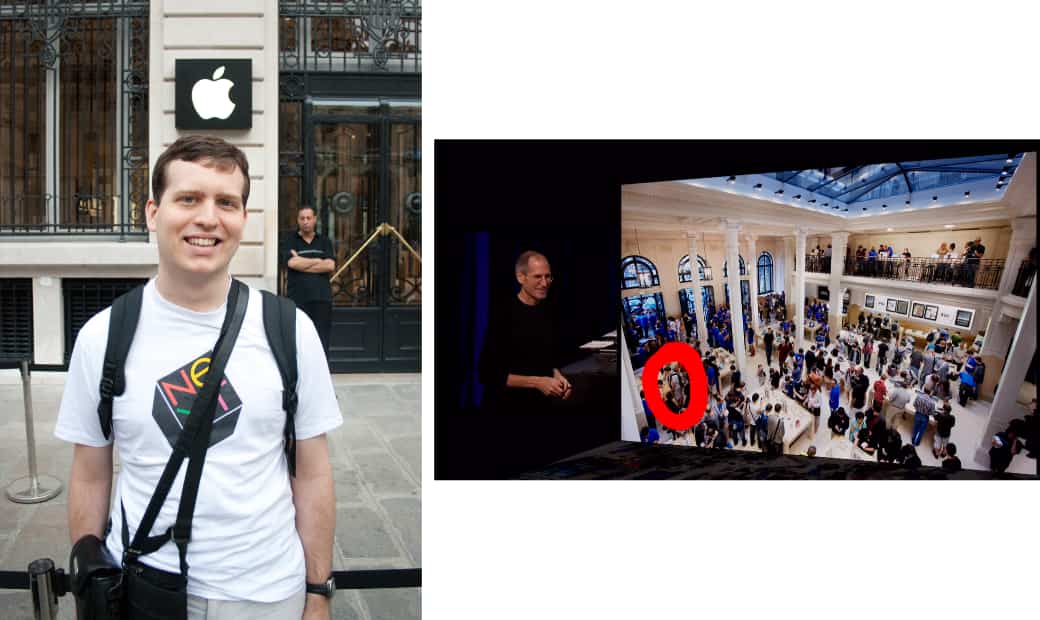 Two years later, while I knew it could happen theoretically, nothing prepared me for Steve's death in 2011. I still remember vividly how I jumped out of bed when I heard about the news on the radio that morning. The interest in Steve Jobs peaked at that time, and visits to the website that week were higher than they'd ever been (and have ever been since).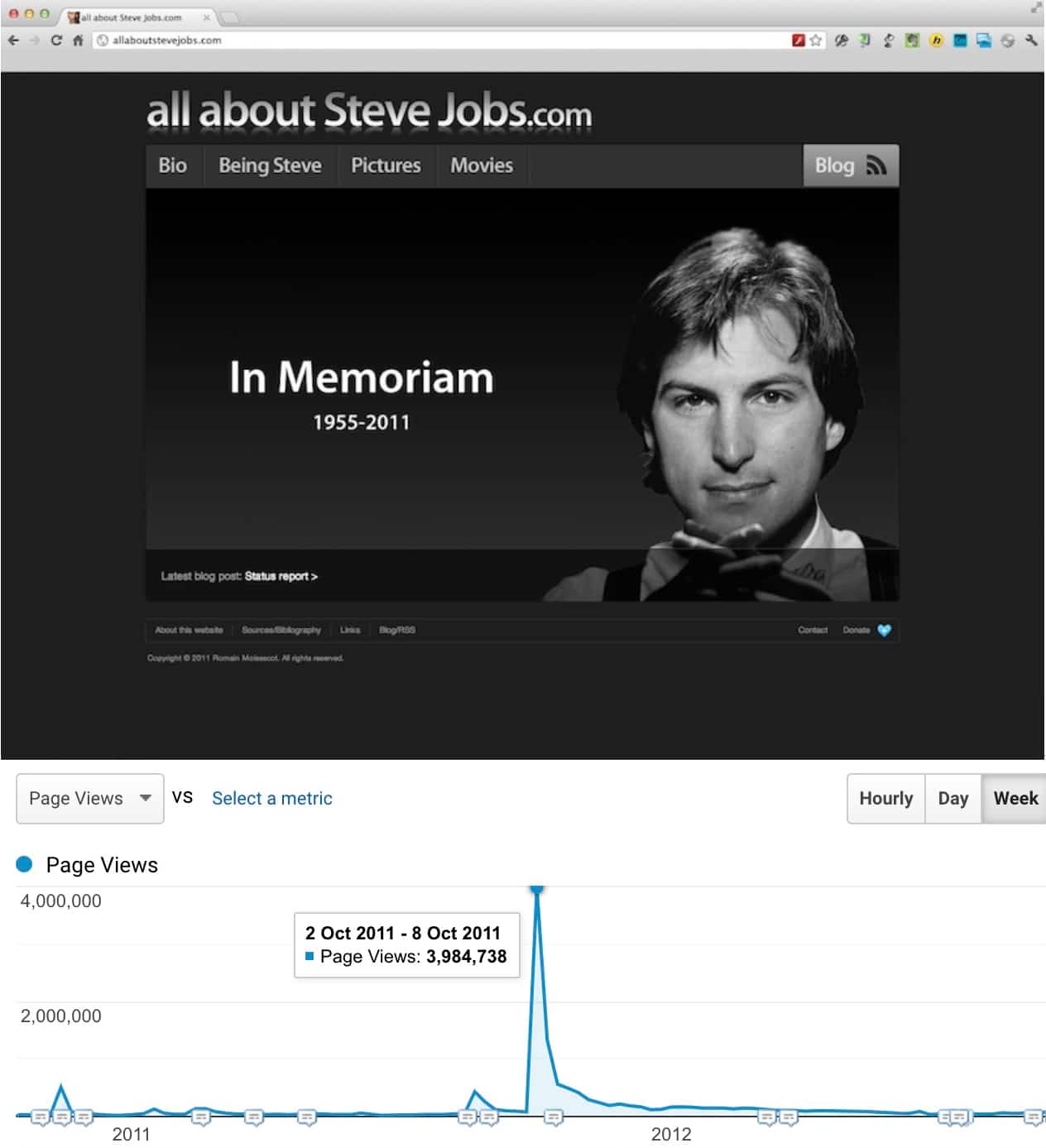 While interest in Steve started to gradually taper off from that point in time, I didn't stop working on the website. Despite being increasingly busy with studies and then my professional life, I kept working on it on and off, a situation that continues to this day. The latest major rewrite occurred in January 2018, when the website finally embraced the smartphone era and became fully responsive. You can follow the website updates via Twitter, Facebook, or good ole RSS.
To use a typically Jobsian phrase, I hope you'll like it as much as we do! Feel free to contact me for any feedback or comments, either via email or on Twitter.