Posts tagged 'parodies'
---
July 2011 Steve Jobs news roundup
Busy month for me, hopefully Steve Jobs news have been somewhat slow too (apart from last week's).
Here's what I put aside for you:
July 9: A weird video surfaces from Taiwan. A tea brand shamelessly used an actor to play Steve Jobs and sell bottled tea in a TV commercial. See for yourself:


(via Cult of Mac)
July 8: French magazine Le Point reveals that Steve almost purchased a castle in the South-East of France. Pictured below, the property is valued at around €25m ($36m). Apparently Steve's wife, Laurene, toured the property herself.
The article also relates that back in 1985, Jean-Jacques Servan-Schreiber, a French journalist close to President Francois Mitterrand, apparently asked of the head of state a special present to Steve Jobs for his 30th birthday. I've read many stories about that famed birthday, where tons of celebrities attended, including Ella Fitzgerald who was the party singer. Anyway, JJSS (as he is often called) reportedly suggested that the French nationality was offered to the Apple co-founder as a special gift. The French President nonchalantly refused. I think Steve would have appreciated the gift, as he has often testified of his love of France (I have made a compilation of the many times he uses France in Apple demos).
July 11: a new Tshirt made it to the Apple Gift shop in Cupertino… making fun of the company's cult of secrecy. I'm buying it next time I go there! (via Macrumors).

July 21: John Gruber of Daring Fireball spotted a nice anecdote about Steve and his legendary curtesy. I am quoting the same thing he did:


The story goes that ESPN president George Bodenheimer attended the first Disney board meeting in Orlando, Florida, just after the company had bought Pixar, the innovative animation factory, and spotted Apple CEO Steve Jobs in a hallway. It seemed like a good time to introduce himself. "I am George Bodenheimer," he said to Jobs. "I run ESPN." Jobs just looked at him and said nothing other than "Your phone is the dumbest fucking idea I have ever heard," then turned and walked away.

July 21: Philip Elmer-Dewitt dug out a nice chart that compiles all the public data about Apple's reiumbursements of the expenses of Steve's famed private jet airplane. I think it is worth mentioning that Steve can use the jet for his personal use, but then of course the company doesn't reiumburse him of the cost of operating it. The chart is below:
July 23: after all the nonsense we've come to read about Steve's succession lately (which did grant us a new Steve Jobs quote: "it's hogwash", courtesy of the Wall Street Journal) — John Gruber wrote a very good article, the kind that only he knows how to write, on the topic: On Succeeding Steve Jobs. His conclusion: "the obvious structure for a post-Jobs Apple is simply Apple as we know it, without Steve Jobs." I believe he is 100% right and that's what we will see, perhaps as early as next year. BUT, and it's a big BUT, I am not sure Tim Cook can keep the fire alive as Steve did for the next decade. And as I've stated before, I think he will have trouble running the company unchallenged the way only the genius-founder Steve Jobs can. His authority to run the super-disciplined fruit company will probably be challenged a couple of years after Steve is gone… Time will tell.
---
Steve Jobs appears on South Park
Steve Jobs appeared in a South Park episode on April 27, called HUMANCENTiPAD (Episode 1 of Season 15).
Disclosure: I am a huge South Park fan. However, I have to admit that when I try to convince friends or colleagues that it's one of the best TV series ever, I always have to fight the misconception that it's just an obscene show for teens that became popular by its heavy use of curse language and scatological humor.
Unfortunately, the aforementioned episode will not help my case. Its plot revolves around a new Apple device, the HumanscentiPad, which basically consists of three human beings tied together by a mouth-to-anus connection, tied to an iPad, as such: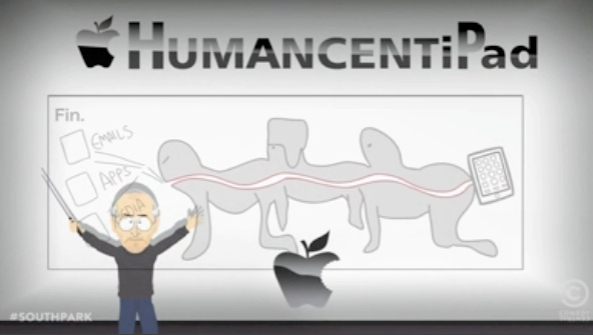 Overall, the episode gives a friendly look at Apple and its customs and peculiarities. I especially liked the Apple Geniuses Council and the way they join their forces with one another: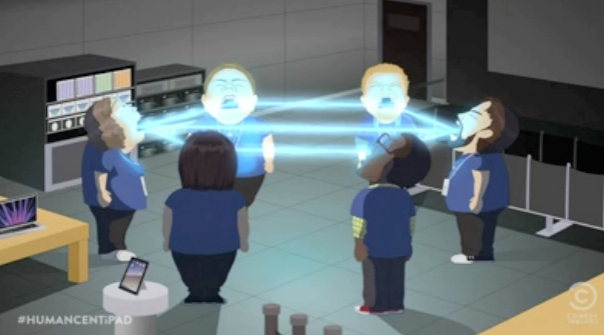 This is actually the second time that Steve Jobs is featured in a South Park episode. Last time it was The Entity (Episode 11 of Season 5 in 2001), in which Mr. Garrison invents a revolutionary new means of transportation to compete with air travel. IT is actually propelled by sucking on a tube and putting another tube in your behind… yeah (You're not helping me South Park here!) In that episode, Steve Jobs is one of the investors Garrison invites at his home to demonstrate his machine. He appears only for a dozen seconds and has just one line of dialogue (pretty badly cast actually, but at the time barely nobody knew what his voice sounded like).
The fact Steve now has a full episode dedicated to Apple and him is quite a sign of how far we've come in Apple's renewed popularity and increeasing penetration of popular culture.
Watch the full episode here.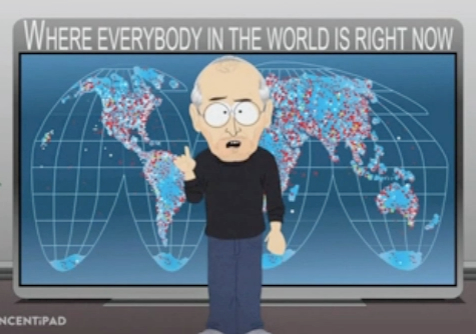 ---
'A real life Willy Wonka'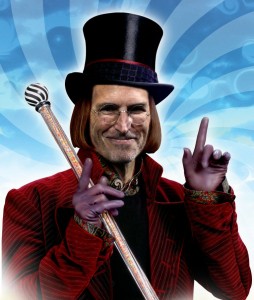 One day I was watching Tim Burton's Charlie and the Chocolate Factory, and a phrase caught my attention. It's a line when Augustus Gloop starts eating out the river, and Johnny Depp/Willy Wonka asks him to stop, insisting his chocolate must stay 'untouched by human hands'. The phrase reminded me of Steve during his NeXT years. He used the exact same phrase to describe the robots that built the NeXT Cube in his automated factory (see an example here).
This got me thinking of the many similarities that could be found between Steve Jobs and the Willy Wonka character. The most obvious are:
they're both widely-acknowledged geniuses at their art (respectively, creating chocolate and great technological products)
their products are magical and admired all around the world
they both work in super-secret environments (the chocolate factory, and Apple), and everyone wonders what must be going on behind the doors
they both have kind of a quirky personality (of course this is more obvious in Willy Wonka, but still, Steve Jobs is not your typical Fortune 500 CEO)
I didn't think about that metaphor much back then… But it came back to me four times, the latest of which was yesterday.
First, of course, Fake Steve wrote about it in one of his earliest posts. The Bono character said to FSJ:
Jaysus, Mary and Joseph, you're like Willy fookin Wonka in his fookin chocolate factory, out there baking up your fookin iPods, and meanwhile the fookin planet is fookin meltin, ya fooktard. I tell him, Bono, look, we all gotta do what we do, right?
The second instance was from more 'respectable' sources. It was the flurry of articles that got published when Steve was seen in Manhattan in early 2010 to pitch publishers about iPad. They all mentioned he was wearing "a very funny hat — a big top hat kind of thing" that evoked Willy Wonka (see here). Unfortunately there were no pictures — that's why the caricature above was drawn, to compensate for this lack.
Then there was Mike Daisey, the now-famous writer/comedian who is currently playing a show in Berkeley entitled The Agony and the Ecstasy of Steve Jobs. The show has been greatly covered in the tech press/blogosphere, and I wish I could give my own opinion on it. Unfortunately as you know I am a student in France, so I can't afford to buy airplane tickets just to see one show in California… so I didn't see the show. I hope it's been recorded and we'll see the video pop out at some point.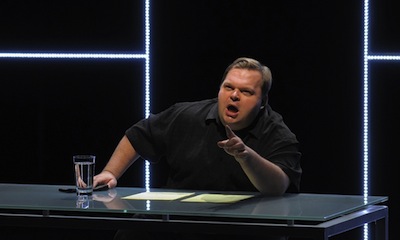 What's interesting is the way Mike pitched his own show:
In The Agony and the Ecstasy of Steve Jobs, Daisey dives into the epic story of a real life Willy Wonka. He examines how the CEO of Apple and his obsessions profoundly shape our everyday lives—and travels to China to investigate the factories where millions toil to make iPhones and iPods.
The metaphor finally reached its climax in the video I discovered this week, from CollegeHumor.com. They have gone all the way with a 4-minute video portraying Steve as Willy Wonka. He let 5 Golden iTickets in iPhone boxes to let children discover his magical Apple factory… It's very fun and enjoyable: so, enjoy. It's even got Oompa-Loompas/Apple Geniuses 🙂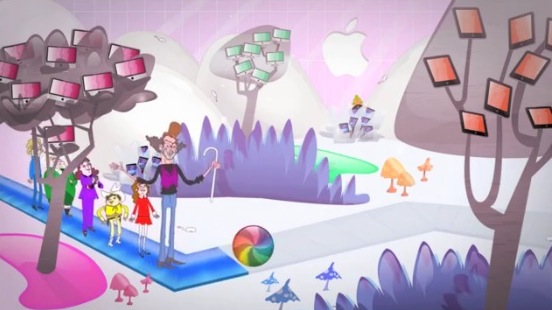 What do you think?
---
New Steve Jobs mosaic portrait + Resolutions leak
Today I come to you with three completely useless, yet entertaining, pieces of Steve Jobs trivia:
1.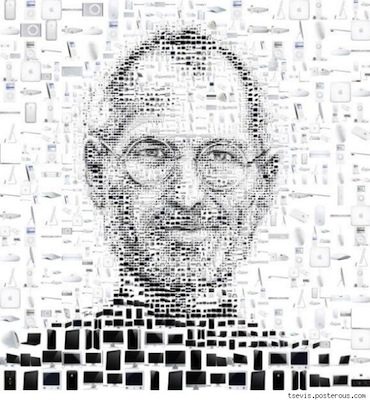 This mosaic portrait is from tsevis, not as great as his preceding ones, including that great one used in Fortune magazine
Source: TUAW.
2. Another Steve Jobs doll, but this time it's cheaper – as a matter of fact, it's DIY: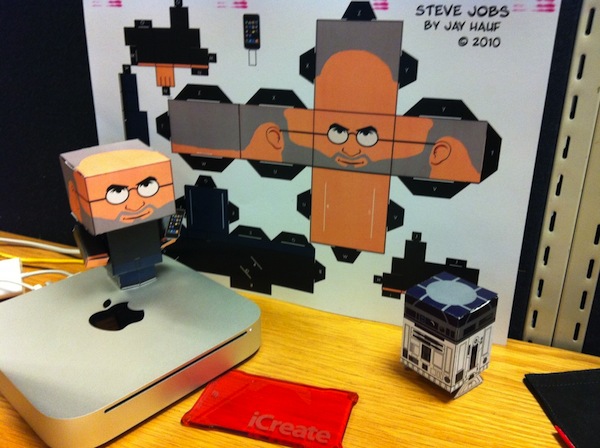 3. Pretty fun stuff that came out of spoof Apple news blog Scoopertino two weeks ago: "Steve Jobs' New Year's resolutions found on Starbucks napkin"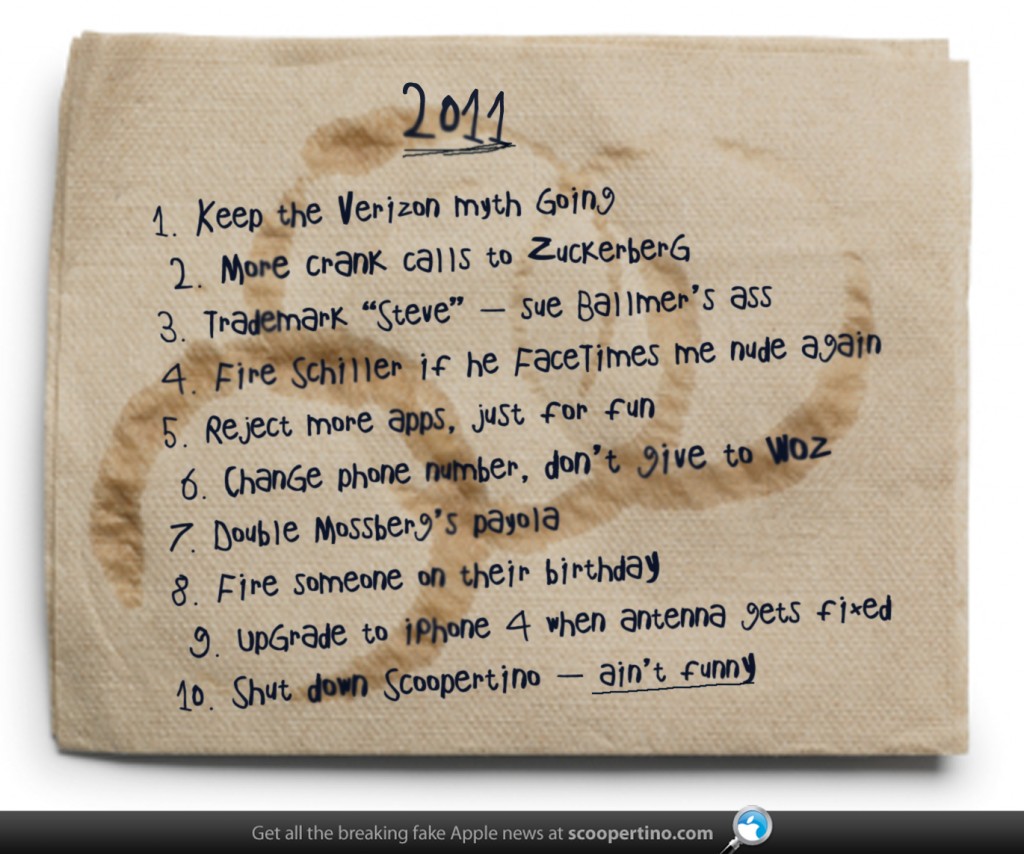 My favorite is number 6, what's yours? 😉
---
New caricature and parody of Steve
I just added the following caricature to the Caricatures page on all about Steve Jobs.com: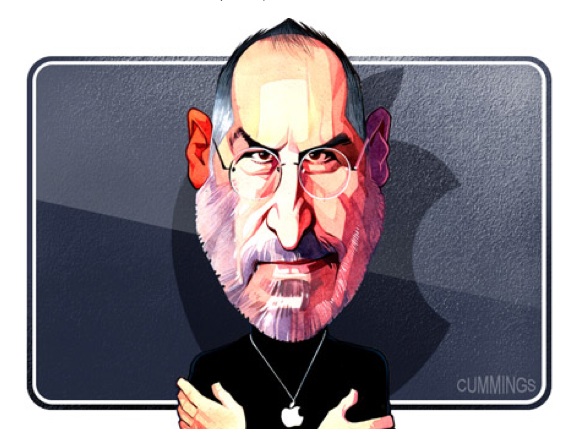 I love the little Apple necklace, remindful of the original iPod shuffle.
Also, thanks to our reader Alex, you can watch here a montage of Steve facing investors on the BBC show Dragon's Den. Pretty amusing.
---
Steve Jobs Winter Break news
Hi all!
I hope you're enjoying your Christmas holidays, if any.
Steve Jobs news have been kind of slow lately, but here's a wrap-up of the most important/fun items I've read in the past… well, month. Some are a little old but still noteworthy if you haven't come across them earlier.
Steve is praised so much it's not fun anymore.
Something that's always been the greatest strength of America is a thriving, booming middle class, where everybody has got a shot at the American Dream. And that should be our goal. That should be what we're focused on. How are we creating opportunity for everybody? So that we celebrate wealth. We celebrate somebody like a Steve Jobs, who has created two or three different revolutionary products. We expect that person to be rich, and that's a good thing. We want that incentive. That's part of the free market.
The whole "CEO of the decade" frenzy can only make me smile. Indeed, in 1989, Steve was named "Entrepreneur of the decade 1980-1989" by Inc. (cover above). The interview he gave at that occasion is a delight to read, if you haven't already. But it's funny that at the time, Steve was struggling with NeXT, although the journalist didn't suspect it. I hope this MarketWatch 'award' will not bring him similar bad luck for the next decade.
2. Steve Jobs history
After the interview that John Sculley gave to Cult of Mac last month, 37signals published a story on Edwin Land, founder/inventor of Polaroid and one of Steve Jobs' few alleged inspirers. I don't think it's *that* interesting — but the most interesting part is in the comments section. As you can see here Tom Hughes, who worked in the Mac team, tells the real story:
Interesting article, but all serendipity for Sculley who was just along for the ride. He just happened to luck out. And, there was no pilgrimage… no planned meeting with Dr. Land. I was working for Steve as Design Director for the Macintosh project and we were in Boston and I asked Steve if he'd like to meet Dr. Land, whom I had worked with before Apple. I called Dr. Land and he agreed to meet Steve. We arrived to find a BBC documentary film crew there. Dr. Land excused them and we began a 3 hour visit which included a glimpse into color experiments that were in his lab, to his personal office and an amazing review of some of his personal collection of photographs. The memorable part of this was that Steve was meeting someone who legitimately could be, almost uniquely, a mentor for him. And, clearly, they shared an awareness of the importance of good design as it contributed not only to their products, but to their corporate culture as well.
Kinda makes you wonder about the validity of the rest of the Sculley interview. Not that big of a surprise, since Sculley's book, Odyssey is said to be a ridiculous self-appraisal by the former Apple CEO, with a very liberal definition of history and facts.
3. Steve Jobs trivia
As usual, it's the majority of stuff.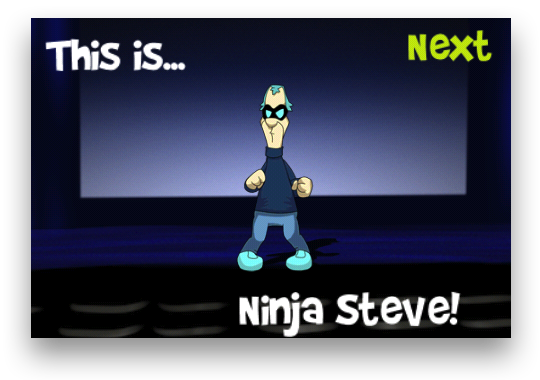 ---
iWear
This is fun: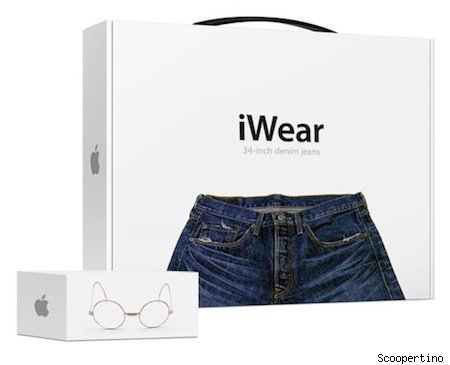 Reminds of me of a website (can't remember its URL) whose only page was a list of Steve Jobs' clothes. The guy who did it was interviewed by a major magazine (can't remember either, but I'll find it) as someone "influential in the Mac sphere". What a joke. Worst still, the list was almost all wrong. For example, it spread the error that Steve's turtlenecks are by St Croix. The truth: they're from Issey Miyake (John Lasseter in a FT article – warning: you have to subscribe for the whole story)
He found this one really great black turtleneck which he loved – I think it was Issey Miyaki [sic] – so tried to buy another one and they didn't have any more. He called the company and asked if they would make another one, and they refused. So he said: 'Fine, how many do you have to make before I can buy them?' So they made them – I think he has a closet full of them.
Source: TUAW (made by Scoopertino)
---
China pirating Steve Jobs
Looks like China cannot limit itself to counterfeited iPods and iPhone. The iLeader has to be copied too: Chinese (fake) Steve Jobs.
Via Gizmodo.
---
Pathetic website: Where's Jobs
I have nothing against Steve Jobs humor – I was an avid reader of Fake Steve when he was an active, satirist blogger. But I think we've crossed the line of pointlessness with Where's Jobs, a website where people submit fake pictures on which they've added teeny-tiny pictures of Steve Jobs (à la Where's Waldo). See for yourself.
---
The iPod ninja
Scoopertino ("unreal Apple news") made a funny parody in reaction to the fake story about Steve at the Kyoto airport:
Steve Jobs ninja stars revealed to be iPod prototypes.
Check out the product design 😉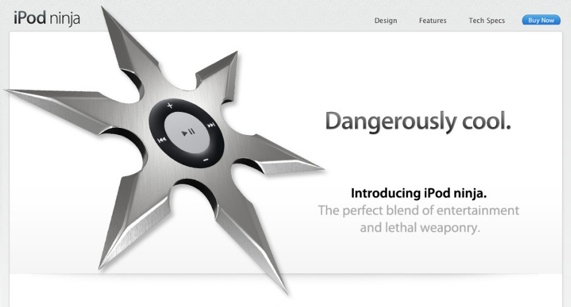 ---