Steve Jobs appears on South Park
Steve Jobs appeared in a South Park episode on April 27, called HUMANCENTiPAD (Episode 1 of Season 15).
Disclosure: I am a huge South Park fan. However, I have to admit that when I try to convince friends or colleagues that it's one of the best TV series ever, I always have to fight the misconception that it's just an obscene show for teens that became popular by its heavy use of curse language and scatological humor.
Unfortunately, the aforementioned episode will not help my case. Its plot revolves around a new Apple device, the HumanscentiPad, which basically consists of three human beings tied together by a mouth-to-anus connection, tied to an iPad, as such: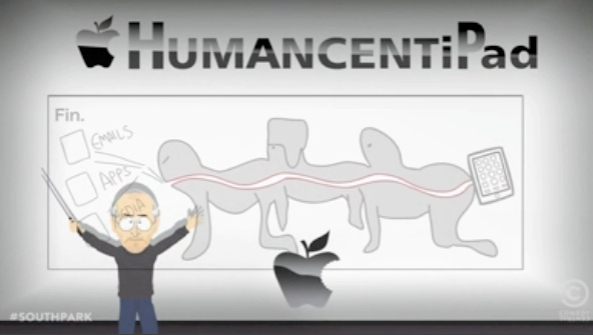 Overall, the episode gives a friendly look at Apple and its customs and peculiarities. I especially liked the Apple Geniuses Council and the way they join their forces with one another: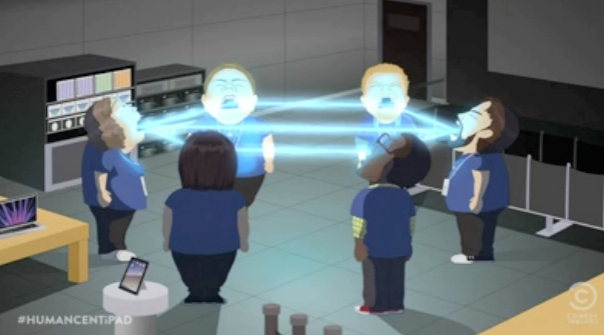 This is actually the second time that Steve Jobs is featured in a South Park episode. Last time it was The Entity (Episode 11 of Season 5 in 2001), in which Mr. Garrison invents a revolutionary new means of transportation to compete with air travel. IT is actually propelled by sucking on a tube and putting another tube in your behind… yeah (You're not helping me South Park here!) In that episode, Steve Jobs is one of the investors Garrison invites at his home to demonstrate his machine. He appears only for a dozen seconds and has just one line of dialogue (pretty badly cast actually, but at the time barely nobody knew what his voice sounded like).
The fact Steve now has a full episode dedicated to Apple and him is quite a sign of how far we've come in Apple's renewed popularity and increeasing penetration of popular culture.
Watch the full episode here.