Posts filed under 'Steve Jobs trivia'
---
New Steve Jobs infographic pops up
A new Steve Jobs infographic was sent to me by a friend a couple days ago.
Although it's mostly accurate (gee, all about Steve Jobs.com is quoted twice in the source list), it has its shares of mistakes. Where would the fun be if it hadn't?
Steve Jobs is NOT dyslexic. This is a recurrent fantasy that was never verified.
the brand of his turtleneck is not St Croix but Issey Mikake (whole story here or here on Quora). Who knows how many pairs of jeans he has? I doubt it's a hundred.
he is not a fruitarian. He certainly *has been* a fruitarian, during his hippie days, when he was 19. But those days are long gone
Here's the infographic anyway (source):

---
'A real life Willy Wonka'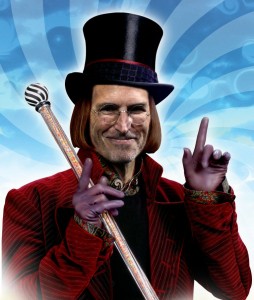 One day I was watching Tim Burton's Charlie and the Chocolate Factory, and a phrase caught my attention. It's a line when Augustus Gloop starts eating out the river, and Johnny Depp/Willy Wonka asks him to stop, insisting his chocolate must stay 'untouched by human hands'. The phrase reminded me of Steve during his NeXT years. He used the exact same phrase to describe the robots that built the NeXT Cube in his automated factory (see an example here).
This got me thinking of the many similarities that could be found between Steve Jobs and the Willy Wonka character. The most obvious are:
they're both widely-acknowledged geniuses at their art (respectively, creating chocolate and great technological products)
their products are magical and admired all around the world
they both work in super-secret environments (the chocolate factory, and Apple), and everyone wonders what must be going on behind the doors
they both have kind of a quirky personality (of course this is more obvious in Willy Wonka, but still, Steve Jobs is not your typical Fortune 500 CEO)
I didn't think about that metaphor much back then… But it came back to me four times, the latest of which was yesterday.
First, of course, Fake Steve wrote about it in one of his earliest posts. The Bono character said to FSJ:
Jaysus, Mary and Joseph, you're like Willy fookin Wonka in his fookin chocolate factory, out there baking up your fookin iPods, and meanwhile the fookin planet is fookin meltin, ya fooktard. I tell him, Bono, look, we all gotta do what we do, right?
The second instance was from more 'respectable' sources. It was the flurry of articles that got published when Steve was seen in Manhattan in early 2010 to pitch publishers about iPad. They all mentioned he was wearing "a very funny hat — a big top hat kind of thing" that evoked Willy Wonka (see here). Unfortunately there were no pictures — that's why the caricature above was drawn, to compensate for this lack.
Then there was Mike Daisey, the now-famous writer/comedian who is currently playing a show in Berkeley entitled The Agony and the Ecstasy of Steve Jobs. The show has been greatly covered in the tech press/blogosphere, and I wish I could give my own opinion on it. Unfortunately as you know I am a student in France, so I can't afford to buy airplane tickets just to see one show in California… so I didn't see the show. I hope it's been recorded and we'll see the video pop out at some point.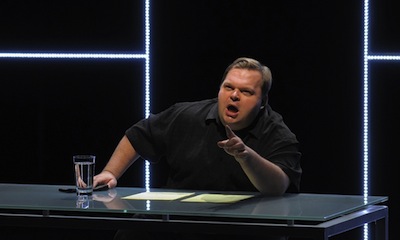 What's interesting is the way Mike pitched his own show:
In The Agony and the Ecstasy of Steve Jobs, Daisey dives into the epic story of a real life Willy Wonka. He examines how the CEO of Apple and his obsessions profoundly shape our everyday lives—and travels to China to investigate the factories where millions toil to make iPhones and iPods.
The metaphor finally reached its climax in the video I discovered this week, from CollegeHumor.com. They have gone all the way with a 4-minute video portraying Steve as Willy Wonka. He let 5 Golden iTickets in iPhone boxes to let children discover his magical Apple factory… It's very fun and enjoyable: so, enjoy. It's even got Oompa-Loompas/Apple Geniuses 🙂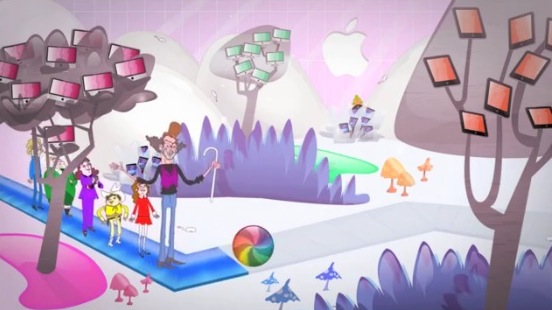 What do you think?
---
Steve Jobs a British knight?… and the hidden tribute in OS X Lion
Two interesting pieces of news today, while all of us are anxiously awaiting tomorrow's announcement and the rumored/possible/yet unlikely onstage presence of Steve.
Steve Jobs was proposed then refused British knighthood in 2009: good summary from TUAW How Steve Jobs missed knighthood in 2009. Steve has never been very fond of prize and awards, so I'm not surprised he declined, I don't think that being used politically is the main reason. Although he has always been careful never to make any public statements on his political orientations. Actually he never personally donated to the Democratic Party, it was always his wife Laurene who used her name for the donations.
Reminds me of this funny incarnation Fake Steve/Dan Lyons did when Steve 'received' a Crunchie in 2008: Fake Steve Jobs Crunchies Acceptance Speech
Nice hidden tribute to Steve in OS X Lion, spotted by Cult of Mac: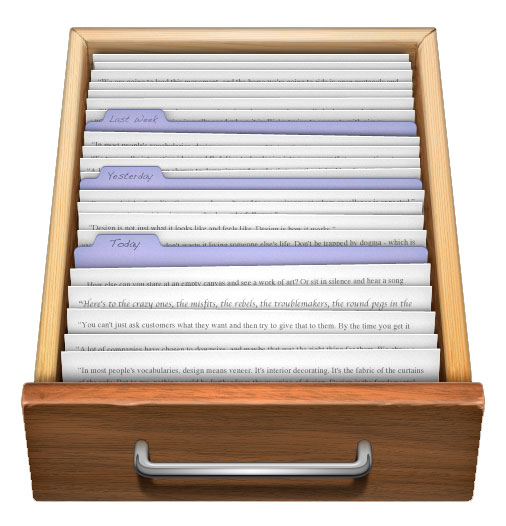 ---
Happy birthday to Steve !
I'm all the more concerned, because as some of you know, I was born on the same day as our dear iLeader.
I welcome the following initiative to wish Steve a happy birthday (probably inspired by this one to wish him well). I just left my birthday message 🙂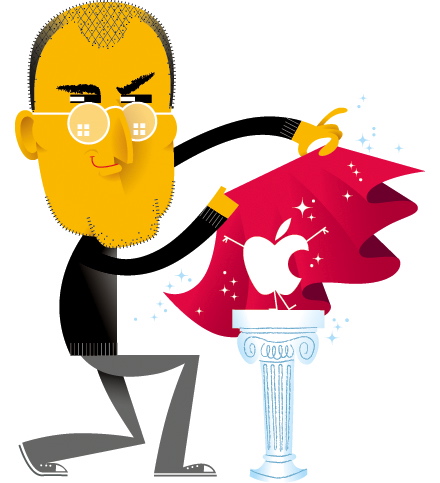 In the meantime, the rumor mill is crazy about the supposed new MacBook Pros, coming later today! We'll see…
---
Two SJ infographics for your perusal
Infographics are the latest hot thing on the Internet. No one has time to read anymore, I guess.
This week we are blessed with two infographics on Steve, of differing quality:
– the one on the left has historical and grammatical mistakes and I don't like it: How Steve Jobs and Apple became #1
– the one on the right is fun, original, and has the good taste of quoting all about Steve Jobs.com as a source 🙂 : 10 things Steve Jobs could say during sex
I'll let you make your own opinion.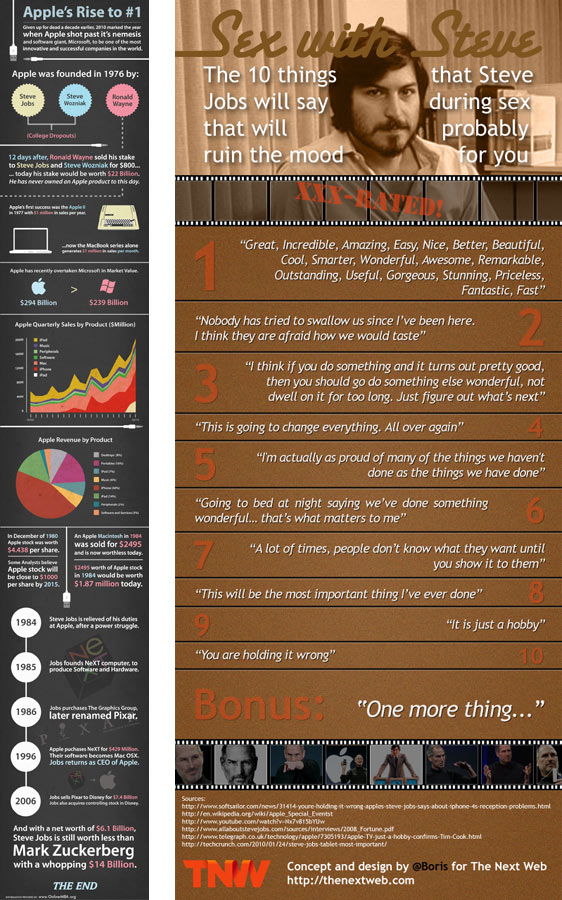 ---
Steve Jobs News Round-up
I've been pretty busy for the past two weeks, so once again I have to commited the sin of writing a "SJ news round-up" instead of duly posting about each news item separately. Truth to be told, it's because I'm actively seeking my next internship right now — by the way, if any of you know a tech (or tech-related) company from the Bay Area that would be interested in my profile, please let me know.
BUT to my credit, Steve Jobs news have also been kinda slow lately. As could be foreseen, Steve didn't show up at the Verizon event… can't wait for the Daily event with Murdoch that should be coming soon. An iPad 2 event would certainly do, too 🙂
Let's get on with the news:
Somewhat important – A group of Apple shareholders have suggested that the company prepare a succession plan in case Steve Jobs leaves, a so-called "CEO Succession Planning Policy."
According to the proposal, which shareholders will consider at Apple's annual meeting scheduled for Feb. 23, the company's board would adopt a detailed policy that includes a directive for the board to "identify and develop internal candidates" to succeed Jobs, and "annually produce a report on its succession plan to shareholders."
FYI Feb. 23 is one day before Steve's birthday (and mine 🙂 ) I'm sure the response will not surprise you:
Apple said in the filing that it opposes the CEO succession proposal, calling it unnecessary and pointing out that it could lend rivals an advantage by publicizing the company's plans. In addition, it would "micromanage and constrain the actions of the board," the company added.
The cult of secrecy has proven quite useful so I kinda have to agree — also I'm one of those who don't even want to think about the departure of Steve.
(Source)
Remotely interesting – a new email from iSteve: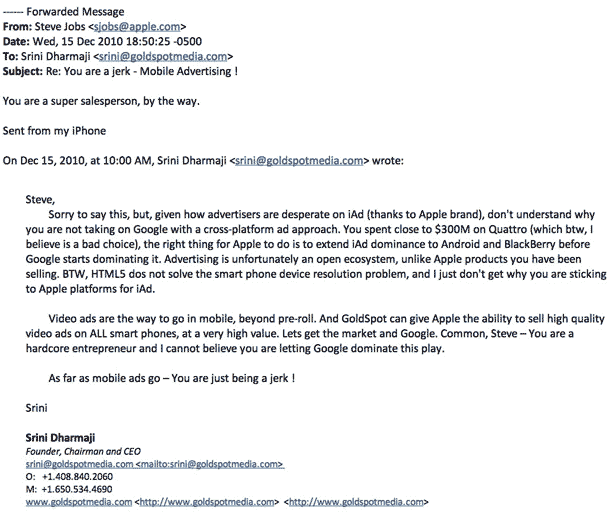 If it weren't ironic, Srini could feel flattered to be called a "super salesman" by probably one the world's best salesmen 😉
I'd like to finish with pieces of news that are kind of outside the usual realm of this blog: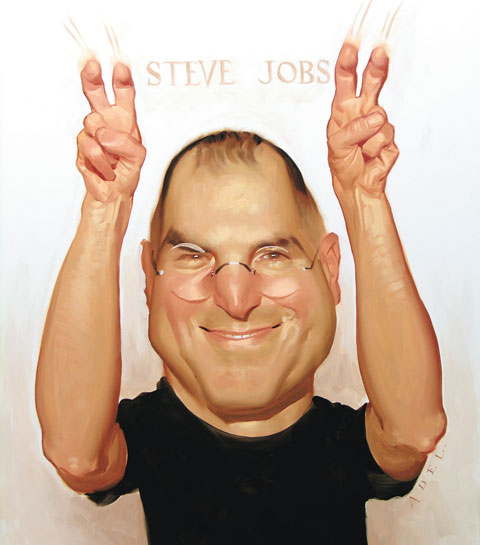 1. The demise of Fake Steve
Here's an interesting piece by John Gruber criticizing a Dan Lyons article in Newsweek stating that Apple, is 'too late' in the smartphones war, and that Android will inevitably win, for the best: Too Late.
For those who don't know, Dan Lyons is the man behind the once-amazing Fake Steve Jobs blog. I write once-amazing because there's something tragic about what happened to Fake Steve. I was in such a joy when I found the blog for the first time… it was so funny! I stil love to dig into it or re-read Fake Steve's novel from time to time, and it never fails to make me laugh.
Yet all this ended in 2008, when Dan decided to stop writing Fake Steve posts and became 'Real Dan'. His new blog was such a failure that now he's back to Fake Steve. But it's not Fake Steve anymore. It's Real Dan using Fake Steve's voice for writing boring/mostly wrong stuff about anything but Apple, usually. And when you read Lyons' articles in Newsweek, it's no wonder why.
I think it's a real loss and I secretly hope that one day we'll see Dan go back to his Fake Steve persona…. thank God there is actually a new funny SJ impersonator, the famed @ceoSteveJobs Twitter account. It's become so famous that Steve tried to have it shut down. It's worth checking if you use Twitter.
2. An interesting story from Pixar's pre-SJ days
I always said I was not running an Apple blog, and once again I prove it by linking to this interesting piece fro Bob Sutton's blog:
Pixar Lore: The Day Our Bosses Saved Our Jobs
Just a reminder: bob Sutton is the author who called Steve Jobs one of the world's biggest assholes in his bestseller The No-Asshole Rule. Here he tells a story from the days when Pixar was not called Pixar yet, but was still owned by George Lucas, who desperately tried to sold it. It's a pretty interesting look on the minds of Pixar's historical founders, Ed Catmull and Steve's enemy Alvy Ray Smith. I won't say more.
---
New Steve Jobs mosaic portrait + Resolutions leak
Today I come to you with three completely useless, yet entertaining, pieces of Steve Jobs trivia:
1.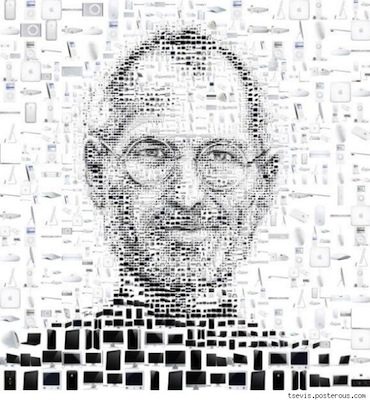 This mosaic portrait is from tsevis, not as great as his preceding ones, including that great one used in Fortune magazine
Source: TUAW.
2. Another Steve Jobs doll, but this time it's cheaper – as a matter of fact, it's DIY: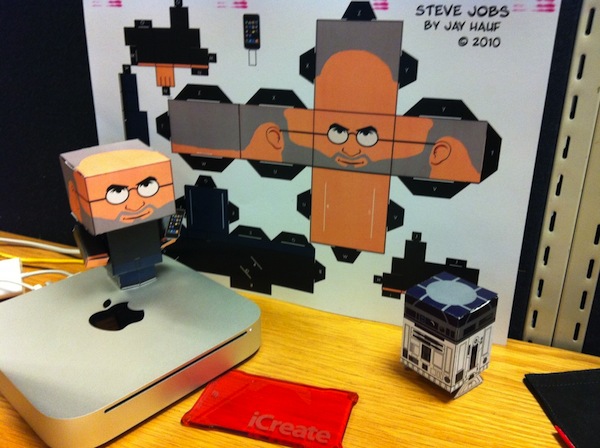 3. Pretty fun stuff that came out of spoof Apple news blog Scoopertino two weeks ago: "Steve Jobs' New Year's resolutions found on Starbucks napkin"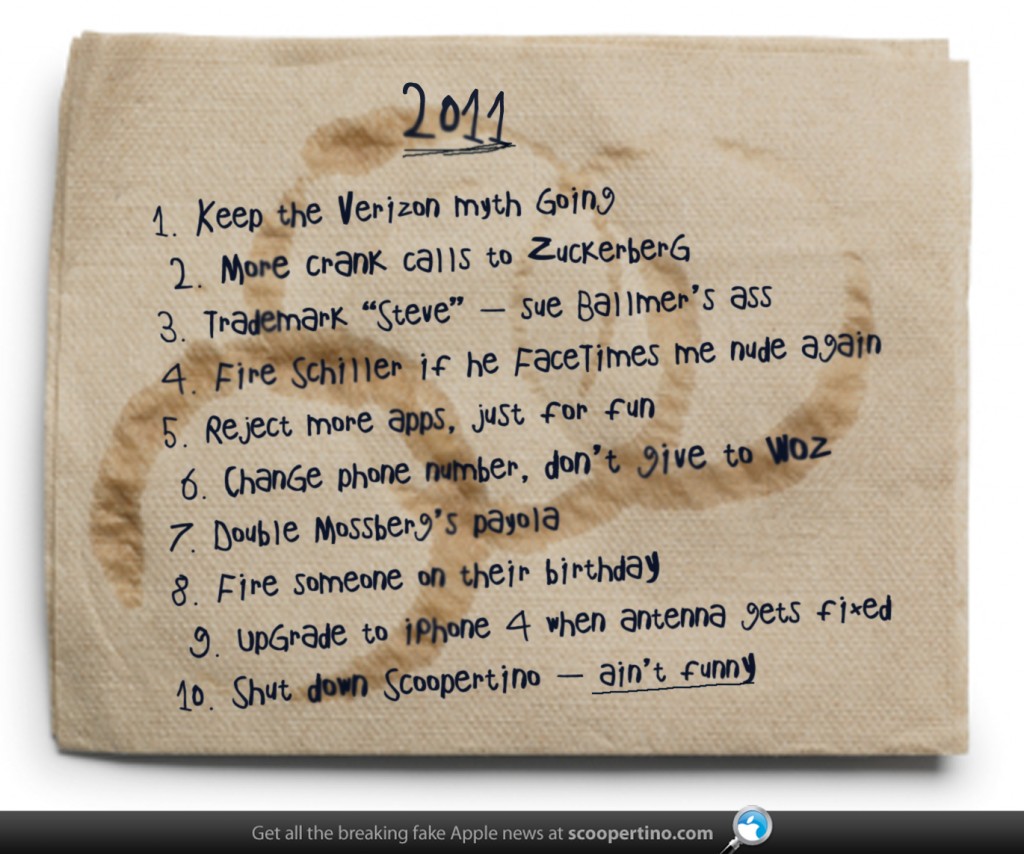 My favorite is number 6, what's yours? 😉
---
New caricature and parody of Steve
I just added the following caricature to the Caricatures page on all about Steve Jobs.com: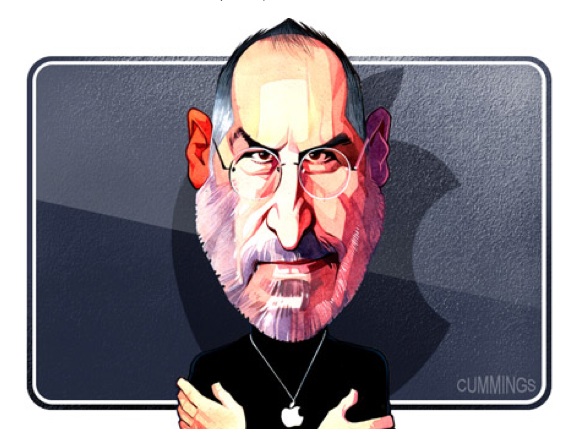 I love the little Apple necklace, remindful of the original iPod shuffle.
Also, thanks to our reader Alex, you can watch here a montage of Steve facing investors on the BBC show Dragon's Den. Pretty amusing.
---
Steve Jobs Winter Break news
Hi all!
I hope you're enjoying your Christmas holidays, if any.
Steve Jobs news have been kind of slow lately, but here's a wrap-up of the most important/fun items I've read in the past… well, month. Some are a little old but still noteworthy if you haven't come across them earlier.
Steve is praised so much it's not fun anymore.
Something that's always been the greatest strength of America is a thriving, booming middle class, where everybody has got a shot at the American Dream. And that should be our goal. That should be what we're focused on. How are we creating opportunity for everybody? So that we celebrate wealth. We celebrate somebody like a Steve Jobs, who has created two or three different revolutionary products. We expect that person to be rich, and that's a good thing. We want that incentive. That's part of the free market.
The whole "CEO of the decade" frenzy can only make me smile. Indeed, in 1989, Steve was named "Entrepreneur of the decade 1980-1989" by Inc. (cover above). The interview he gave at that occasion is a delight to read, if you haven't already. But it's funny that at the time, Steve was struggling with NeXT, although the journalist didn't suspect it. I hope this MarketWatch 'award' will not bring him similar bad luck for the next decade.
2. Steve Jobs history
After the interview that John Sculley gave to Cult of Mac last month, 37signals published a story on Edwin Land, founder/inventor of Polaroid and one of Steve Jobs' few alleged inspirers. I don't think it's *that* interesting — but the most interesting part is in the comments section. As you can see here Tom Hughes, who worked in the Mac team, tells the real story:
Interesting article, but all serendipity for Sculley who was just along for the ride. He just happened to luck out. And, there was no pilgrimage… no planned meeting with Dr. Land. I was working for Steve as Design Director for the Macintosh project and we were in Boston and I asked Steve if he'd like to meet Dr. Land, whom I had worked with before Apple. I called Dr. Land and he agreed to meet Steve. We arrived to find a BBC documentary film crew there. Dr. Land excused them and we began a 3 hour visit which included a glimpse into color experiments that were in his lab, to his personal office and an amazing review of some of his personal collection of photographs. The memorable part of this was that Steve was meeting someone who legitimately could be, almost uniquely, a mentor for him. And, clearly, they shared an awareness of the importance of good design as it contributed not only to their products, but to their corporate culture as well.
Kinda makes you wonder about the validity of the rest of the Sculley interview. Not that big of a surprise, since Sculley's book, Odyssey is said to be a ridiculous self-appraisal by the former Apple CEO, with a very liberal definition of history and facts.
3. Steve Jobs trivia
As usual, it's the majority of stuff.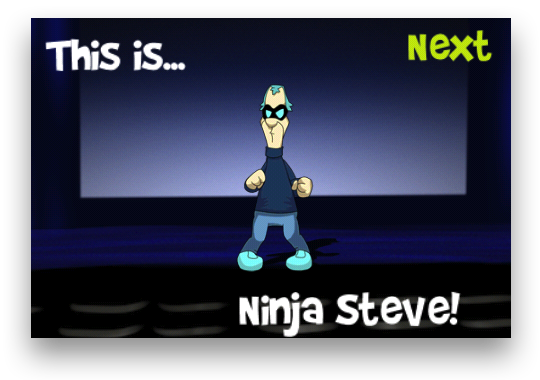 ---
Quirky Steve Jobs news and trivia from last week
1. a hip-hop song apparently came out by a guy named "Fabolous" (don't blame me if he's super-duper famous because I'm not into rap). It's called… wait for it… "Steve Jobs". Excerpt from the chorus:
man used to be Mac'ing but now I'm Steve Jobbin' man
got 2 choices
you can stay broke or grind
2. Steve sent an email last week about the future of Airplay to a guy asking for compatibility with Safari and 3rd party apps:
Yep, hope to add these features to Airplay in 2011.
3. I found this picture of a guy's desk. See, I told you I wasn't the fanboyest SJ fanboy on the planet! 😉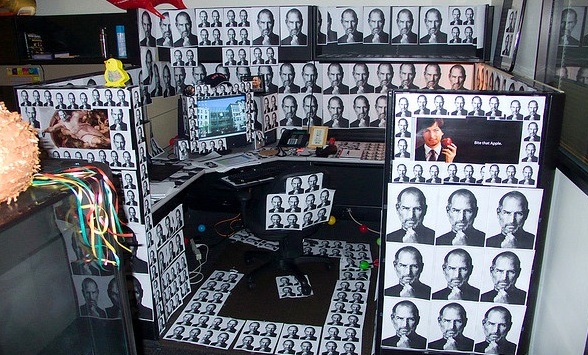 (Full gallery).
The important stuff is coming next.
---