Did I get Steve Jobs' turtleneck bill?
Today I decided to share with you a funny story that happened to me two weeks ago. By funny I do not mean amusing but 'difficult to explain, strange'.
As you may or may not know, I often receive emails at my webmaster email address that are destined to Steve Jobs. The reason is quite simple: people who have little knowledge of Apple's CEO think all about Steve Jobs.com is his official website. They just click on the 'Contact' link thinking their message will go straight to Steve's famed iPhone email inbox, even though it would take them a 15-second visit to Google to figure out his real and hyper-famous email address.
Anyway, on May 26, I got the following email: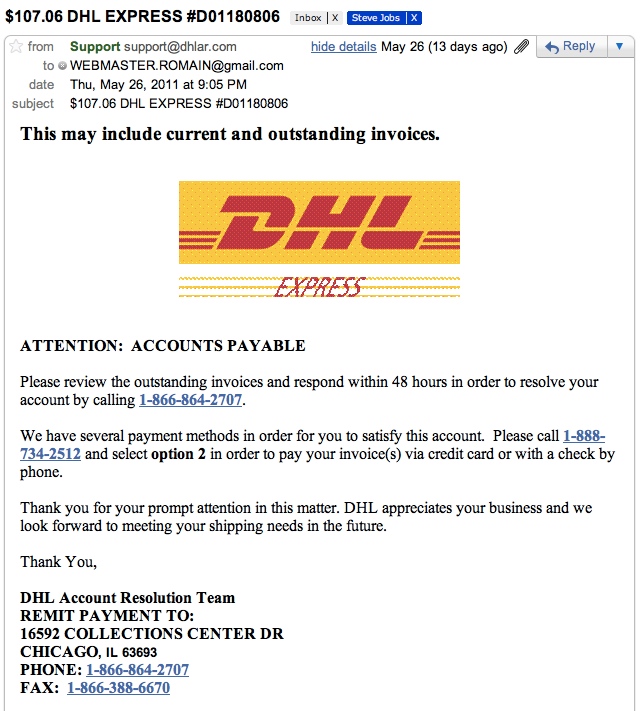 To which was attached the very interesting PDF below: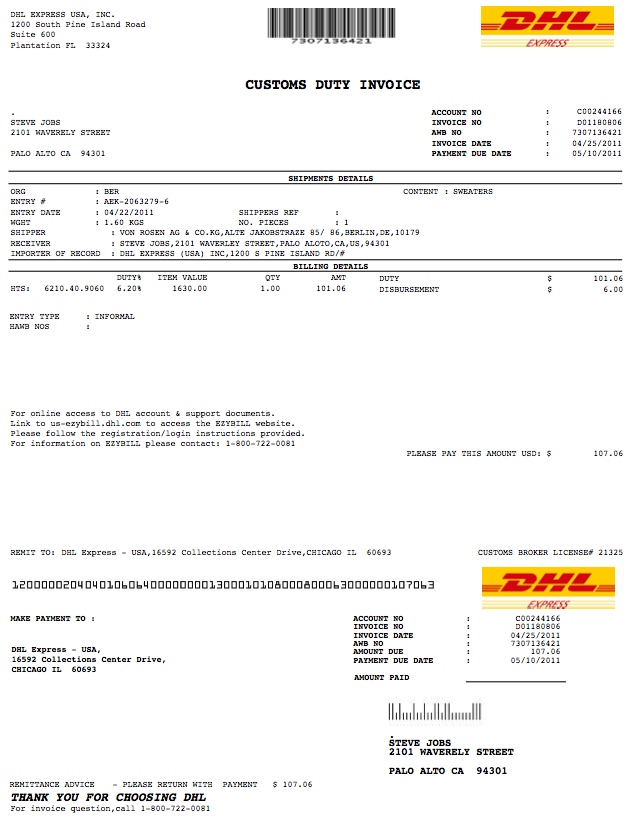 The PDF can be downloaded here for the most curious/visually challenged of you. To summarize: this is an email claiming that Steve Jobs owes DHL $107.06 of duty taxes for the import of a sweater worth $1630, from a German company called Von Rosen AG & Co.
Here's how I reacted to this in chronological order:
I noticed that, despite orthographic inconsistencies, the mail address really was that of Steve Jobs' home. But this one is not hard to find either.
I then visited Von Rosen's website and figured that, yeah, their turtlenecks and sweaters kinda looked like Steve's, but they clearly weren't. First, their logo, though small, is easily recognizable from a distance and I've never seen any picture of Steve with a turtleneck sporting it. Second, I know for a fact his turtlenecks are by Issey Miyake.
As a last check, I quickly Googled some of the DHL email addresses, mail addresses and phone numbers on the bill to see if they were fake or not. This was quite puzzling:  the @dhlar.com did not redirect to their website; its Whois record was anonymous; their Chicago address was real, as their Florida one. But the phone numbers seemed fake, as I read on this scam alert website
I went to DHL.com to double check and tried to enter the shipment numbers, which din't fit any standard format and kept returning errors.
I concluded it was a scam and wrote back the following:

But it didn't end there. As all of you (I assume), on Monday night, I watched eagerly Steve's WWDC 2011 keynote. And my jaw dropped when I noticed the following: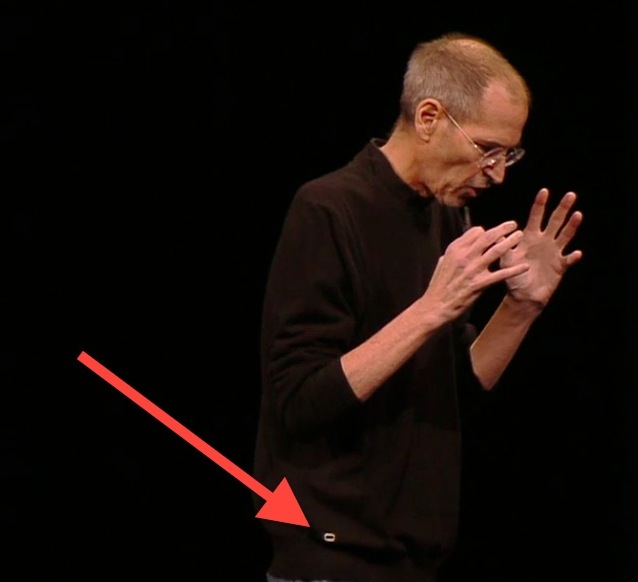 For those of you not following, this is Von Rosen's trademark logo!!! See below: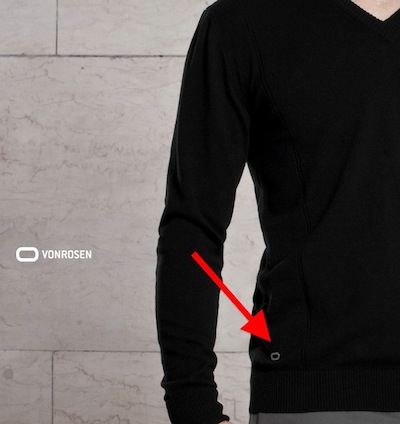 That's right, it's that German fashion designer on the 'fake' DHL bill I had gotten the week before! And sure enough, the guy posts on his blog that finally Steve publicly admits to wearing his turtlenecks (well posted anyway, because as I can see the post's been removed – I guess the iHand has intervened in this matter, sorry Von Rosen but I don't think Steve will be wearing your shirt for some time to come).
Of course, I went back to Google and re-did the check I made about the scam alert, in a more thorough way. The scam alert website had a post saying the number was in fact real. But as of this writing I can't find it… I guess it's been removed too because identified as made by the scammers themselves. Still, I'm puzzled:
if the bill really was aimed at Steve (which I now seriously doubt), 1. why did it end in my inbox? (some guy from DHL would have looked it up online?) – 2. why is the price $1630 not the $420 listed on the website?
why was Steve wearing a turtleneck vs. the simple sweater even Von Rosen told TechCrunch he was wearing?
most important of all, if it really is a scam, how come the scammers knew Steve was using that German brand? I insist, it never happened before. Do they have an inside man at DHL who informed them of the real shipment of a sweater to SJ from Berlin?
if it is a scam, again, why would such elaborate scammers be stupid enough either to think my e-mail address was Steve Jobs', or that (if I was their target) I would be stupid enough to give them my credit card number just because there was Steve's name on the bill?
The story itself is not that interesting but since even big-time tech blogs post about Steve's iWear now, I thought I'd jump on that wagon. What do you guys think of all this? The only thing I can be sure of is, it mustn't be easy being Steve Jobs every day.