Johnny Grey remembers his work on Steve and Laurene Jobs's kitchen
Reader Bertrand Hayotte pointed out to me a story by kitchen designer Johnny Grey about how "Steve Jobs and his wife Laurene almost had one of [his] kitchens."
The story gives an insight into the "private Steve Jobs" with details of his taste for a simple and authentic design for his kitchen. Grey only worked on the design part, going even as far as showing the drawing he made for the Jobses: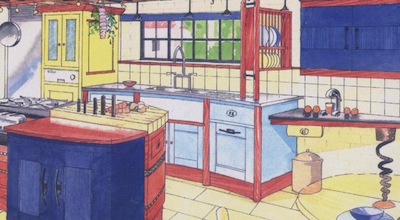 It is not known whether his design was implemented, since Steve Jobs apparently "was a very private person and reluctant to have any building work done, powerfully disliking noise, mess and invasion of their home".
Although I did know that Steve worked very hard on his kitchen and on his garden design, it is the first time that such details come out. The story also reinforces the idea that he  applied the same beliefs in all aspects of his life, from product design to kitchen decoration:
We once met in London at the Savoy hotel during one of his rushed, but highly publicised European trips. His comments, as you might expect knowing his track record at Apple, were brief and to the point, mostly in the direction of simplifying the design, staking out a more severe, monastic approach. Shaker simplicity was often his default position.
Thanks Bertrand!