Posts tagged 'resignation'
---
Gems from the noise following Steve Jobs' resignation
I've been working on this post for a while but I have been overwhelmed by a number of things recently so sorry about the delay.
I've always thought that the only positive thing that would result from Steve Jobs' withdrawal from the public spotlight would be the flurry of stories to pour out from all corners of the Wold Wide Web. His recent resignation proved me right. To save you time and effort, here is my personal selection among the several dozens of articles and stories I have read in the past three weeks. If you think a worthy one is missing, do not hesitate to mention it in the comments.
The big news
Homages
Steve Jobs stories
Rediscovered treasures
On Steve's health
---
Today is the historic day we knew would come: Steve Jobs just resigned from Apple.
So many signs were given to prepare us to that historic piece of news: not only did Steve take an unlimited medical leave of absence, he started planning a new home, and cooperated on his first authorized biography… So it would be foolish to pretend we didn't see Steve's resignation coming. Yet I'm sure it still resonates as a shock many of us. It certainly does to me.
Here is the letter most of you will have already read I'm sure.
August 24, 2011 06:34 PM Eastern Daylight Time
Letter from Steve Jobs

CUPERTINO, Calif.–(BUSINESS WIRE)–To the Apple Board of Directors and the Apple Community:

I have always said if there ever came a day when I could no longer meet my duties and expectations as Apple's CEO, I would be the first to let you know. Unfortunately, that day has come.

I hereby resign as CEO of Apple. I would like to serve, if the Board sees fit, as Chairman of the Board, director and Apple employee.

As far as my successor goes, I strongly recommend that we execute our succession plan and name Tim Cook as CEO of Apple.

I believe Apple's brightest and most innovative days are ahead of it. And I look forward to watching and contributing to its success in a new role.

I have made some of the best friends of my life at Apple, and I thank you all for the many years of being able to work alongside you.

Steve
I will give myself some time to think more deeply about the future of Apple and of course, of Steve himself. What I am dreading the most is the noise that we, "the Apple Community" — and especially we, Steve Jobs admirers — will have to endure in the coming months from ignorant analysts or sensationalist hacks about that historic event. I hope they will show Steve the respect he deserves.
Good luck to Tim Cook for running what is, has always been, and probably always will be, Steve's company — and certainly his greatest masterwork.
Thank you Steve for the incredible journey you have led Apple and all of us on. I'm sure it is not over. After all, today is the first day of the rest of your life.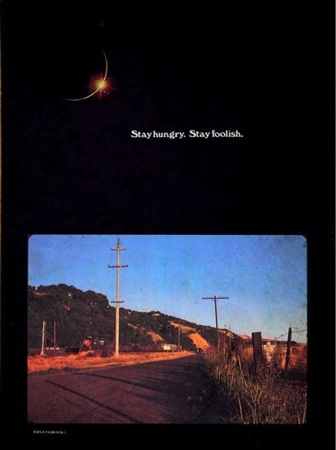 ---