Steve Jobs unveils his plans for Apple's future campus
Finally! It was five years ago that Steve Jobs first came to the Cupertino City Council to unveil Apple's plan to build a new campus in that city to accomodate their ever-growing workforce… Since then, not much had happened, besides Apple having its people move to HP's former (and frankly quite ugly) offices.
Well, three days after the WWDC keynote, Steve made a (sort-of) public appearance again to unveil what he had been working on all along: Apple's impressive future super-campus. The video is quite interesting to watch, mostly to see Steve describe the project, and despite the embarrassingly stupid comments and lame jokes from the City Council members (Can we get free wi-fi? Will the employees exit the building safely in case of fire? Why don't we have an Apple Store?… pleaaase). Here's the spaceship in Steve's own words (please note this one-building design has nothing to do with what Spanish magazine El Economista talked about in December of last year):

For an architecture aficionado like me, there is so much to talk about this design. But I'll stick to Apple metaphors.
I believe the whole concept of a single, huge, perfectly round building, surrounded by a forest, is an excellent metaphor for Apple as a company and even as a culture. It is the opposite of Google's more open, decentralized, more 'democratic' (dare I say disorganized?) campus: image of a company working on different projects, going into several directions, without an apparent guiding principle. No, the Apple campus is a perfect, almost utopian (dare I say authoritarian?) building. Like an Apple product, it's simple and straightforward (a circle). Like Apple the company, it's huge and impressive in its size and organization. But even more than that, it's pretty much a fortress secluding Apple employees from the outside world by a heavy artificial forest, just like Apple's cult of secrecy isolates them from the rest of the industry.
The more I looked at the sketches and plans of the Apple spaceship, the more I thought of this: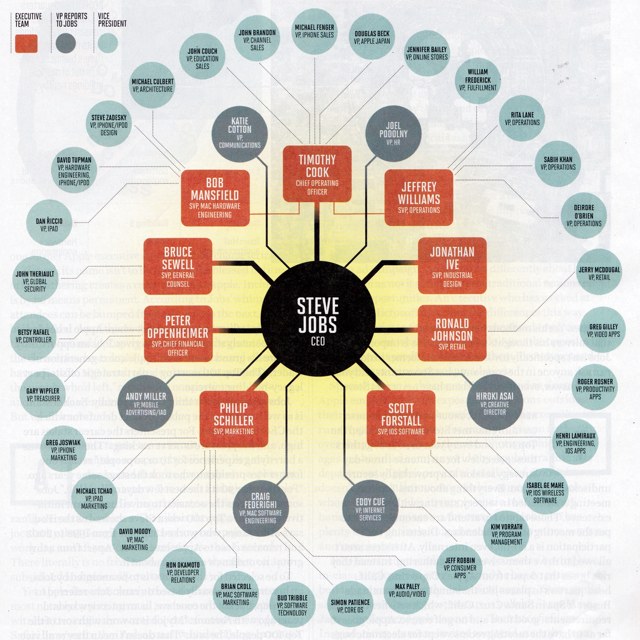 This is Apple's org chart (org circle?) that appeared in Fortune's excellent Inside Apple story two weeks ago. I think it is one of the most telling and accurate depictions of the Apple Way. Coming back to our spaceship campus, I think you see where I am going: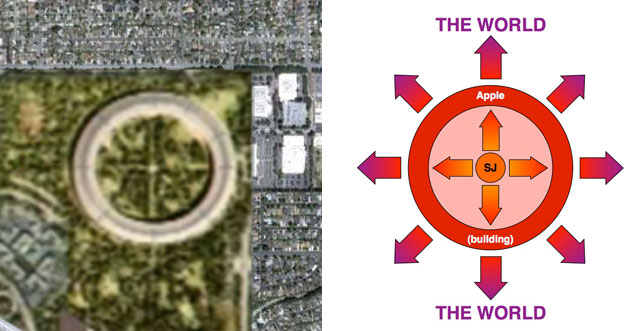 That's right, to make the metaphor complete, Steve's office should be right in the middle: the centerpiece of this high-tech fortress, the ultimate impulsion and decision point that pushes everything Apple does, before it goes out the fortress to the bewildered world.
It's an understatement that I can't wait to go back to the Bay Area in 2015 to take a tour of that building, should I have to enroll in architecture school to do so (see Steve's speech at 14:40 if you don't see what I'm referring to).