Posts tagged 'infographics'
---
New Steve Jobs infographic pops up
A new Steve Jobs infographic was sent to me by a friend a couple days ago.
Although it's mostly accurate (gee, all about Steve Jobs.com is quoted twice in the source list), it has its shares of mistakes. Where would the fun be if it hadn't?
Steve Jobs is NOT dyslexic. This is a recurrent fantasy that was never verified.
the brand of his turtleneck is not St Croix but Issey Mikake (whole story here or here on Quora). Who knows how many pairs of jeans he has? I doubt it's a hundred.
he is not a fruitarian. He certainly *has been* a fruitarian, during his hippie days, when he was 19. But those days are long gone
Here's the infographic anyway (source):

---
Two SJ infographics for your perusal
Infographics are the latest hot thing on the Internet. No one has time to read anymore, I guess.
This week we are blessed with two infographics on Steve, of differing quality:
– the one on the left has historical and grammatical mistakes and I don't like it: How Steve Jobs and Apple became #1
– the one on the right is fun, original, and has the good taste of quoting all about Steve Jobs.com as a source 🙂 : 10 things Steve Jobs could say during sex
I'll let you make your own opinion.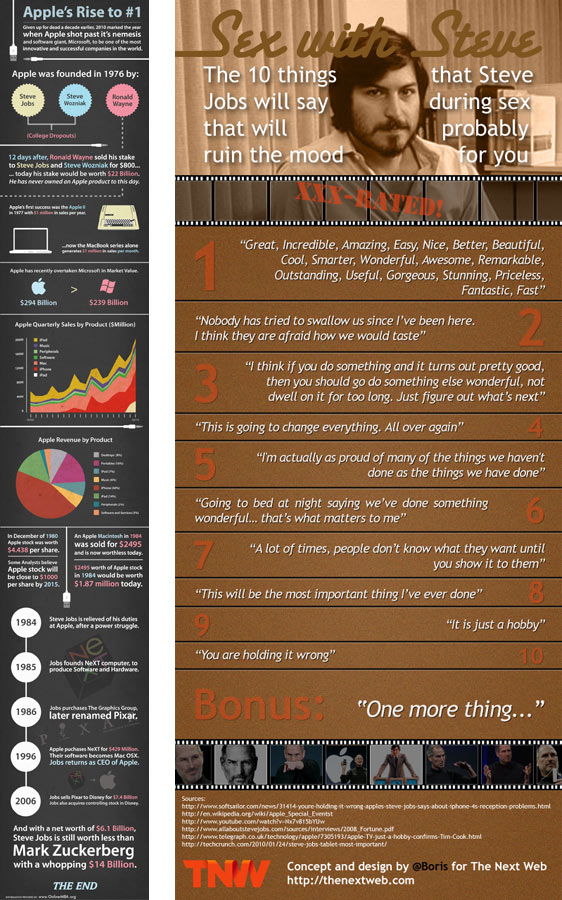 ---