Posts tagged 'Japan'
---
Two of our videos on Mashable
Today I am proud to add the excellent social blog Mashable to the growing list of prestigious websites which have mentioned content from all about Steve Jobs.com:

Steve Jobs Remixed: 5 Creative Takes on the Iconic Apple Keynote [VIDEOS]
Good news: they still called us "creative" even though the two video they picked are from the original 2006 release of the website (faire enough, the One More thing video was remixed in HD last year. By the way, for those of you who wonder why Boom! is still in the original version, it's because you can't update a video on YouTube… so updating it would be killing one of the website's strongest assets!)
Bad news: they failed to mention the website as a source, even though it is pretty visible on both videos. NOT COOL! I will write to the author and see what can be done about it.
For our friends from Japan, we've also been quoted on Japon.internet.net – if I trust the number of hits I got, it's a popular website over there. Any of you guys know it?
---
The iPod ninja
Scoopertino ("unreal Apple news") made a funny parody in reaction to the fake story about Steve at the Kyoto airport:
Steve Jobs ninja stars revealed to be iPod prototypes.
Check out the product design 😉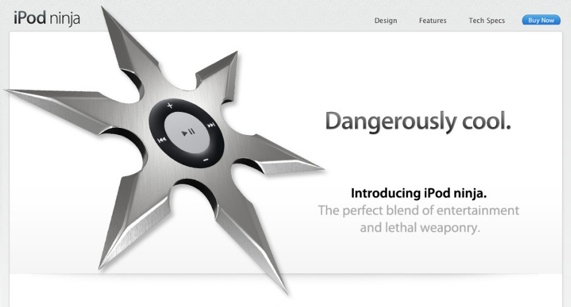 ---
Fake report of Steve being upset at Kyoto airport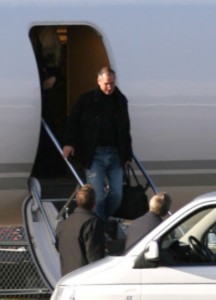 John Gruber at Daring Fireball is reporting a funny story involving Steve Jobs and the Kyoto airport staff :
Apple Inc. Chief Executive Officer Steve Jobs said he'll never come back to Japan after officials at an airport barred him from taking Ninja throwing stars aboard his private plane, SPA! magazine reported in its latest issue. […]

Jobs said it wouldn't make sense for a person to try to hijack his own plane, according to the report. He then told officials he would never visit Japan again, the magazine reported.
Unfortunately, the story is a fake, as reported by this "official" Apple report (probably a phone call to PR guru Katie Cotton):
Steve did visit Japan this summer for a vacation in Kyoto, but the incidents described at the airport are pure fiction. Steve had a great time and hopes to visit Japan again soon.
I'd find it hard to believe that Steve could have said anything close to "I will never visit Japan again". Remember he originally intended to spend his life a reclusive Japanese Zen monk.
UPDATE: some 3D agency made a short animation of what the fake encounter could have looked like… Enjoy.
---