Apple campus 2.0
Finally! We're finally hearing some news on Apple's new campus in Cupertino.
As a reminder, news on a new campus date back to 2006, when Steve himself went to the Cupertino City Council to announce the company's plan to expand, after its purchase of land next to the HP campus. The video can still be watched on YouTube. As you can see, Steve speaks of a "3 to 4 years" period to get it built.
We've been waiting for that new campus ever since. People from the area have reported that Apple people have moved into these former HP buildings, without any architectural modifications. To tell the truth I was afraid that, busy with Apple products, Steve would delay the plans for a decade or so —  until his retirement or something.
That long delay makes more sense now that we've learned that just last week, Apple purchased another huge chunk of land from HP, right next to the properties it bought four years ago. The map below is impressive: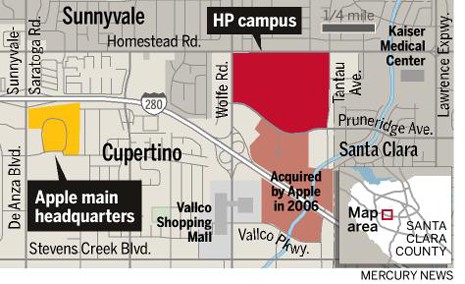 If you've ever been to the current Apple campus, you'll realize that this is a HUGE expansion. As if I wasn't excited enough, a Spanish newspaper has reported rumors that Steve Jobs has designated world-famed architect Norman Foster to build this new 'City of Apple'. Quote from Philip Elmer-DeWitt's column:
Jobs is paying extraordinary attention to environmental issues as he designs the future headquarters of his company, the paper has been told. The buildings that will house engineers and the R & D department will "incorporate cutting-edge technology in materials and equipment as well as renewable energy resources," according to El Economista. All transportation between the buildings will take place through a network of tunnels, keeping surface areas green.
Can you imagine such a place? Steve Jobs moving in underground top-secret tunnels with prototypes of Apple products, underneath a green-clean-futuristic campus? I bet the windows of his iOffice won't be see-through. This reminds me of old fantasies such as this picture from a 2008 Apple commercial you will most likely recognize: