One year without Steve
Today marks the one-year anniversary of the death of Steve Jobs.
I can distinctly remember October 5, 2011. Just like most people remember what they were doing when they heard about 9/11, just like Steve remembered "the exact moment [he] heard [Kennedy] had been shot", I will probably remember when I heard about my hero's death for the rest of my life. I was half awake, as the radio had been playing for 5 minutes, just like every morning, to wake me up. As I was slowly opening my eyes, I heard the anchorman's dreaded words: "Steve Jobs est mort". I literally jumped out of surprise. It was probably the fastest I ever woke up in my life. I quickly grabbed my iPad and slowly started discovering the sad truth, replaying in my head the words that Steve had used when he resigned from Apple some 42 days before: "Unfortunately, that day has come".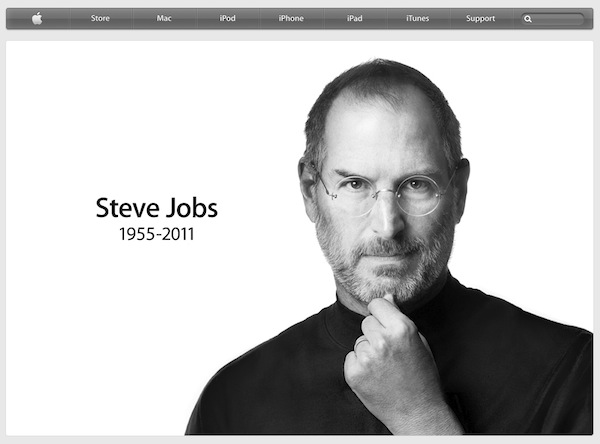 The iPhone 4S had been introduced one day earlier, yet everybody quickly started to forget about it. Apple's own homepage had been replaced by a huge black and white portrait of Steve, the one he had picked for his only authorized biography. In the following weeks, people around the globe paid homage to one of the greatest geniuses of our time, half-Edison, half-Disney. He was celebrated by everyone, friends and foes alike (apart from that jackass Richard Stallman).
I have to say that period left a strange taste for me. I remembered how I had been made fun of for using a Mac in junior high. How Apple was heralded as a business counter-example by industry pundits in the 1990s. And how Jobs was decried as a tyrant, obsessing over unnecessary details, prioritizing form over function in beautiful but overpriced, underpowered machines. However, as years went by, the iPod, the iPhone and the iPad had changed that. Apple was now the king of the hill, and Jobs a genius heralded as the ultimate model entrepreneur. Yes, it felt good to say we —Mac people— had been right all these years. But I started wondering how would Steve's death have been received had Apple stayed the same as it was in 2000.
Then Isaacson's biography came out. It was almost too much. Steve dies, a myriad of articles, tributes, anecdotes, "lost" pictures and videos come out, and then that huge book that we had been hearing about for the past two years is on the promoted shelf of every bookstore around the world. I don't remember where I read this, but someone compared it to an Apple launch: a beautifully packaged mass market product that takes the world by storm. The book had even been rushed out to market, to capitalize on the media attention that Steve Jobs's death had received. This, also, kind of left me with a weird sentiment. Especially since the bio was disappointing a read —my review of it is yet to come, but I essentially agree with John Siracusa's excellent argument: Walter Isaacson was the wrong guy. A unique opportunity to look into the mind of Steve was wasted.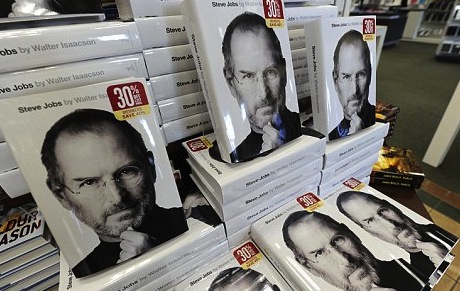 Then the world moved on. I, of course, continued to look back at Steve's life, and soon redesigned and enriched the website to make it an even better place to help others learn about it too. But the tech industry, which is not fond of history (not enough anyway), started focusing on the present again. The homages became rarer. Apple released new products. Tim Cook became an increasingly recognized figure. Apple's stock kept rising. Steve's name was only invoked as a ridiculous hypothetical benchmark to judge Cook's Apple: what would Steve have done? Exactly the opposite of Steve's independent thinking, one of his biggest strengths.
Yet I have to say that my vision of the tech industry —and, yes, the world— has changed. It's like something is missing. Not the actual Steve Jobs human being, whom we had painfully learned to accept was not eternal. But what he meant. For me, it was the promise of a better, magical future. However stupid Dan Lyons's writings have become, there was some genius in a few of his catch phrases when he run his former parody blog, Fake Steve Jobs. One of them was how he phrased Steve's mission: "Restoring a sense of childlike wonder" to our lives. And this rang true to me. This is how I had felt watching every one of his keynotes (OK, except that iPod hifi one). I distinctly remember the thrill of the announcement of the G4 Cube in 2000. Of the iMac G4 in 2002. Of the Power Mac G3 in 2003. The MacBook Air. The iPad. And of course, the bewildered amazement experienced when the iPhone came out. "Is this even possible they built such a thing?", I thought at the time.
Those years of successive stunners —not necessarily commercial successes, mind you— had built in me a certainty that I did not have to worry about the future. As long as there was a Steve Jobs, I was certain that a great and inspiring product was sure to delight me some time in the future. Something exciting and unexpected was surely around the corner. I would lie if I didn't say that certainty has faded.
Looking back, I feel like a spoiled child. I was lucky enough to live the great saga of Steve Jobs. I saw this man realize his vision of computing. With the launch of the iPad in 2010, he achieved his thirty-year-old desire to build a simple, smart, beautiful and yes, magical computer —at the intersection of technology and liberal arts, as he often liked to say. It's almost as if he was taken away after his mission on Earth was accomplished. This was not obvious, this could have not happened. We should all feel lucky that there was a man forceful and genius enough to put our industry in that direction. It is now our job to keep the flame going.
Thanks Steve. We are forever in your debt.