Posts tagged 'Pixar'
---
Happy 2013! a.k.a the End of 2012 Steve Jobs News Roundup
Dear reader,
The new year starts as it should, with the continuation of one of my worst habits: the posting of news roundups that gather the equivalent of what should have been five or six separate, timely posts. Still, I will write such an article, because it does contain some interesting trivia that you might have missed.
Let's start with the one-year anniversary of Steve's passing. Although I did post on that sad day, it was only later that I found out the following anecdote: The favicon was at half mast during the anniversary of Steve Jobs' death (from a great site, Little Big Details, which I recommend you check out).

That's right, on October 11 2012, the favicon of apple.com was "flying at half mast". Nice touch, and a reminder that the company continues to care about the smallest details (and to delight you when you happen to notice them). Of course, this was only the icing on the cake, and what a cake.
Another piece of news came from Steve Jobs's "other" company, Pixar. The Disney-owned animation studios had the graciousness to name the newest addition to their campus "The Steve Jobs Building". The building has a modernist look which SJ would probably not have disapproved of — it's even possible he was involved in its design, like the rest of the campus, but this is speculation on my part (Source: Pixar Times).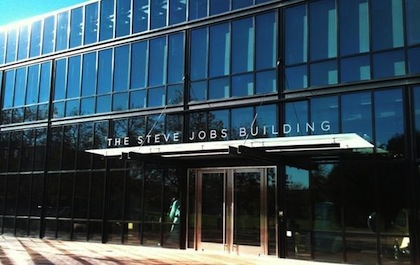 The Steve Jobs Building at Pixar in Emeryville
The day before the anniversary of Steve Jobs's death came another piece of news that might be of interest to the "Steve Jobs community": Chris-Ann Brennan, Steve's high school girlfriend and the mother of Lisa, will be publishing a "memoir", according to the NY Times blog. I wonder about its quality and content, since Chris-Ann has been known to be unstable and eccentric (this was confirmed in the Isaacson bio). It looks a lot like a get-rich-quick plan, but I won't make hasty conclusions before I've read the book. While waiting for the book, you can still read the article she published in Rolling Stone's commemorative issue after Steve's passing: Jobs at 17: Nerd, Poet, Romantic (cached version, the actual article starts about 80% of the way).
This confirms the theory I have long held that Steve's death would be followed by people untying their tongue, now that their fear of him (encouraged by the occasional threats) is gone. So far it has been mostly the usual suspects talking to the press or writing, but I do see a trend of former colleagues who begin to open up, too. Avie Tevanian in BBC's documentary, or Tony Fadell, are two examples.

My only confirmed picture of Chris Ann Brennan, from Facebook
I sincerely hope the trend continues, and that one day those who worked really closely with Steve start to speak up. Can you imagine a book about NeXT by former NeXTers, for example? I would be thrilled to see that happen. It would perhaps compensate for the usually negative image of Steve Jobs as a man, relayed by the people who had broken all ties with him and thus did not feel bound to respect him. Not to mention the shallowness of the Isaacson bio.
As far as pictures go, I've dug up a few interesting ones in these last weeks of 2012. Starting with this gallery of Apple I photos from Time Magazine's Harry McCracken. 'Wait', you might say, 'but I know plenty of pictures of the Apple I!' And you'd be right, dear reader, but these are special. They come from Paul Terrell's private collection. If that name rings a bell, it means you've done your homework: he was the owner of the BYTE SHOP, the electronics store (I daren't say computer store) which was Apple Computer's first client, back in 1976, before the garage — it was actually the order of 100 computers from Terrell which made the garage necessary, and made dollar signs flash in front of young-and-not-so-hippie-anymore Steve Jobs's eyes.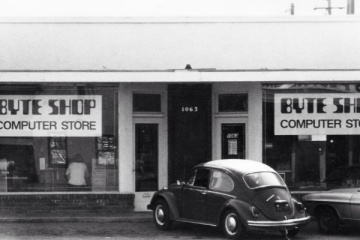 The first picture of the Byte Shop I ever saw, from the TIME gallery
(notice the groovy typeface for the logo) 
I will soon add those Apple I pictures to the site, along with a few I already added, from a few years later: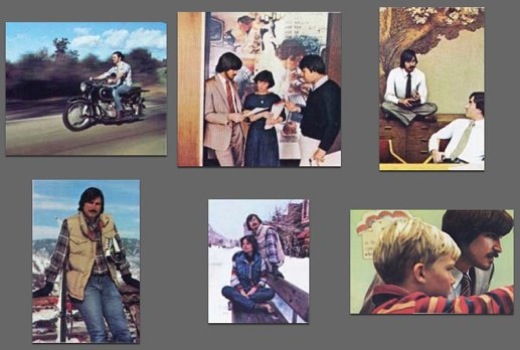 This batch of (too small) pics came from Vectronic's Apple World (a treasure trove for old advertisement of the fruit company). They show Steve around 1980-81, when he was 25, a.k.a. The Moustache Years. The top left is from a series we've seen before, where he is riding his BMW motorcycle. All others are news to me: the top middle and right show him at a "PR agency" (perhaps McKenna's, where he met his then-girlfriend Barbara Jasinski?) The bottom left and middle ones are probably in his ski destination of choice, Aspen. And the last one, the only large one, is obviously at a school. I will add more very interesting pictures of young Steve soon, so stay tuned!
In echo of my previous post, there was also some more talk of Steve's famed yacht, Venus, in the last days of December. The talk was really not that interesting, and Philipp Elmer-Dewitt made a great short summary of it (as he does) on his blog: Steve Jobs' yacht: The anatomy of a news cycle. Basically, French designer Starck was paid a percentage of the cost of the yacht. But the boat ended up costing less than planned (which is noteworthy), and so Starck was paid less than he expected — €3 million short (€6m instead of €9m). Apparently, Laurene quickly settled the case with him and the yacht, which had been temporarily seized by the Dutch authorities, was released a few days later. Big deal.
PED's analysis is interesting in that it stresses how such small events become hugely inflated by the blogosphere and even mainstream media, just because they give an excuse to have 'Steve Jobs' in the headline and attract click$. This is something I have observed as well, and it sometimes really becomes ludicrous. The article on Examiner.com Psychic makes contact with Steve Jobs, says things not well in afterlife certainly takes the palm in that category.
…
I can hear your voice – "But that's not all! He forgot about the movie! … I mean, the movies!" No, dear reader, I will speak of those movies. But they deserve their own post, and it will come very soon.
Although the blog has been quiet lately, I have been paying close attention to all things Steve Jobs all along, and even updated the site silently. Just last week, I added 22 new anecdotes and 2 new quotes to my growing collection. Rest assured that this will continue: as I've written before, I have some great content coming up soon.
Oh, I almost forgot… Happy new year! 🙂
---
While you wait for tomorrow's keynote…
I am like all of you guys (I assume) eagerly awaiting for tomorrow's WWDC keynote. The rumor mill is acting crazy and I am sure I will spend the night dreaming of iClouded skies. Until this week, Steve Jobs news have been kind of slow lately — here's a roundup of the information I've collected in the past month, that some of you may have skipped:
The New Yorker did a story on the history of the computer mouse, back to Xerox PARC and the famous Steve Jobs visit that supposedly inspired Lisa then Macintosh. One of the mouse's inventors, Malcom Galdwell, recalls what we already know, that Apple didn't "steal" the mouse from Xerox. Unfortunately the story can only be accessed by subscribers — I didn't subscribe just to read it. The abstract is here (not very well done). It contains interesting old sketches and pictures of prototypes, as well as quotations from the piece, such as this one:


"I had a series of ideas that I wanted to bounce off [Jobs], and I barely got two words out of my mouth when he he said, 'No, no, no, you've got to do a mouse.' I was, like,'What's a mouse?' I didn't have a clue," Hovey told Gladwell.

(via Cult of Mac)

We've talked about it earlier: the building of the extension of Pixar's Emeryville campus, Pixar Phase II, is now over. Check it out on the excellent Pixar blog.

A curious piece of trivia, some study was made to prove that Apple had actually the same effect on fanboys that a religion (or, more appropriately, a cult) on its followers:


As discussed in the new BBC documentary "Secrets of the Superbrands", when you put an Apple fanatic under an MRI and start mentioning iPhone 5s and iPad 3s, neuroscientists found that Apple tends to stimulate the same parts of the brain as religious imagery does in people of faith.

No news to me.

And I thought I would never be able to find new keynotes… but no, two oldies came up this past month to add up to my impressive collection. I hope you guys take time to check them out, because they're both pretty interesting.
First, an interesting one (and in high quality, too) from 1996, where Steve Jobs still spoke as CEO of NeXT Inc. — but already famed CEO of Pixar — at a Microsoft Developers Conference, about NeXT's server technologies, WebObjects. In the video he is a late speaker, which is a testament to how unimportant he seemed to be. He is also very casual and humble, as depicted in a number of articles from that time (he was just coming out of his wilderness years). Watch the keynote here (via Daring Fireball).

The second one I just found, and on YouTube, too! it's a casual chat Steve Jobs had with then-struggling Mac developers at the end of the 1997 WWDC! Definitely worth a look if you're interested in Steve Jobs history. Again, it is a testament to Steve's unchanging character and principles. He stands by the same rules now as he did then,  including the most important one: building great products. He also mentions something I knew from a 1999 interview, quoted below:


About 10 years ago I put in a T1 to my house. I'm actually getting ready to put a 45 mg fiber to my house, because I want to find out what that will be like, because everybody's going to have that someday. But I have a pretty sophisticated setup; whether I'm at Apple or at Pixar or at my home, I log in and my whole world shows up on any of those computers. It's all kept on a server. So I carry none of it with me, but wherever I am, my complete world shows up, all my files. Everything. And I have high speed access to all of it. So my office is at home too. And when I'm not in meetings, my work is fundamentally on email.

in the aforementioned video, we discover Steve's been working in such an environment since 1990. This is thanks to NeXT's very advanced 'inter-personal computing' (i.e. networking) technology. So basically Steve's been living 'in the cloud' for over 20 years, while we mere mortals will probably find out  what it's like thanks to a product that he will introduce (if rumors are to be verified) tomorrow. The advancement of NeXT's technology still continues to amaze me.

Business Insider has published a thorough interview of Apple's first CEO, Mike Scott. Honestly I haven't had time to read it yet, so I wo'nt comment on it, but you can be sure I will pretty soon. (via TUAW) Same goes for the Fortune article Inside Apple, which I finally got my hands on last week, but haven't yet had time to write about.

Conan O'Brien dressed as  the iLeader in a baroque fresco by Fast Company:

(more…)
---
Update on Pixar Phase II
If like me, in addition to being a Steve Jobs fan, you are an architecture buff, you will be delighted by this piece of news. The architectural firm behind the extension of Pixar's Emeryville campus has published an extensive gallery of pictures/sketches of the project, called "Pixar Phase II". They range from the early site analyses to the construction in progress. Check it out:
(Source)
---
Steve Jobs News Round-up
I've been pretty busy for the past two weeks, so once again I have to commited the sin of writing a "SJ news round-up" instead of duly posting about each news item separately. Truth to be told, it's because I'm actively seeking my next internship right now — by the way, if any of you know a tech (or tech-related) company from the Bay Area that would be interested in my profile, please let me know.
BUT to my credit, Steve Jobs news have also been kinda slow lately. As could be foreseen, Steve didn't show up at the Verizon event… can't wait for the Daily event with Murdoch that should be coming soon. An iPad 2 event would certainly do, too 🙂
Let's get on with the news:
Somewhat important – A group of Apple shareholders have suggested that the company prepare a succession plan in case Steve Jobs leaves, a so-called "CEO Succession Planning Policy."
According to the proposal, which shareholders will consider at Apple's annual meeting scheduled for Feb. 23, the company's board would adopt a detailed policy that includes a directive for the board to "identify and develop internal candidates" to succeed Jobs, and "annually produce a report on its succession plan to shareholders."
FYI Feb. 23 is one day before Steve's birthday (and mine 🙂 ) I'm sure the response will not surprise you:
Apple said in the filing that it opposes the CEO succession proposal, calling it unnecessary and pointing out that it could lend rivals an advantage by publicizing the company's plans. In addition, it would "micromanage and constrain the actions of the board," the company added.
The cult of secrecy has proven quite useful so I kinda have to agree — also I'm one of those who don't even want to think about the departure of Steve.
(Source)
Remotely interesting – a new email from iSteve: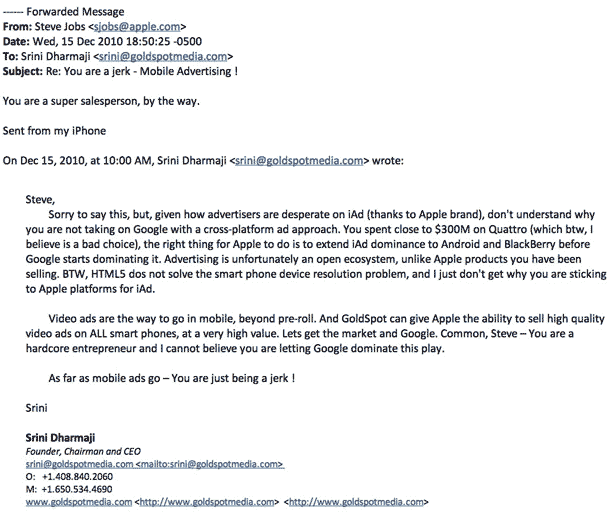 If it weren't ironic, Srini could feel flattered to be called a "super salesman" by probably one the world's best salesmen 😉
I'd like to finish with pieces of news that are kind of outside the usual realm of this blog: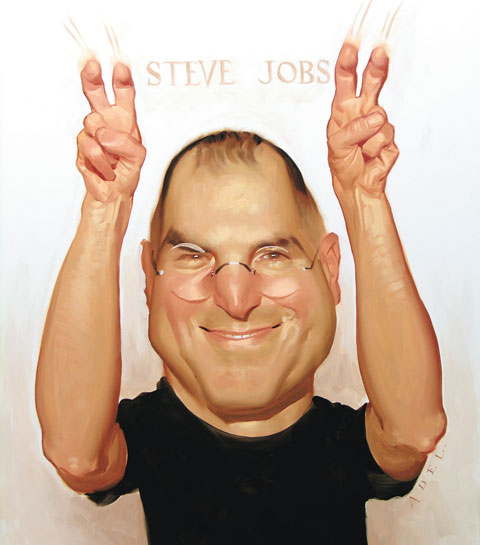 1. The demise of Fake Steve
Here's an interesting piece by John Gruber criticizing a Dan Lyons article in Newsweek stating that Apple, is 'too late' in the smartphones war, and that Android will inevitably win, for the best: Too Late.
For those who don't know, Dan Lyons is the man behind the once-amazing Fake Steve Jobs blog. I write once-amazing because there's something tragic about what happened to Fake Steve. I was in such a joy when I found the blog for the first time… it was so funny! I stil love to dig into it or re-read Fake Steve's novel from time to time, and it never fails to make me laugh.
Yet all this ended in 2008, when Dan decided to stop writing Fake Steve posts and became 'Real Dan'. His new blog was such a failure that now he's back to Fake Steve. But it's not Fake Steve anymore. It's Real Dan using Fake Steve's voice for writing boring/mostly wrong stuff about anything but Apple, usually. And when you read Lyons' articles in Newsweek, it's no wonder why.
I think it's a real loss and I secretly hope that one day we'll see Dan go back to his Fake Steve persona…. thank God there is actually a new funny SJ impersonator, the famed @ceoSteveJobs Twitter account. It's become so famous that Steve tried to have it shut down. It's worth checking if you use Twitter.
2. An interesting story from Pixar's pre-SJ days
I always said I was not running an Apple blog, and once again I prove it by linking to this interesting piece fro Bob Sutton's blog:
Pixar Lore: The Day Our Bosses Saved Our Jobs
Just a reminder: bob Sutton is the author who called Steve Jobs one of the world's biggest assholes in his bestseller The No-Asshole Rule. Here he tells a story from the days when Pixar was not called Pixar yet, but was still owned by George Lucas, who desperately tried to sold it. It's a pretty interesting look on the minds of Pixar's historical founders, Ed Catmull and Steve's enemy Alvy Ray Smith. I won't say more.
---
Pictures of the expansion of Pixar's campus
The best Pixar online resource I know of (if you know a better one, let me know in comments) reports new pictures of the expansion of the Pixar campus in Emeryville.
Pixar expansion construction photos (Sept. 2010)
I am writing on this because it gives me the occasion to go back on three things:
I was a little skeptical in 2006, when the Pixar/Disney merger occurred, that Pixar would lose its identity. Apparently, it's not the case — not only are the movies still great, but the company still enjoys the paradise-like environment of its genius-filled Emeryville campus, far from the bean counters of Burbank. I think it's a powerful statement of independence. For the record, Steve himself could not force the then-small Pixar team to move to the South Bay in the early 1990s. They refused because being away from him gave them greater freedom to work on what they chose to. History proved them right.
The "fence-gate", so to speak. Perhaps you don't know, or don't remember, but this expansion was first blocked by the neighbors of the Emeryville campus. They complained that Pixar lived in its own world, isolated from the city community by the huge fence surrounding their campus. Tom Carlisle, in charge of Pixar's facilities, made Pixar's case pretty simply: ""If the city takes away our fence, we will not stay in Emeryville." I am quoting the guy because he's known Steve for a long time. He was in charge of NeXT's headquarters back in the 1990s, as you can see on the pic on the right.
Pixar's campus is great, but what about Apple's planned new campus? Gee, it takes even longer than the future Woodside home to appear 😉 (more on that soon btw). So far, no sign of progress whatsoever. Apple has moved to the former HP offices that they were supposed to tear down, well, for four years… My opinion: Steve doesn't have enough time to concentrate on both new Apple products and a perfect new campus. Not to mention his own home. This will take years, perhaps construction will not even start before he's retired.
I'd also like to point out again that this blog is really about Steve Jobs, not Apple. Pixar, though less important, is Steve's other company, and deserves to be mentioned on this blog just as much. Who doesn't love Pixar anyway?
---