Posts tagged 'emails from Steve'
---
Steve Jobs trivia from June
As June ends, here are the news items (or should I say pieces of trivia) that caught my attention in the past two weeks:
---
Serious and trivial Steve Jobs news roundup
Hi folks!
It's been quite a while, as usual, since the last time I wrote on Steve Jobs news. But then the aforementioned news have been kinda slow lately, so I don't feel that guilty after all.
Here's my news rondup of the past 3 weeks:

Serious news
Steve's authorized biography is still in the works
Kara Swisher of the WSJ (you know, the gal that interviewed Steve at D5 and D8 with Walt Mossberg) reassures us all about the upcoming Steve Jobs authorized biography by Walter Isaacson. I imagine that just like me you cannot wait to get your hands on that book (metaphorically speaking of course, since to pay a proper homage to Steve we should buy all it on the iBooks Store ;). I have recently been contacted by a French journalist who will soon publish his own biography of Steve in France. I told him how I felt about printed books, such an old fashioned way to tell the story of Steve. this is actually one of the reasons I built alla bout Steve Jobs.com. We are gifted with thousands of pictures and hundreds of videos of Steve Jobs and his work, why limit ourselves to text on paper? Moreover, the story will be outdated as soon as it's published, since Steve keeps surprising us month after month…
Latest Steve Jobs glorification
Last month, both Waren Buffet and Richard Branson had their say about Steve — and he is an inspiration even to them.
Waren: "Admitting he didn't know that much about the company, Buffett equated Jobs to Steven Spielberg, and his effect on his company. He said the talents of Jobs is a main reason for the company's success over the past 15 years."
Richard: "He's the entrepreneur in the world I most admire and I think [Apple] is the brand I most admire. He's the greatest come-back artist as well. He's twice been down and out and he's fought his way out and created a brilliant global company."
You should watch the video of Branson (wait a minute… Virgin Apple.. that reminds me of something: ah yes, one of Fake Steve's earliest posts 🙂 )
Nice website by the Computer History Museum
The Mountain View museum has a new website with a very interesting and rich timeline on the history of computing, you should definitely check it out. It's got some pretty interesting pictures of young Steve, including one I'd never seen before.

Steve Jobs trivia
Emails from Steve
If one relates to the frequency of his emails, Steve is still actively running Apple. He wrote two emails in the past 4 weeks: in the first one, from March 23, he confirmed that "We have no plans to" discontinue the iPod classic. The following day, he wrote a much-discussed email to an iPhone app developer whose 'radiation measurement app' (sounds like BS to me) was rejected on the App Store: "No interest", the email said simply.

TUAW made a funny analysis of Steve's apparent age based on photographs of him using the iPhone app PhotoAge. I think the job is biased because of the quality of the picstures they picked, especially for 2010
Minyanville did an interesting and pretty complete piece entitled Apple's Steve Jobs: Myth Vs. Reality. I checked it out, and surprisingly it's error free. The end paragraph ("Rumor: Steve Jobs is dead"…) is a little borderline IMHO… but it's worth checking out anyway.

The crazy rumor of the month
This month it's from Cult of Mac: Steve Jobs Is Rumored To Be Resigning From Apple. At first I thought it was a (bad) April Fool's Day joke… but I don't see any such disclaimer. I hope this is the usual BS we Steve Jobs fans have grown accustomed to these recent months.
---
Steve Jobs News Round-up
I've been pretty busy for the past two weeks, so once again I have to commited the sin of writing a "SJ news round-up" instead of duly posting about each news item separately. Truth to be told, it's because I'm actively seeking my next internship right now — by the way, if any of you know a tech (or tech-related) company from the Bay Area that would be interested in my profile, please let me know.
BUT to my credit, Steve Jobs news have also been kinda slow lately. As could be foreseen, Steve didn't show up at the Verizon event… can't wait for the Daily event with Murdoch that should be coming soon. An iPad 2 event would certainly do, too 🙂
Let's get on with the news:
Somewhat important – A group of Apple shareholders have suggested that the company prepare a succession plan in case Steve Jobs leaves, a so-called "CEO Succession Planning Policy."
According to the proposal, which shareholders will consider at Apple's annual meeting scheduled for Feb. 23, the company's board would adopt a detailed policy that includes a directive for the board to "identify and develop internal candidates" to succeed Jobs, and "annually produce a report on its succession plan to shareholders."
FYI Feb. 23 is one day before Steve's birthday (and mine 🙂 ) I'm sure the response will not surprise you:
Apple said in the filing that it opposes the CEO succession proposal, calling it unnecessary and pointing out that it could lend rivals an advantage by publicizing the company's plans. In addition, it would "micromanage and constrain the actions of the board," the company added.
The cult of secrecy has proven quite useful so I kinda have to agree — also I'm one of those who don't even want to think about the departure of Steve.
(Source)
Remotely interesting – a new email from iSteve: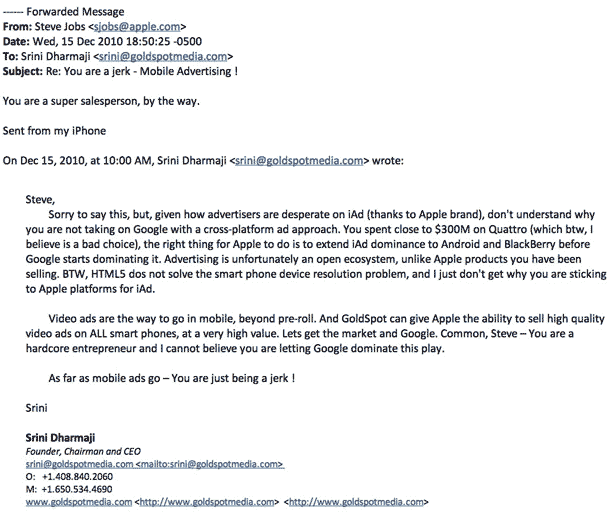 If it weren't ironic, Srini could feel flattered to be called a "super salesman" by probably one the world's best salesmen 😉
I'd like to finish with pieces of news that are kind of outside the usual realm of this blog: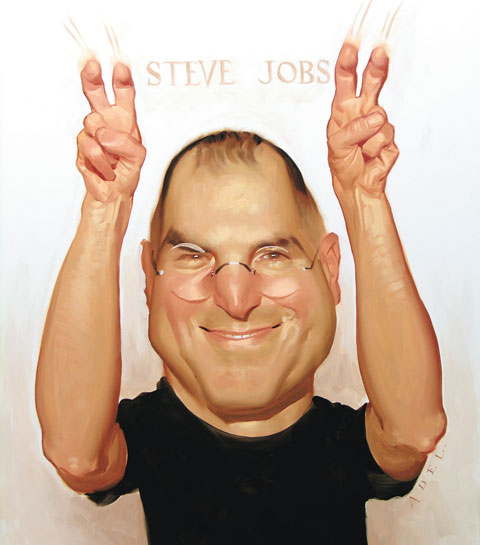 1. The demise of Fake Steve
Here's an interesting piece by John Gruber criticizing a Dan Lyons article in Newsweek stating that Apple, is 'too late' in the smartphones war, and that Android will inevitably win, for the best: Too Late.
For those who don't know, Dan Lyons is the man behind the once-amazing Fake Steve Jobs blog. I write once-amazing because there's something tragic about what happened to Fake Steve. I was in such a joy when I found the blog for the first time… it was so funny! I stil love to dig into it or re-read Fake Steve's novel from time to time, and it never fails to make me laugh.
Yet all this ended in 2008, when Dan decided to stop writing Fake Steve posts and became 'Real Dan'. His new blog was such a failure that now he's back to Fake Steve. But it's not Fake Steve anymore. It's Real Dan using Fake Steve's voice for writing boring/mostly wrong stuff about anything but Apple, usually. And when you read Lyons' articles in Newsweek, it's no wonder why.
I think it's a real loss and I secretly hope that one day we'll see Dan go back to his Fake Steve persona…. thank God there is actually a new funny SJ impersonator, the famed @ceoSteveJobs Twitter account. It's become so famous that Steve tried to have it shut down. It's worth checking if you use Twitter.
2. An interesting story from Pixar's pre-SJ days
I always said I was not running an Apple blog, and once again I prove it by linking to this interesting piece fro Bob Sutton's blog:
Pixar Lore: The Day Our Bosses Saved Our Jobs
Just a reminder: bob Sutton is the author who called Steve Jobs one of the world's biggest assholes in his bestseller The No-Asshole Rule. Here he tells a story from the days when Pixar was not called Pixar yet, but was still owned by George Lucas, who desperately tried to sold it. It's a pretty interesting look on the minds of Pixar's historical founders, Ed Catmull and Steve's enemy Alvy Ray Smith. I won't say more.
---
Steve Jobs Winter Break news
Hi all!
I hope you're enjoying your Christmas holidays, if any.
Steve Jobs news have been kind of slow lately, but here's a wrap-up of the most important/fun items I've read in the past… well, month. Some are a little old but still noteworthy if you haven't come across them earlier.
Steve is praised so much it's not fun anymore.
Something that's always been the greatest strength of America is a thriving, booming middle class, where everybody has got a shot at the American Dream. And that should be our goal. That should be what we're focused on. How are we creating opportunity for everybody? So that we celebrate wealth. We celebrate somebody like a Steve Jobs, who has created two or three different revolutionary products. We expect that person to be rich, and that's a good thing. We want that incentive. That's part of the free market.
The whole "CEO of the decade" frenzy can only make me smile. Indeed, in 1989, Steve was named "Entrepreneur of the decade 1980-1989" by Inc. (cover above). The interview he gave at that occasion is a delight to read, if you haven't already. But it's funny that at the time, Steve was struggling with NeXT, although the journalist didn't suspect it. I hope this MarketWatch 'award' will not bring him similar bad luck for the next decade.
2. Steve Jobs history
After the interview that John Sculley gave to Cult of Mac last month, 37signals published a story on Edwin Land, founder/inventor of Polaroid and one of Steve Jobs' few alleged inspirers. I don't think it's *that* interesting — but the most interesting part is in the comments section. As you can see here Tom Hughes, who worked in the Mac team, tells the real story:
Interesting article, but all serendipity for Sculley who was just along for the ride. He just happened to luck out. And, there was no pilgrimage… no planned meeting with Dr. Land. I was working for Steve as Design Director for the Macintosh project and we were in Boston and I asked Steve if he'd like to meet Dr. Land, whom I had worked with before Apple. I called Dr. Land and he agreed to meet Steve. We arrived to find a BBC documentary film crew there. Dr. Land excused them and we began a 3 hour visit which included a glimpse into color experiments that were in his lab, to his personal office and an amazing review of some of his personal collection of photographs. The memorable part of this was that Steve was meeting someone who legitimately could be, almost uniquely, a mentor for him. And, clearly, they shared an awareness of the importance of good design as it contributed not only to their products, but to their corporate culture as well.
Kinda makes you wonder about the validity of the rest of the Sculley interview. Not that big of a surprise, since Sculley's book, Odyssey is said to be a ridiculous self-appraisal by the former Apple CEO, with a very liberal definition of history and facts.
3. Steve Jobs trivia
As usual, it's the majority of stuff.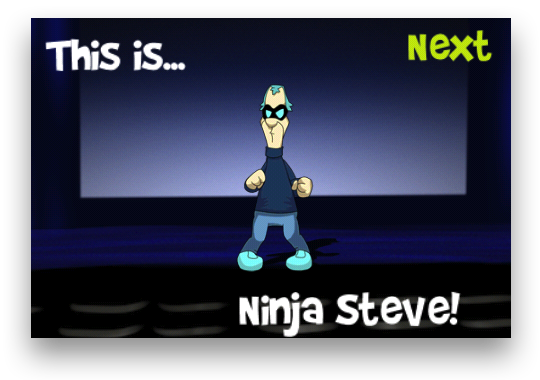 ---
Quirky Steve Jobs news and trivia from last week
1. a hip-hop song apparently came out by a guy named "Fabolous" (don't blame me if he's super-duper famous because I'm not into rap). It's called… wait for it… "Steve Jobs". Excerpt from the chorus:
man used to be Mac'ing but now I'm Steve Jobbin' man
got 2 choices
you can stay broke or grind
2. Steve sent an email last week about the future of Airplay to a guy asking for compatibility with Safari and 3rd party apps:
Yep, hope to add these features to Airplay in 2011.
3. I found this picture of a guy's desk. See, I told you I wasn't the fanboyest SJ fanboy on the planet! 😉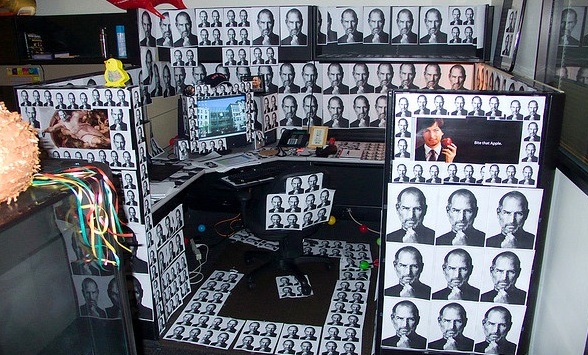 (Full gallery).
The important stuff is coming next.
---
Steve Jobs and Apple culture in paintings
Rather than starting the week by telling you about Steve's latest emails (folders in iBooks, AirPrint-compatible printers), and the rumors about the upcoming joint Steve Jobs/Rupert Murdoch keynote, I thought I'd start by showing you some artwork I stumbled upon a couple of days ago.
The artist is a 45-year old painter from Southern Cal, Alex Gross. His paintings are quite sinister… I just love them. 🙂 One of his dominant themes is today's consumer society, and it is frequently illustrated with references to Apple products and even the Apple culture. For example:
This one is particularly interesting:
As you know, ever since the 1980s, people who absorbed everything Steve Jobs/Apple said were famed as "drinkers of the (Steve Jobs/Apple/Mac/whatever…) Kool Aid".
Have you ever seen a painting with a Windows PC or an Android phone in it?
… me neither.
---
Steve's emails of the week
The blog posts are getting shorter because I have a full-time job, and I am finishing up all about Steve Jobs.com super exciting new update. So here's the lowdown on the new rush of emails from Steve Jobs this week:
Oct 22: on removing Java from the new Macbook Air
Mr. Jobs:

I am the CTO and founder of a Software company based in Philadelphia. We create and sell Enterprise software into the health care space.

Our software is Java based, and runs on both the server and the desktop. We have been in business for over 12 years now, and are a healthy growing company with about 180 employees.

I am a big Apple customer, as is my company. We love developing and testing Java based software on OS X.

Today in the news were stories like this: www.theregister.co.uk/2010/10/21/apple_threat ens_to_kill_…
and here's another example: news.cnet.com/8301-31021_3-20020338-260.html

I am hoping you would consider commenting either to me or via your PR channels what are the future plans for the Java programming language and platform on OS X?

One last note – a growing trend over the last few years at all the software conferences I attend is the popularity of the Macbook laptops. Go to any non-Microsoft focused developers conference and the rooms are typically dominated by Mac laptops. One major reason for this is that OS X is a great platform for Java developers.

thanks,
Scott Fraser
CTO, Portico Systems
Oct 23: on iPad's side switch button
In IOS 4.2 for iPad is the switch on the side going to be the mute and not screen orientation lock from now on?
Yep.

Sent from my iPhone
Are you planning to make that a changeable option?
Nope.
(source)
---
Steve emails on Meizu
Steve is back with an email to delight us all.
This one is about a Chinese consumer electronics brand, Meizu, which has specialized in making copycat replica of several Apple products. Their new M8 phone steals from the iPhone 4. On a forum dedicated to the Meizu company, reader Elliot from the UK explains the exchange he's had with Apple's CEO:
I have heard that you are taking action against the Chinese electronics manufacture Meizu and you have successfully managed to stop the manufacture of the Meizu M8. I would like to know why your company has decided to take action against Meizu when there are many phones out there which are designed to be clones of your iPhone. I am quite fond of the Meizu M8 and your iPhone, i own an M8 and an iPhone 3GS but i do not see many purposely placed similarities on the M8.
Steve's supposed reply:

Sounds legit; that's pure SJ style.
---
Steve emails about Apple TV shipment
MacRumors reported yesterday that Steve sent an email to one of their readers about the soon-to-begin shipment of the new Apple TV. The style is Steve-ish to say the least.
Full exchange below :
Any update on shipment of your hobby project? Looks like it will have to ship early next week for delivery before the end of this month.
Yep.

Sent from my iPhone
Amazing, isn't it? 🙂
Seriously, I will report here any email Steve sends or is rumored to have sent. I was planning to open an "emails from steve" page on all about Steve Jobs.com but this blog is the perfect place for that. I can't believe Emails from Steve Jobs thought of it before I did.
---
Steve Jobs officially sick of receiving whiny emails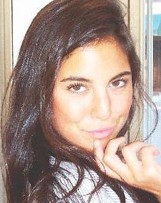 Valleywag is reporting today a new delightful exchange of emails between Steve Jobs and a random person. This time we are dealing with a senior student in journalism from Long Island University (pictured here) who emailed Steve complaining she didn't get answers from Apple's PR department for her school work.
I'll start by saying this exchange has to be handled with all usual precautions, because it's happened before that supposedly "authentic" emails were in fact 100% fake. But let's consider this one real.
The first comment I'll make is on the obvious bias of Gawker Media toward Apple's CEO, which is obvious if you have a look at the actual exchange (below) before reading Valleywag's depiction of it. The post conveys the idea that the student is being insulted by a "stubborn" super-rich CEO who treats customers like shit. The feeling I got reading the emails is pretty different.
---