---
Steve Jobs old and rare keynote, a year before Apple bought NeXT > businessinsider.com/steve-jobs-mic… // a must see for die-hard fans, interesting for all
---
Steve Jobs appears on South Park
Steve Jobs appeared in a South Park episode on April 27, called HUMANCENTiPAD (Episode 1 of Season 15).
Disclosure: I am a huge South Park fan. However, I have to admit that when I try to convince friends or colleagues that it's one of the best TV series ever, I always have to fight the misconception that it's just an obscene show for teens that became popular by its heavy use of curse language and scatological humor.
Unfortunately, the aforementioned episode will not help my case. Its plot revolves around a new Apple device, the HumanscentiPad, which basically consists of three human beings tied together by a mouth-to-anus connection, tied to an iPad, as such: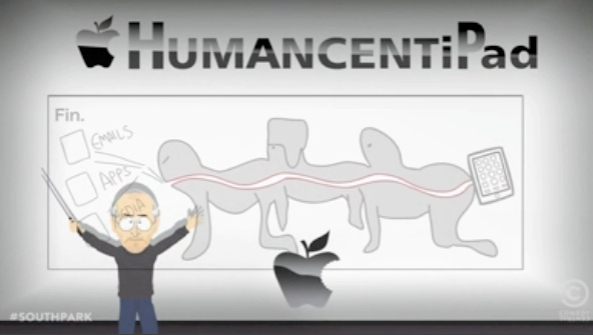 Overall, the episode gives a friendly look at Apple and its customs and peculiarities. I especially liked the Apple Geniuses Council and the way they join their forces with one another: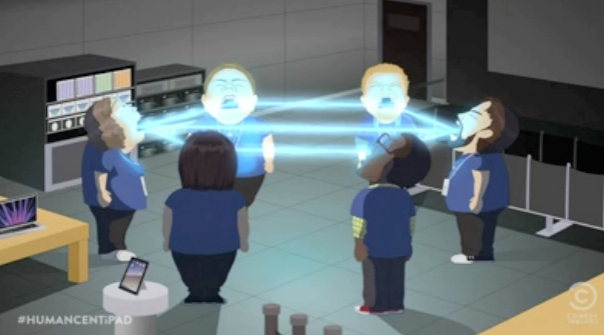 This is actually the second time that Steve Jobs is featured in a South Park episode. Last time it was The Entity (Episode 11 of Season 5 in 2001), in which Mr. Garrison invents a revolutionary new means of transportation to compete with air travel. IT is actually propelled by sucking on a tube and putting another tube in your behind… yeah (You're not helping me South Park here!) In that episode, Steve Jobs is one of the investors Garrison invites at his home to demonstrate his machine. He appears only for a dozen seconds and has just one line of dialogue (pretty badly cast actually, but at the time barely nobody knew what his voice sounded like).
The fact Steve now has a full episode dedicated to Apple and him is quite a sign of how far we've come in Apple's renewed popularity and increeasing penetration of popular culture.
Watch the full episode here.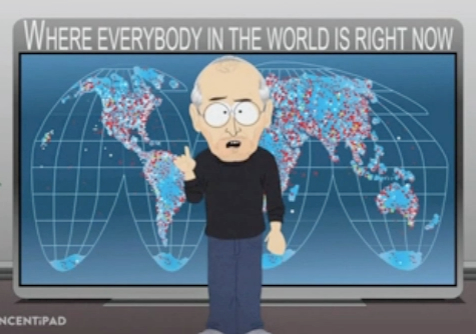 ---
Miscellaneous Steve Jobs trivia from the past three weeks
Where do I start?
April 25: a super-weird Chinese video emerges of a totally-fake-and-not-one-bit-realistic Steve Jobs incarnation, supposedly rehearsing the iPhone 5 introduction. Wait for it, the iPhone 5 would have… scent recognition. Who could be confused about that? I mean, please. (via TUAW)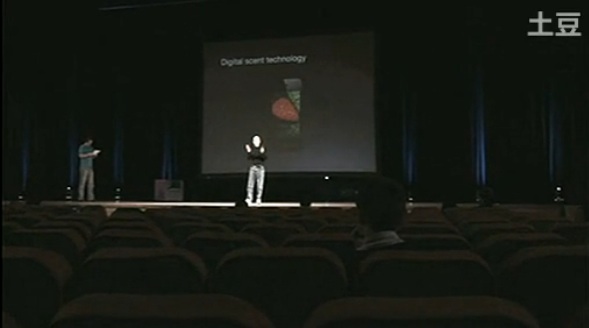 April 28: Cult of Mac reports a 'Steve Jobs lookalike' contest in which none of the participants look anything close to Steve Jobs. The guys (and the gal for that matter) just put on black turtlenecks… See for yourself: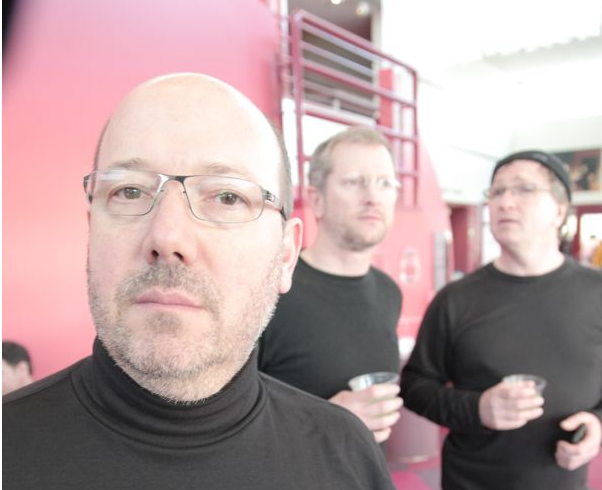 It was actually a PR stunt for the Seattle premiere of The Agony and Ecstasy of Steve Jobs by Mike Daisey.
May 2: from Cult of Mac again – one of many comics with Steve Jobs helping out in the Bin Laden hunt: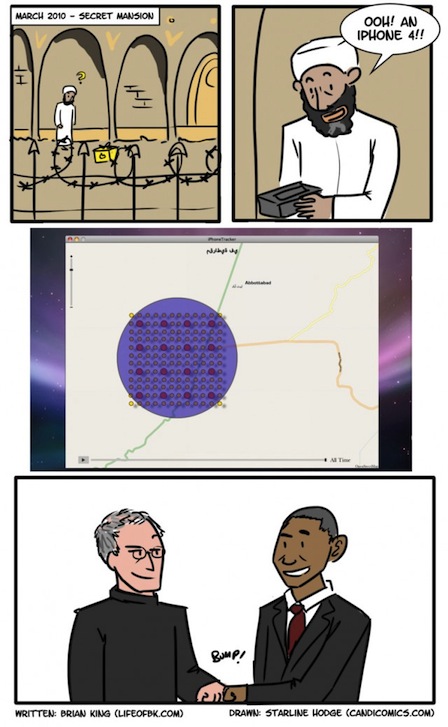 (this one for those of you who speak French is even funnier to me).
Last but not least: your fellow webmaster got his Steve Jobs in Carbonite iPhone case today 🙂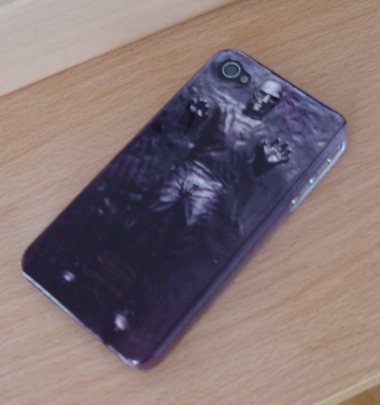 Thank God an interesting article about Apple from FORTUNE: Inside Apple, is coming soon. I still haven't been able to read it! But what I've read about it from Cult of Mac or Horace Dediu looks very promising. Looks we are going back to the old and delighting Good Steve/Bad Steve metaphor.
---
Another strike from Getty Images
Bad news folks.
For the second time now I got a complaint from Getty Images about using pictures from their collection on all about Steve Jobs.com. This time photographers Diana Walker and Doug Menuez were CCed in the emails, as it was their work that was the focus of Getty. This was kind of a big deal for me, because their pictures of Steve Jobs are among the best in his career. This is not surprising, because both have had a very special relationship with him.
One could argue that Doug Menuez was the 'official photographer' of NeXT. The reason Steve made this decisions is indirectly related in his biological sister's book, Mona Simpson's A Regular Guy.
He stacke dup beautiful black-and-whites of the team, the automated factory on its first day of operations, the intricate assembly line, evvery element picked by him, even the corrugated floor. "Maybe it was all better before," he said. There were no good pictures of [Apple]' early days. Just snapshots, Polaroids with cluttered  backgrounds and thumbs over the lens. […] But he'd tried to keep the scraps and pieces of [NeXT] together, to make one clear book to hand on. And the documents were there, ordered and elegant. Yet this time, maybe no one would want them.
---