Posts tagged 'Isaacson bio'
---
The Steve Jobs movies
Because I have been very busy with my studies in the past months, I haven't been able to write a proper lowdown about the two Steve Jobs biopics that are currently being prepared for release in the coming months. Yes, for those of you who haven't paid close attention to the news, there are really two Steve Jobs movies in the works.
1. jOBS: Get Inspired (official site)
The first project that was started is more commonly known as "the Kutcher movie" because the part of Steve Jobs will be played by Ashton Kutcher, as we learned in April. Being a Parisian snob, I had no idea who that Kutcher character was so I looked him up. Apparently he owes more his fame to his good looks than his acting skills. He is a former model and was Demi Moore's husband for (only) six years. From his filmography I have only seen The Butterfly Effect (if you omit Robot Chicken episodes, that is). Since I have no preconception on the guy, I have yet to see the movie to judge him. I do find that physically speaking, he does bear a resemblance with Jobs.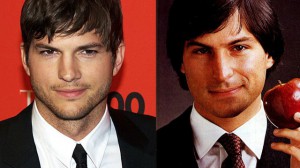 The movie will be directed by Joshua Michael Stern, who appears to be a debuting director… Other members of the cast include Matthew Modine, who will play John Sculley, Josh Gad who will play Woz (via The Verge), and Ahna O'Reilly who will play Steve's girlfriend, Lisa's mother Chris-Ann Brennan (via Variety). These are all no-names to me.
According to the producer of the movie who was interviewed by Neowin, the movie "will focus on the early years of Apple, its founding and the up and down years: 1971 – 2000". Those of you who follow this website closely know that I am hugely interested in Jobs's NeXT years, which spanned from 1985 to 1996 — that's almost 40% of the time period that jOBS will cover. However, if past books/documentaries/movies (Pirates of Silicon Valley) are any indication, NeXT should barely be touched upon in the movie, if even mentioned. The fact that the producer only talks about Apple to describe the 1971-2000 period is another indication. I also wonder if Pixar will be talked about — it wasn't in Pirates. But Hollywood being so self-centered, we can hope that the movie will at least evoke Pixar.
The fact that NeXT is so often left out when telling the story of Steve is quite revealing. First, despite all the talk about the Silicon Valley/US entrepreneurship culture being not afraid of failure, it seems that failure does not appeal to the masses. It is also probably too difficult for journalists and screenwriters to explain that Steve's failures at NeXT were the foundations for Apple's success in the 2000s. Not to mention the absolutely crucial family events that happened to Steve during those years (his meeting with his sister Mona, then his marriage with Laurene and the birth of his son Reed).
I will write a detailed review of the movie when it comes out in the fall, but I start with low expectations, to say the least. For example, here is a picture that was taken on the set: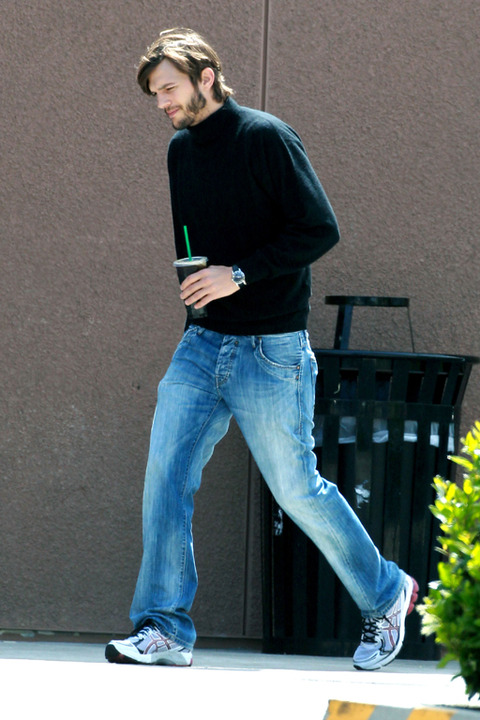 The anachronism of this image is painful. Kutcher is confusing all genres, sporting the same beard as Steve in his 20s… and the turtleneck/jeans/running shoes from this 40s and 50s. Duh.
The title of the movie is no stunner either. It is using the over-used, not-creative pun on capitalization to evoke the iProducts. It reminds me of the bad title of Fake Steve Jobs's good book, oPtion$.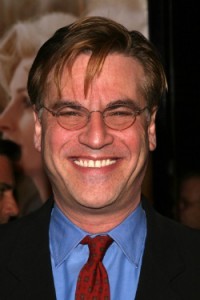 2. The Sorkin picture
The second movie has been discussed since the release of Walter Isaacson's biography, only three weeks after Steve's passing. Sony Pictures lost no time in buying the rights of the book with the intention to make a movie. In late November, rumors started to appear regarding the lead role: would it be Noah Wyle, who played Steve in Pirates of Silicon Valley (my personal choice), or George Clooney of Nespresso fame? Then on November 22, E!Online broke the news that Aaron Sorkin had been pitched the script, and was seriously considering it. His involvement was later confirmed.
Sorkin has a history with Steve Jobs because he was asked by Steve Jobs himself to write a screenplay for a Pixar feature. He declined that offer, unfortunately — perhaps that would have saved us from Cars 2. But I am digressing.
Sorkin is the brilliant writer behind the script of The Social Network, which tells the story of Mark Zuckerberg and his building of Facebook. I am very fond of that movie, which made the masses (re-)discover the meaning of tech entrepreneurship, in a compelling though dramatized fashion. That the same man (and same studio) will take over the adaption of Isaacson's bio is encouraging.
However, Sorkin tried to downplay my and many others's enthusiasm at the All Things D conference where he was speaking last week:
On his turn on stage, Aaron Sorkin talks about his concerns that he's entering "a minefield of disappointment" as he undertakes the task of writing the movie adaptation of Walter Issacson's Steve Jobs bio. It's like writing about the Beatles—there's a huge contingent of people who are emotionally attached. The screenwriter admits that he still doesn't have a handle on Jobs—whether he should be, like most Sorkin characters, an aspirational hero or, like the fictionalized Mark Zuckerberg in the Social Network, somewhat of an antihero. (Wired)
That's the mystery of Steve Jobs. He is both an antihero and a hero. I'm not saying this is an easy paradox to depict on screen. Will Sorkin be able to write a masterpiece out of the 700-page long press article that was the Isaacson bio? That we will see.
As for myself, I have been thinking that Steve Jobs's life would make an amazing movie to make for several years — perhaps since 2007. Having closely studied Steve's life for so long, I am convinced that his unique personality and the remarkable turn of events of his life would make for outstanding movie material. However, I've always thought to myself that not one, but at least three, if not four movies would be necessary to appropriately depict his tumultuous life. They could be titled the same as the three-part eulogy that BusinessWeek published after Steve's passing: I. The Beginning II. The Wilderness & III. The Return.
---
About blogs, biographies and apricot orchards
I have been thinking about the next version of the website for some time, and it's time for Phase I to roll out.
I have moved the website to a new host last week. It should now be faster and more reliable. And today, I moved the blog to that same host. It is now really 100% under all about Steve Jobs.com, since all things Steve Jobs doesn't seem to be catching on, and is just too confusing. Even though I am keeping the URL allthingsstevejobs.com, it will now point to localhost:8888/sqltest/blog. You might have noticed the better cosmetic integration with the rest of the website too.
I don't think any of you has missed the two big pieces of Steve Jobs news from the past two weeks:
the city of Cupertino has published the plans for the upcoming Apple 'spaceship' campus. It's not bigger than the Pentagon — but close. If you've had a thorough look at the plans, Steve's favored apricot orchards are showing up in the north east garden of the campus (see picture below).
---
Was WWDC'11 the first "post-Steve keynote"?
He's here, but this is the first post-Steve keynote.
This is what every Twitter follower of Mac uber-blogger John Gruber read during Monday's WWDC keynote.
Quite a surprising statement — one could on the contrary argue that seing Steve back on stage, even though he is still officially on a medical leave of absence, is a supplemental affirmation of his enduring commitment to Apple.
But this is one more of several indications of his possible progressive departure:
in the Fortune piece Inside Apple, Adam Lashinsky wrote about the so-called Apple University, a program that Steve Jobs put Yale professor and management guru Joel Poldony in charge of. Its goal is to make business cases on Apple history for future Apple leaders — in short, to codify Steve's management. In a way, it is reassuring that he thinks about the future of the company without him… but obviously it means he has his departure in mind already. For some time now, because the program was started in late 2008.

second of course is the upcoming authorized biography, iSteve: The Book of Jobs, available in March 2012. Steve has been super-secretive as Apple's CEO, and one can wonder whether this sudden publicity is not a testament that he's slowly accepting his (overwhelming) place in history, and stepping back as a day-to-day leader of Apple to become more of an old wise genius watching over his baby. Who knows?
the third is more anecdotal, but quite telling to me. If you watched carefully on Apple's homepage, you noticed this change just as I did:
I chose the October 2008 keynote because during that show, Steve also shared the stage, with Tim Cook and Jony Ive. But WWDC 2011 is the first time I see the other keynote participants (including recurrent ones such as Scott Forstall and Phil Schiller) being put front and center on apple.com like this. I am certain this is no coincidence — Steve Jobs really must be preparing the press/the community/the world for Apple's future keynotes, without him as master showman.
Only time will tell, but perhaps 2012-2013 will see the departure of Steve Jobs as official Apple CEO.
---
While you wait for tomorrow's keynote…
I am like all of you guys (I assume) eagerly awaiting for tomorrow's WWDC keynote. The rumor mill is acting crazy and I am sure I will spend the night dreaming of iClouded skies. Until this week, Steve Jobs news have been kind of slow lately — here's a roundup of the information I've collected in the past month, that some of you may have skipped:
The New Yorker did a story on the history of the computer mouse, back to Xerox PARC and the famous Steve Jobs visit that supposedly inspired Lisa then Macintosh. One of the mouse's inventors, Malcom Galdwell, recalls what we already know, that Apple didn't "steal" the mouse from Xerox. Unfortunately the story can only be accessed by subscribers — I didn't subscribe just to read it. The abstract is here (not very well done). It contains interesting old sketches and pictures of prototypes, as well as quotations from the piece, such as this one:


"I had a series of ideas that I wanted to bounce off [Jobs], and I barely got two words out of my mouth when he he said, 'No, no, no, you've got to do a mouse.' I was, like,'What's a mouse?' I didn't have a clue," Hovey told Gladwell.

(via Cult of Mac)

We've talked about it earlier: the building of the extension of Pixar's Emeryville campus, Pixar Phase II, is now over. Check it out on the excellent Pixar blog.

A curious piece of trivia, some study was made to prove that Apple had actually the same effect on fanboys that a religion (or, more appropriately, a cult) on its followers:


As discussed in the new BBC documentary "Secrets of the Superbrands", when you put an Apple fanatic under an MRI and start mentioning iPhone 5s and iPad 3s, neuroscientists found that Apple tends to stimulate the same parts of the brain as religious imagery does in people of faith.

No news to me.

And I thought I would never be able to find new keynotes… but no, two oldies came up this past month to add up to my impressive collection. I hope you guys take time to check them out, because they're both pretty interesting.
First, an interesting one (and in high quality, too) from 1996, where Steve Jobs still spoke as CEO of NeXT Inc. — but already famed CEO of Pixar — at a Microsoft Developers Conference, about NeXT's server technologies, WebObjects. In the video he is a late speaker, which is a testament to how unimportant he seemed to be. He is also very casual and humble, as depicted in a number of articles from that time (he was just coming out of his wilderness years). Watch the keynote here (via Daring Fireball).

The second one I just found, and on YouTube, too! it's a casual chat Steve Jobs had with then-struggling Mac developers at the end of the 1997 WWDC! Definitely worth a look if you're interested in Steve Jobs history. Again, it is a testament to Steve's unchanging character and principles. He stands by the same rules now as he did then,  including the most important one: building great products. He also mentions something I knew from a 1999 interview, quoted below:


About 10 years ago I put in a T1 to my house. I'm actually getting ready to put a 45 mg fiber to my house, because I want to find out what that will be like, because everybody's going to have that someday. But I have a pretty sophisticated setup; whether I'm at Apple or at Pixar or at my home, I log in and my whole world shows up on any of those computers. It's all kept on a server. So I carry none of it with me, but wherever I am, my complete world shows up, all my files. Everything. And I have high speed access to all of it. So my office is at home too. And when I'm not in meetings, my work is fundamentally on email.

in the aforementioned video, we discover Steve's been working in such an environment since 1990. This is thanks to NeXT's very advanced 'inter-personal computing' (i.e. networking) technology. So basically Steve's been living 'in the cloud' for over 20 years, while we mere mortals will probably find out  what it's like thanks to a product that he will introduce (if rumors are to be verified) tomorrow. The advancement of NeXT's technology still continues to amaze me.

Business Insider has published a thorough interview of Apple's first CEO, Mike Scott. Honestly I haven't had time to read it yet, so I wo'nt comment on it, but you can be sure I will pretty soon. (via TUAW) Same goes for the Fortune article Inside Apple, which I finally got my hands on last week, but haven't yet had time to write about.

Conan O'Brien dressed as  the iLeader in a baroque fresco by Fast Company:

(more…)
---
The Book of Jobs, version 3.0
Most of you have probably heard the news already, but it's too important for me not to leave any trace of it on the blog.
The rumors surrounding Steve Jobs' authorized biography have been confirmed. The book exists indeed, written by Walter Isaacson, and will be published by Simon & Schuster early next year. I will be called (hold your breath): iSteve: The Book of Jobs. The news broke out thanks to Philip Elmer-DeWitt, who writes the Apple column of Fortune.com. PED makes an interesting portrait of the writer in his column. Apparently the idea was his, and he had enough nerve and talent to seduce Steve into writing his biography.
I am, as I imagine you are, incredibly excited by the coming of this book.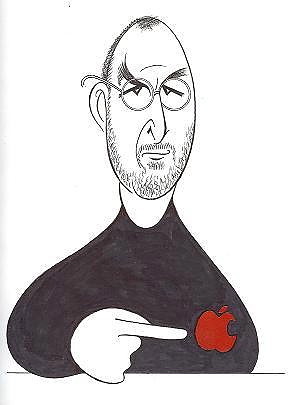 The biggest news is of course that the book is 'authorized', meaning Steve, as opposed to previous biographies, helped its making instead of blocking it. What usually happens is that whenever a journalist or writer tries to interview someone from Steve's entourage, he faces a wall of silence, akin to an omerta. Indeed, they should be wary of what they say, because historically Steve has shown some pretty harsh un-forgiveness with indiscreet friends and relatives.
The most famous example of this trait is Michael Moritz's 1982 piece, The Updated Book Of Jobs, which he wrote as Time Magazine's Silicon Valley correspondent (Moritz later wrote the first good book on Apple, and arguably the first Steve Jobs biography, The Little Kingdom). Moritz had been given carte blanche at Apple to write the portrait of Steve Jobs who was a serious candidate to become Man of the Year 1983. Instead, he turned out this much more critical piece, including a testimonial from Steve's college friend Dan Kottke: "something is happening to Steve that's sad and not pretty, something related to money and power and loneliness. He's less sensitive to people's feelings. He runs over them, snowballs them". Steve apparently broke all ties with Dan after that article was published.
But this time, Steve is said to give biographist Isaacson acces to his closest friends and relatives. I imagine among the friends there will be Larry Ellison, Bill Campbell, Bob Metcalfe, perhaps Al Gore. I am curious about Steve's relatives. Will Laurene speak up on her husband? I've never found any trace of her speaking of Steve in public. Or perhaps his biological sister Mona? That's more likely.
The active collaboration of Steve will have of course positive as well as negative effects. So far, previous biographies (such as my personal favorite, Alan Deutschman's The Second Coming of Steve Jobs) only could be based on interviews of ghosts from Steve's past life (I'm referring to you, Dan Kottke and Andy Hertzfeld), or of pissed off former employees who had regained their 'freedom of speech'. This is nicely put by Chris Smith in an article I will refer to below:
In recent years, several biographers have gamely tried to chart the depths of Jobs' psyche, with little help from the man himself. He rarely speaks to the press, save for tightly scripted sound bites, so all these accounts are based on talks with old colleagues and Apple Deep Throats, supplemented by occasional in-depth interviews he's granted to a few lucky reporters over the years.
Any journalist who's tried to go a little deeper had to endure Steve's legendary wrath, as described by Rich Karlgaard in his 2006 WSJ article Vladimir llyich Jobs? (for the heck of me I can't find a link to it, but I have a scanned version on my Mac): (more…)
---
Serious and trivial Steve Jobs news roundup
Hi folks!
It's been quite a while, as usual, since the last time I wrote on Steve Jobs news. But then the aforementioned news have been kinda slow lately, so I don't feel that guilty after all.
Here's my news rondup of the past 3 weeks:

Serious news
Steve's authorized biography is still in the works
Kara Swisher of the WSJ (you know, the gal that interviewed Steve at D5 and D8 with Walt Mossberg) reassures us all about the upcoming Steve Jobs authorized biography by Walter Isaacson. I imagine that just like me you cannot wait to get your hands on that book (metaphorically speaking of course, since to pay a proper homage to Steve we should buy all it on the iBooks Store ;). I have recently been contacted by a French journalist who will soon publish his own biography of Steve in France. I told him how I felt about printed books, such an old fashioned way to tell the story of Steve. this is actually one of the reasons I built alla bout Steve Jobs.com. We are gifted with thousands of pictures and hundreds of videos of Steve Jobs and his work, why limit ourselves to text on paper? Moreover, the story will be outdated as soon as it's published, since Steve keeps surprising us month after month…
Latest Steve Jobs glorification
Last month, both Waren Buffet and Richard Branson had their say about Steve — and he is an inspiration even to them.
Waren: "Admitting he didn't know that much about the company, Buffett equated Jobs to Steven Spielberg, and his effect on his company. He said the talents of Jobs is a main reason for the company's success over the past 15 years."
Richard: "He's the entrepreneur in the world I most admire and I think [Apple] is the brand I most admire. He's the greatest come-back artist as well. He's twice been down and out and he's fought his way out and created a brilliant global company."
You should watch the video of Branson (wait a minute… Virgin Apple.. that reminds me of something: ah yes, one of Fake Steve's earliest posts 🙂 )
Nice website by the Computer History Museum
The Mountain View museum has a new website with a very interesting and rich timeline on the history of computing, you should definitely check it out. It's got some pretty interesting pictures of young Steve, including one I'd never seen before.

Steve Jobs trivia
Emails from Steve
If one relates to the frequency of his emails, Steve is still actively running Apple. He wrote two emails in the past 4 weeks: in the first one, from March 23, he confirmed that "We have no plans to" discontinue the iPod classic. The following day, he wrote a much-discussed email to an iPhone app developer whose 'radiation measurement app' (sounds like BS to me) was rejected on the App Store: "No interest", the email said simply.

TUAW made a funny analysis of Steve's apparent age based on photographs of him using the iPhone app PhotoAge. I think the job is biased because of the quality of the picstures they picked, especially for 2010
Minyanville did an interesting and pretty complete piece entitled Apple's Steve Jobs: Myth Vs. Reality. I checked it out, and surprisingly it's error free. The end paragraph ("Rumor: Steve Jobs is dead"…) is a little borderline IMHO… but it's worth checking out anyway.

The crazy rumor of the month
This month it's from Cult of Mac: Steve Jobs Is Rumored To Be Resigning From Apple. At first I thought it was a (bad) April Fool's Day joke… but I don't see any such disclaimer. I hope this is the usual BS we Steve Jobs fans have grown accustomed to these recent months.
---