---
New caricature and parody of Steve
I just added the following caricature to the Caricatures page on all about Steve Jobs.com: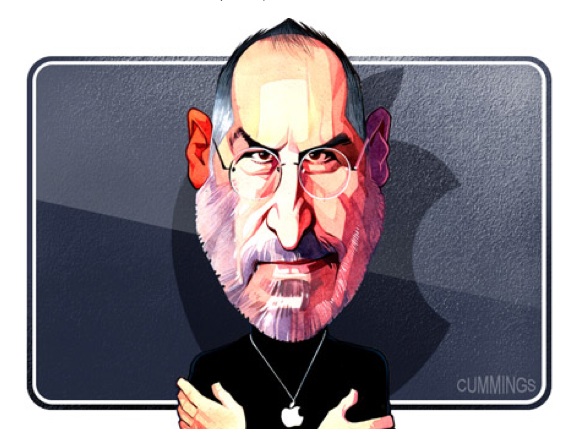 I love the little Apple necklace, remindful of the original iPod shuffle.
Also, thanks to our reader Alex, you can watch here a montage of Steve facing investors on the BBC show Dragon's Den. Pretty amusing.
---
Steve Jobs Winter Break news
Hi all!
I hope you're enjoying your Christmas holidays, if any.
Steve Jobs news have been kind of slow lately, but here's a wrap-up of the most important/fun items I've read in the past… well, month. Some are a little old but still noteworthy if you haven't come across them earlier.
Steve is praised so much it's not fun anymore.
Something that's always been the greatest strength of America is a thriving, booming middle class, where everybody has got a shot at the American Dream. And that should be our goal. That should be what we're focused on. How are we creating opportunity for everybody? So that we celebrate wealth. We celebrate somebody like a Steve Jobs, who has created two or three different revolutionary products. We expect that person to be rich, and that's a good thing. We want that incentive. That's part of the free market.
The whole "CEO of the decade" frenzy can only make me smile. Indeed, in 1989, Steve was named "Entrepreneur of the decade 1980-1989" by Inc. (cover above). The interview he gave at that occasion is a delight to read, if you haven't already. But it's funny that at the time, Steve was struggling with NeXT, although the journalist didn't suspect it. I hope this MarketWatch 'award' will not bring him similar bad luck for the next decade.
2. Steve Jobs history
After the interview that John Sculley gave to Cult of Mac last month, 37signals published a story on Edwin Land, founder/inventor of Polaroid and one of Steve Jobs' few alleged inspirers. I don't think it's *that* interesting — but the most interesting part is in the comments section. As you can see here Tom Hughes, who worked in the Mac team, tells the real story:
Interesting article, but all serendipity for Sculley who was just along for the ride. He just happened to luck out. And, there was no pilgrimage… no planned meeting with Dr. Land. I was working for Steve as Design Director for the Macintosh project and we were in Boston and I asked Steve if he'd like to meet Dr. Land, whom I had worked with before Apple. I called Dr. Land and he agreed to meet Steve. We arrived to find a BBC documentary film crew there. Dr. Land excused them and we began a 3 hour visit which included a glimpse into color experiments that were in his lab, to his personal office and an amazing review of some of his personal collection of photographs. The memorable part of this was that Steve was meeting someone who legitimately could be, almost uniquely, a mentor for him. And, clearly, they shared an awareness of the importance of good design as it contributed not only to their products, but to their corporate culture as well.
Kinda makes you wonder about the validity of the rest of the Sculley interview. Not that big of a surprise, since Sculley's book, Odyssey is said to be a ridiculous self-appraisal by the former Apple CEO, with a very liberal definition of history and facts.
3. Steve Jobs trivia
As usual, it's the majority of stuff.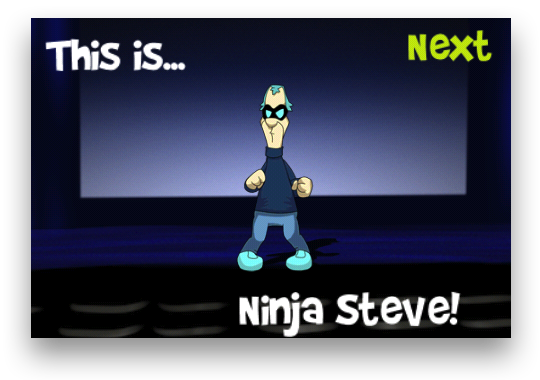 ---
Old but interesting piece on Apple's development process (as told by Apple senior engineering manager @ SXSW'08) businessweek.com/the_thread/tec…
---
AppleInsider | Apple owes Steve Jobs some money: $37.91 appleinsider.com/articles/10/12…
---
http://j.mp/hIgtCB "He is not somebody any of us would want watching our kids, but in terms of running the company, he's excellent." WTF?!?
---
Apple campus 2.0
Finally! We're finally hearing some news on Apple's new campus in Cupertino.
As a reminder, news on a new campus date back to 2006, when Steve himself went to the Cupertino City Council to announce the company's plan to expand, after its purchase of land next to the HP campus. The video can still be watched on YouTube. As you can see, Steve speaks of a "3 to 4 years" period to get it built.
We've been waiting for that new campus ever since. People from the area have reported that Apple people have moved into these former HP buildings, without any architectural modifications. To tell the truth I was afraid that, busy with Apple products, Steve would delay the plans for a decade or so —  until his retirement or something.
That long delay makes more sense now that we've learned that just last week, Apple purchased another huge chunk of land from HP, right next to the properties it bought four years ago. The map below is impressive: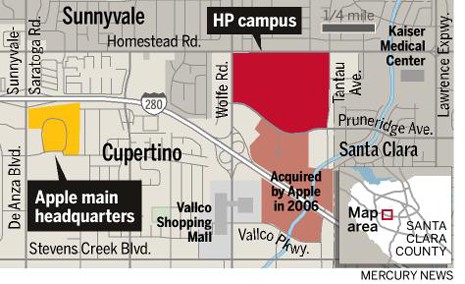 If you've ever been to the current Apple campus, you'll realize that this is a HUGE expansion. As if I wasn't excited enough, a Spanish newspaper has reported rumors that Steve Jobs has designated world-famed architect Norman Foster to build this new 'City of Apple'. Quote from Philip Elmer-DeWitt's column:
Jobs is paying extraordinary attention to environmental issues as he designs the future headquarters of his company, the paper has been told. The buildings that will house engineers and the R & D department will "incorporate cutting-edge technology in materials and equipment as well as renewable energy resources," according to El Economista. All transportation between the buildings will take place through a network of tunnels, keeping surface areas green.
Can you imagine such a place? Steve Jobs moving in underground top-secret tunnels with prototypes of Apple products, underneath a green-clean-futuristic campus? I bet the windows of his iOffice won't be see-through. This reminds me of old fantasies such as this picture from a 2008 Apple commercial you will most likely recognize: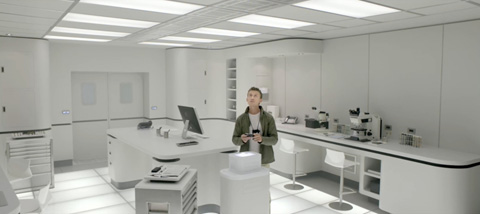 ---
Quirky Steve Jobs news and trivia from last week
1. a hip-hop song apparently came out by a guy named "Fabolous" (don't blame me if he's super-duper famous because I'm not into rap). It's called… wait for it… "Steve Jobs". Excerpt from the chorus:
man used to be Mac'ing but now I'm Steve Jobbin' man
got 2 choices
you can stay broke or grind
2. Steve sent an email last week about the future of Airplay to a guy asking for compatibility with Safari and 3rd party apps:
Yep, hope to add these features to Airplay in 2011.
3. I found this picture of a guy's desk. See, I told you I wasn't the fanboyest SJ fanboy on the planet! 😉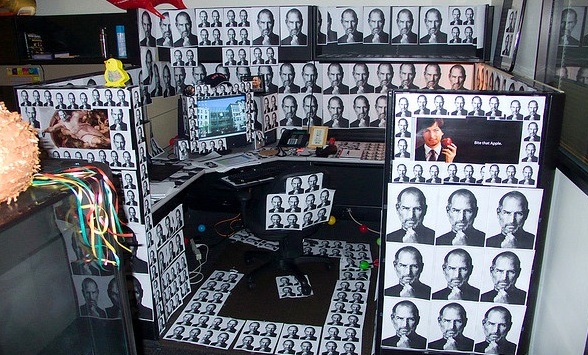 (Full gallery).
The important stuff is coming next.
---
Good and not-so-good news about all about Steve Jobs.com
Folks,
I have been busy all weekend working on an update of the website.
The good news:
The Picture of the Month: December is up, with an 11-year-old photo of Steve posing with the venerable iMac DV Special Edition. It gave me an occasion to go back on Apple's mistake of betting everything on desktop video in the late 1990s… Fortunately enough, Steve was not too stubborn and quickly changed directions by launching the iPod project the following year.
4 new pictures of Steve Jobs: 1 new picture in "Oscars 2010", 2 new pictures in "Opening of the first Apple retail store (2001)", 1 new picture in "Apple IIc introduction (1984)"
4 new caricatures of Steve Jobs.
The bad news:
Two weeks ago, I was contacted by Getty Images about the pictures of Steve Jobs at his home office from 2004 that had made the website so popular last month. We had a little bit of an argument — my website is non-commercial and they have let a number of commercial websites use them… but eventually I had to give in. So a number of pictures are gone, most notably the very good photo series by Diana Walker (in 1982, 1997 and 2004) and the Doug Menuez NeXT pics.
The pictures are still viewable online for those of you who wish to see them again: the Diana Walker pics are in Getty's own archives, and the Doug Menuez pics are in his portfolio on Stanford's website (find it with Google).
Now that this is past me, I hope I will finally fin time to deliver on SJ news! There are plenty of them this week… Some of them I've already tweeted 😉
---
Finally, new on Apple Cupertino Campus 2.0 => Norman Foster to build 'City of Apple' tech.fortune.cnn.com/2010/12/06/nor… via @FortuneMagazine CAN'T WAIT!!!
---
CHART OF THE DAY: Apple Employees Love Steve Jobs, Microsoft Employees Aren't So Hot For Steve Ballmer sfgate.com/cgi-bin/articl… via @sfgate
---