Posts filed under 'Updates/Announcements'
---
Batch of 11 new vintage Steve Jobs pictures
With the thousands of pictures of Steve Jobs that are already present on the website, you might think that it's impossible for me to find new ones apart from new Apple events and iAppearances of iSteve.
But no (and frankly it continues to amaze me) — I sometimes stumble across never-seen-(by-me)-before pictures of Steve's past, and it's always refreshing.
Today is one of those occasions: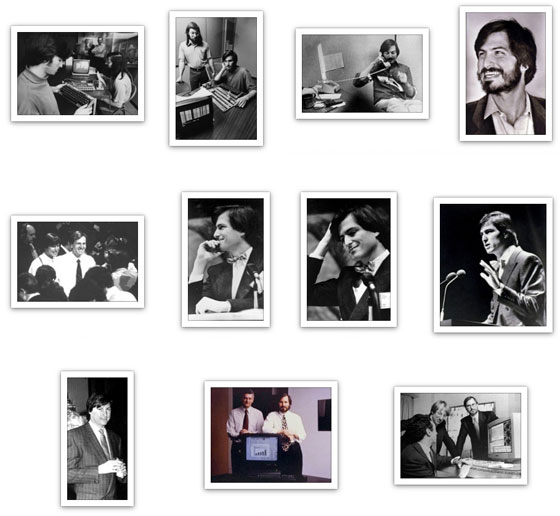 the first two pics are from the very early days of Apple, 1976. They're of very fine quality, for once.
the following two from 1980 and 1981
the following pic with John Sculley and Woz, is from the Apple IIc introduction event in February 1984. It is not new but of better quality than the previous version, and it's corrected, as I had (like many) misattributed it to the Mac introduction of January 24
the following two are from the April 24 1984 Apple event (anyone knows what that one was?)
the following is from Apple's Annual Shareholders Meeting of 1985
the following from 1988
the second to last is very interesting. I only had a cropped version of it. This is the only pic I've found of Steve with Peter Van Cuylenburg, who was brought in as COO of NeXT by investor Canon in 1992. He only stayed one year, as he betrayed Steve (even worse than Sculley) by calling up Sun's Scott McNealy to have him buy NeXT and install him as CEO. It was a professionally fatal blow to Steve.
the last pic is from Steve's 'wildest wilderness year', 1994. He is posing with Morgan Stanley execs for a NYT article about NeXTSTEP. I have found the article in the NYT archive, have a look at it, it's pretty telling that Steve is barely mentioned in there…
---
Our website featured in the San Jose Mercury News

This happened… whew, two weeks ago already.
On March 11, I got an email from Mike Cassidy, columnist at the San Jose Mercury News. He said he wanted to speak with me about the website. We talked using Skype (on iPhone, on my part) a couple of days later. The conversation itself lasted for almost an hour. I was surprised by Mike's interest, especially since I thought he wanted the story to feature in a larger piece about Apple or Steve Jobs in general.
The following week, the article was published on the front page of the Sunday Business section of the San Jose Mercury News. For those of you that don't know, the Mercury News is the local newspaper of San Jose, capital of Silicon Valley. It's basically Steve Jobs' local newspaper! Gasp. Pictured right is a scanned version of that first page.
The online version of the article is here: Cassidy: Romain Moisescot makes Steve Jobs a full-time job
For those of you wondering — Mike was very polite and courteous during the interview. All that is mentioned in the article we talked about, including the sentence 'Yes, the site can feel a little creepy' which he mentioned as an echo of Fake Steve's 2006 post (which I am very proud of). My stance on the 'creepiness' of all bout Steve Jobs.com is that I want to cover really *all* about Steve Jobs. However I have the greatest respect for Steve Jobs, so I never cross certain lines on the website or the blog (if you see what I mean — especially after the recent health episodes…). But for example since anyone can find Steve's home address simply by typing it into Google Maps, why not have it properly and neatly presented on my website? That's why I decided to cover more of Steve's private life on the website for the past two years. But I don't think that there's anything borderline on the website.
Anyway, to come back to the article, my fear of course was what would come out of it. My conversation with Mike was pretty long and I knew he would have to select what he would write about. He did choose some aspects of our conversation that were anecdotal, and distorted them a bit; I'm referring to the anecdote with the "Contact" button, the truth being that I put it back because I am more often than not amused by the emails I get from people who think I am/know Steve Jobs. But overall the article is very close to the truth and I am very happy with its portrayal of the website.
Ha, and the picture — no, it wasn't a professional photographer who flew from San Jose to my home in Paris to take a picture of me. It's actually by one of my best friends who is also a pretty good amateur photographer at his lost hours.
Anyway, an interesting remark to close this narcissistic piece. Here are two screenshots of my Analytics stats: (more…)
---
5 new pictures added
I just added five interesting pictures of Steve to all about Steve Jobs.com: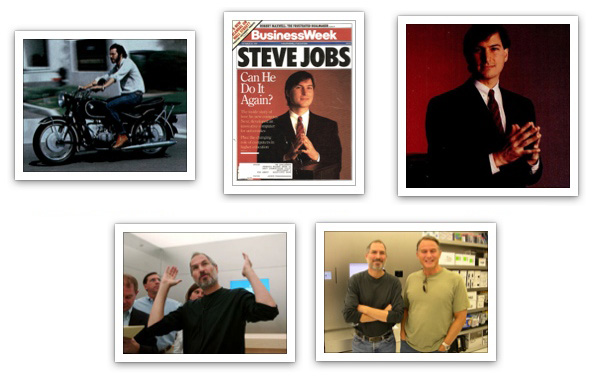 the first one kind of made a sensation some time ago on motorcycle fans forums… so that's why it escaped my careful watch. It's a 1981 picture of Steve (when he was 26) riding an old BMW motorcycle. As most of you know, he later gave such a motorcycle to the Mac team, who put it in their lobby — it might be the same one. Find the pic in the '1981' album
the two following pics are from an interesting photo shoot that was made to illustrate the launching of NeXT Cube in mid-1988. As you can see, Steve strikes his favorite namaste pose, and made it to the cover of BusinessWeek (Oct 24 1988 issue). He was also on the cover of their arch-rival Newsweek the same week. The story is, he promised both magazines exclusivity in exchange of the cover 😉 Find those in the '1988' album
the two latter pics are from the opening of the first Apple mini retail store, on October 16 2004. You can see Steve pose with his neighbor and former employee Dan'L Lewin on the second picture. Dan'l was the brilliant salesman behind the Macintosh University Consortium in 1984, then co-founded NeXT with Steve in 1986 as head of marketing. He left NeXT for Microsoft in 1991. The album is here.
---
Website updated with new pictures
I am very pleased to announce that all about Steve Jobs.com was updated with pictures from the exciting keynote of Thursday. Needless to say that I was very excited as all of you to watch Steve take the stage again, in great shape — quite a change from the horrors one could read or watch these past three weeks.
In addition to iPad 2 in the Products Page and 34 pictures of the event, I also added the following new 6 pictures of Steve: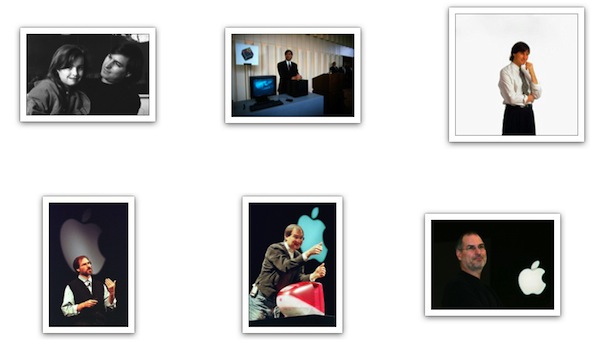 Respectively:
a (better) picture of Steve with Lisa in the 1989 album
a new picture of the NeXT Cube introduction (12 Oct 1988)
a new picture of Steve in the 1989 album
a new picture in the Special Event of 10 Nov 1997
a new picture of Macworld SF 1999
and a new picture of Steve at Apple Expo 2005
---
New pictures added
Today I added 13 new pictures of Steve Jobs to all about Steve Jobs.com. Here they are: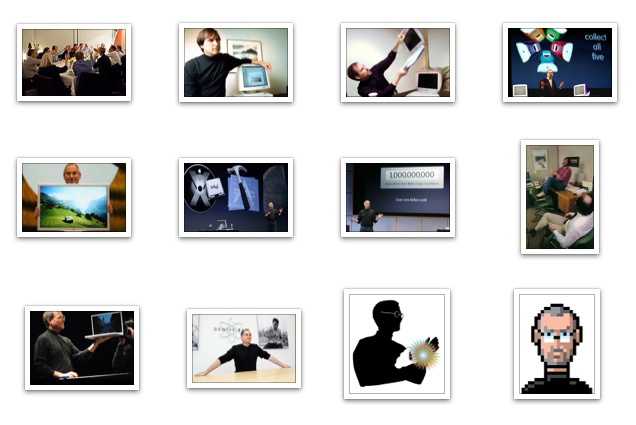 From left to right and top to bottom:
2 pictures of the recent dinner with Barack Obama (only one is shown here) in 2010+
1 picture in the gallery '1995'
1 in '1999'
1 in 'Macworld SF 1999'
1 in 'WWDC 2004'
1 in 'WWDC 2005'
1 in 'Apple event of Feb 28, 2006'
1 in '1981' (thanks Brian!)
1 in 'Macworld SF 2001'
1 in 'NY SoHo Retail Store opening' (2002)
and 2 caricatures
Most pictures are better/enlarged versions of pics I already had, with the exception of the (pretty nice) 1981 pic, the 1995 pic (with NeXTSTEP running on Intel PCs), the 2006 pic, of course the Obama pics, and the caricatures.
Hope you like 'em!
---
Our Google ranking: Oh. My. God.
…all about Steve Jobs.com is now before Apple.com's official bio in Google results for a query on "steve jobs". WOW! I didn't think this would ever happen.
Watch out, Wikipedia 😉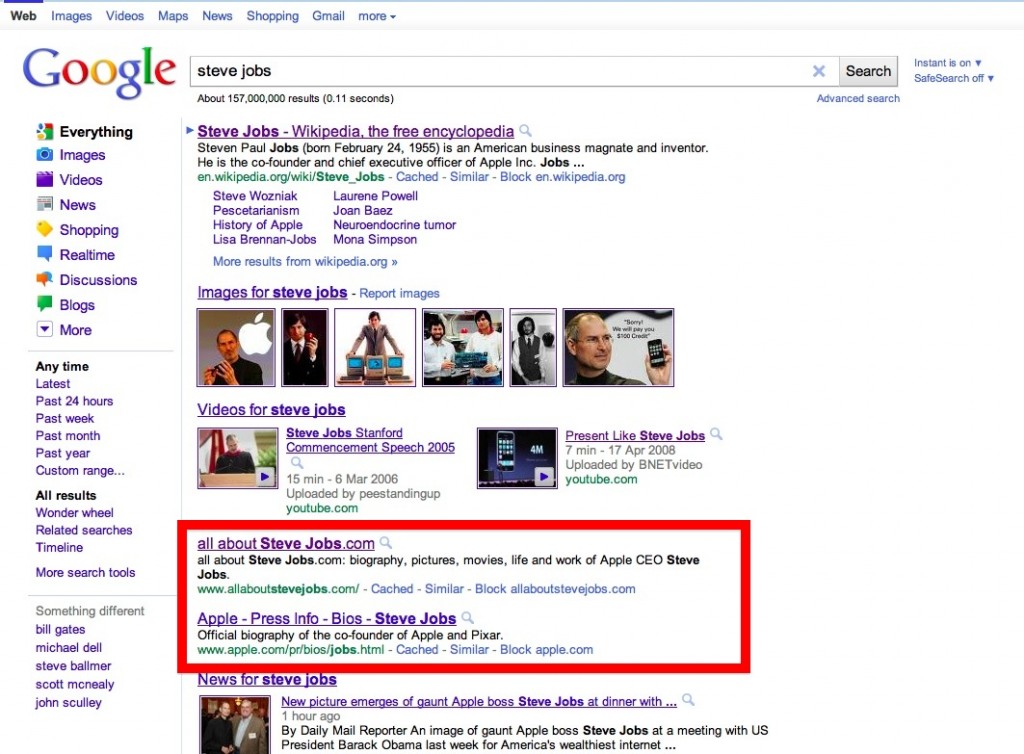 ---
The future of this blog
Hello all,
As you have noticed I've been kinda slow updating the blog recently. This is partly due to my being busy with my internship + looking for the next one, partly because I've been lazy… but I've also been wondering about my editorial choices when I created the blog. I wanted to cover all Steve Jobs news, and this can be a difficult task when 3 to 5 Steve Jobs stories hit the news on one day and I don't have time to cover them that night. Then what's the point in covering them three weeks later?
So here's what I think the blog should evolve into. I will now focus primarily on:
quirky news, that there's a chance you didn't read in the major Mac blogs that most of you follow anyway
more thoughtful posts, on Steve Jobs history or 'mythology' for example, that are not news and that give my own perspective on the matter
and of course the website news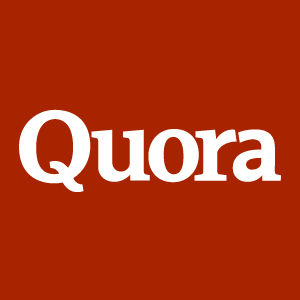 Lastly, I've been playing around with Quora for some time and I've really grown to like it. It's one of the culprits of my lack of time to devot to this blog actually 🙂 So I suggest you have a look at the Steve Jobs topic, where I often post answers to questions on the iLeader.
From now on, I will also post links to my Steve Jobs-related answers on my Twitter account (@rmoisescot), so you can follow them even if you're not on Quora. If you're on Quora and have a question on Steve, you can also ask it directly to me so you can let others benefit.
---
Two SJ infographics for your perusal
Infographics are the latest hot thing on the Internet. No one has time to read anymore, I guess.
This week we are blessed with two infographics on Steve, of differing quality:
– the one on the left has historical and grammatical mistakes and I don't like it: How Steve Jobs and Apple became #1
– the one on the right is fun, original, and has the good taste of quoting all about Steve Jobs.com as a source 🙂 : 10 things Steve Jobs could say during sex
I'll let you make your own opinion.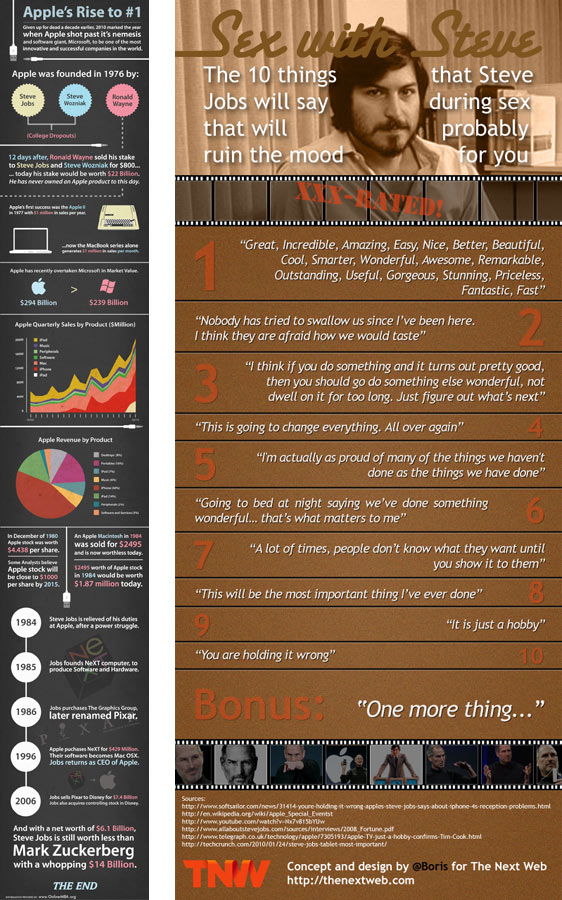 ---
Two of our videos on Mashable
Today I am proud to add the excellent social blog Mashable to the growing list of prestigious websites which have mentioned content from all about Steve Jobs.com:

Steve Jobs Remixed: 5 Creative Takes on the Iconic Apple Keynote [VIDEOS]
Good news: they still called us "creative" even though the two video they picked are from the original 2006 release of the website (faire enough, the One More thing video was remixed in HD last year. By the way, for those of you who wonder why Boom! is still in the original version, it's because you can't update a video on YouTube… so updating it would be killing one of the website's strongest assets!)
Bad news: they failed to mention the website as a source, even though it is pretty visible on both videos. NOT COOL! I will write to the author and see what can be done about it.
For our friends from Japan, we've also been quoted on Japon.internet.net – if I trust the number of hits I got, it's a popular website over there. Any of you guys know it?
---
New caricature and parody of Steve
I just added the following caricature to the Caricatures page on all about Steve Jobs.com: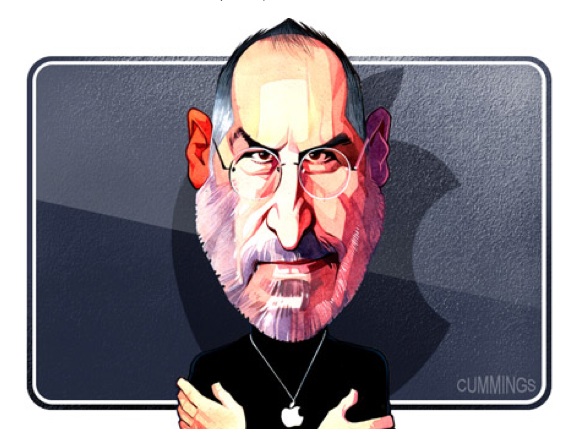 I love the little Apple necklace, remindful of the original iPod shuffle.
Also, thanks to our reader Alex, you can watch here a montage of Steve facing investors on the BBC show Dragon's Den. Pretty amusing.
---