Posts tagged 'all about Steve Jobs.com'
---
Happy 2013! a.k.a the End of 2012 Steve Jobs News Roundup
Dear reader,
The new year starts as it should, with the continuation of one of my worst habits: the posting of news roundups that gather the equivalent of what should have been five or six separate, timely posts. Still, I will write such an article, because it does contain some interesting trivia that you might have missed.
Let's start with the one-year anniversary of Steve's passing. Although I did post on that sad day, it was only later that I found out the following anecdote: The favicon was at half mast during the anniversary of Steve Jobs' death (from a great site, Little Big Details, which I recommend you check out).

That's right, on October 11 2012, the favicon of apple.com was "flying at half mast". Nice touch, and a reminder that the company continues to care about the smallest details (and to delight you when you happen to notice them). Of course, this was only the icing on the cake, and what a cake.
Another piece of news came from Steve Jobs's "other" company, Pixar. The Disney-owned animation studios had the graciousness to name the newest addition to their campus "The Steve Jobs Building". The building has a modernist look which SJ would probably not have disapproved of — it's even possible he was involved in its design, like the rest of the campus, but this is speculation on my part (Source: Pixar Times).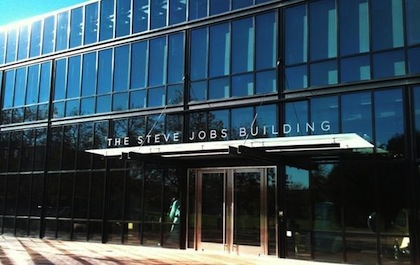 The Steve Jobs Building at Pixar in Emeryville
The day before the anniversary of Steve Jobs's death came another piece of news that might be of interest to the "Steve Jobs community": Chris-Ann Brennan, Steve's high school girlfriend and the mother of Lisa, will be publishing a "memoir", according to the NY Times blog. I wonder about its quality and content, since Chris-Ann has been known to be unstable and eccentric (this was confirmed in the Isaacson bio). It looks a lot like a get-rich-quick plan, but I won't make hasty conclusions before I've read the book. While waiting for the book, you can still read the article she published in Rolling Stone's commemorative issue after Steve's passing: Jobs at 17: Nerd, Poet, Romantic (cached version, the actual article starts about 80% of the way).
This confirms the theory I have long held that Steve's death would be followed by people untying their tongue, now that their fear of him (encouraged by the occasional threats) is gone. So far it has been mostly the usual suspects talking to the press or writing, but I do see a trend of former colleagues who begin to open up, too. Avie Tevanian in BBC's documentary, or Tony Fadell, are two examples.

My only confirmed picture of Chris Ann Brennan, from Facebook
I sincerely hope the trend continues, and that one day those who worked really closely with Steve start to speak up. Can you imagine a book about NeXT by former NeXTers, for example? I would be thrilled to see that happen. It would perhaps compensate for the usually negative image of Steve Jobs as a man, relayed by the people who had broken all ties with him and thus did not feel bound to respect him. Not to mention the shallowness of the Isaacson bio.
As far as pictures go, I've dug up a few interesting ones in these last weeks of 2012. Starting with this gallery of Apple I photos from Time Magazine's Harry McCracken. 'Wait', you might say, 'but I know plenty of pictures of the Apple I!' And you'd be right, dear reader, but these are special. They come from Paul Terrell's private collection. If that name rings a bell, it means you've done your homework: he was the owner of the BYTE SHOP, the electronics store (I daren't say computer store) which was Apple Computer's first client, back in 1976, before the garage — it was actually the order of 100 computers from Terrell which made the garage necessary, and made dollar signs flash in front of young-and-not-so-hippie-anymore Steve Jobs's eyes.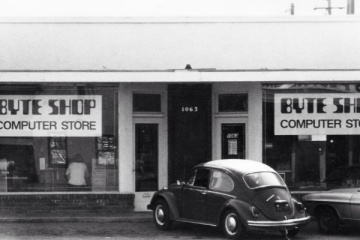 The first picture of the Byte Shop I ever saw, from the TIME gallery
(notice the groovy typeface for the logo) 
I will soon add those Apple I pictures to the site, along with a few I already added, from a few years later: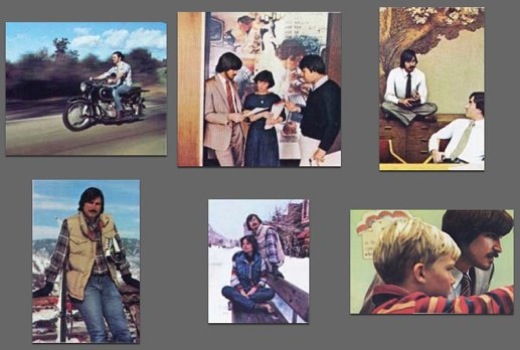 This batch of (too small) pics came from Vectronic's Apple World (a treasure trove for old advertisement of the fruit company). They show Steve around 1980-81, when he was 25, a.k.a. The Moustache Years. The top left is from a series we've seen before, where he is riding his BMW motorcycle. All others are news to me: the top middle and right show him at a "PR agency" (perhaps McKenna's, where he met his then-girlfriend Barbara Jasinski?) The bottom left and middle ones are probably in his ski destination of choice, Aspen. And the last one, the only large one, is obviously at a school. I will add more very interesting pictures of young Steve soon, so stay tuned!
In echo of my previous post, there was also some more talk of Steve's famed yacht, Venus, in the last days of December. The talk was really not that interesting, and Philipp Elmer-Dewitt made a great short summary of it (as he does) on his blog: Steve Jobs' yacht: The anatomy of a news cycle. Basically, French designer Starck was paid a percentage of the cost of the yacht. But the boat ended up costing less than planned (which is noteworthy), and so Starck was paid less than he expected — €3 million short (€6m instead of €9m). Apparently, Laurene quickly settled the case with him and the yacht, which had been temporarily seized by the Dutch authorities, was released a few days later. Big deal.
PED's analysis is interesting in that it stresses how such small events become hugely inflated by the blogosphere and even mainstream media, just because they give an excuse to have 'Steve Jobs' in the headline and attract click$. This is something I have observed as well, and it sometimes really becomes ludicrous. The article on Examiner.com Psychic makes contact with Steve Jobs, says things not well in afterlife certainly takes the palm in that category.
…
I can hear your voice – "But that's not all! He forgot about the movie! … I mean, the movies!" No, dear reader, I will speak of those movies. But they deserve their own post, and it will come very soon.
Although the blog has been quiet lately, I have been paying close attention to all things Steve Jobs all along, and even updated the site silently. Just last week, I added 22 new anecdotes and 2 new quotes to my growing collection. Rest assured that this will continue: as I've written before, I have some great content coming up soon.
Oh, I almost forgot… Happy new year! 🙂
---
Steve Jobs's yacht, Venus, now launched
"There's no yacht in my future," Steve Jobs declared to NY Times journalist John Markoff in November 1995, to illustrate his goal in life was not to make money. Had he not died last year, this phrase would be filed among the many contradictory statements Jobs made throughout his life —because two weeks ago, the yacht he spent the last years of his life designing finally launched. I just added a dedicated page about this boat under Steve's Places (where it best fits, with the private jet).
We first heard about the Jobs yacht last year, when the Isaacson biography was published. It remained a mystery to me since then, especially because of my particular interest in ship design (albeit bigger ones) —but I somehow didn't expect it to ever be revealed. I thought it would remain in the private sphere of the Jobs family, if it was finished at all. But the resolve of Laurene Powell-Jobs and the voyeurism of today's media got the better of me, as the yacht (Hull #684) was launched very publicly on October 28 2012. The Feadship shipyard, where the boat was built, even released a note about it on their website (without mentioning the owner's identity, though; but the rows of iMacs in the bridge leave little doubt about that).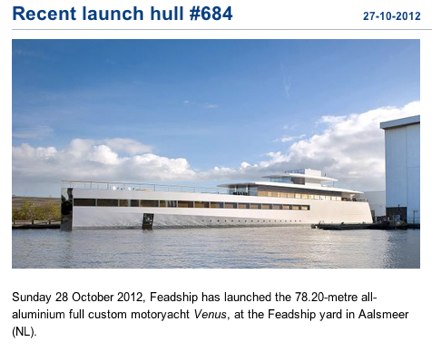 The press release on Feadship's website
The Venus —as she is named, after the Roman goddess born from the foam of Uranus's genitals dropped into the sea (Wikipedia confirms)— is indeed very Jobsian in her aesthetics. The very clear-cut lines of her hull, the minimalist superstructure with its right angles and floor to ceiling windows, the lack of any visible mooring or radio equipment… all make for a surprising design that evokes more a floating modernist house than your typical billionaire yacht. Compare and contrast, for example, with Larry Ellison's latest yacht, Musashi, which is way more traditional —and whose design Jobs supposedly hated (according to Isaacson) which inspired him to create his own, perfect ship.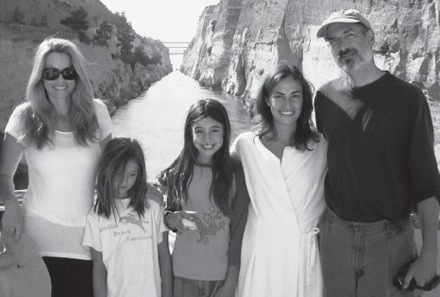 The Jobses on a cruise in the Corinth Canal, circa 2006
Isaacson writes:
Before his liver transplant, he and his family used to rent a boat for vacations, traveling to Mexico, the South Pacific, or the Mediterranean. On many of these cruises, Jobs got bored or began to hate the design of the boat, so they would cut the trip short and fly to Kona Village. But sometimes the cruise worked well. "The best vacation I've ever been on was when we went down the coast of Italy, then to Athens—which is a pit, but the Parthenon is mind-blowing—and then to Ephesus in Turkey, where they have these ancient public lavatories in marble with a place in the middle for musicians to serenade." […]

After the joy of that cruise, Jobs had amused himself by beginning to design, and then repeatedly redesigning, a boat he said he wanted to build someday. When he got sick again in 2009, he almost canceled the project. "I didn't think I would be alive when it got done," he recalled. "But that made me so sad, and I decided that working on the design was fun to do, and maybe I have a shot at being alive when it's done. If I stop work on the boat and then I make it alive for another two years, I would be really pissed. So I've kept going."

After our omelets at the café, we went back to his house and he showed me all of the models and architectural drawings. As expected, the planned yacht was sleek and minimalist. The teak decks were perfectly flat and unblemished by any accoutrements. As at an Apple store, the cabin windows were large panes, almost floor to ceiling, and the main living area was designed to have walls of glass that were forty feet long and ten feet high. He had gotten the chief engineer of the Apple stores to design a special glass that was able to provide structural support.

By then the boat was under construction by the Dutch custom yacht builders Feadship, but Jobs was still fiddling with the design. "I know that it's possible I will die and leave Laurene with a half-built boat," he said. "But I have to keep going on it. If I don't, it's an admission that I'm about to die."
The scenes described by Isaacson lets my imagination run wild. Can you imagine being shown models and drawings of the yacht of Steve Jobs's dreams… by the man himself? It reminds me of the famed models of a hypothetical modern house for Woodside, dating back from the late 1980s, but which never materialized. It seems that the prospect of a nearing death must have pushed the Apple CEO to stop refining (some would say procrastinating) and actually turn his plans into reality. I find it interesting that he chose to spend the limited time he had on the yacht (and the Apple Spaceship) rather than his family home. Perhaps it is because of the greater liberty and challenge that is peculiar to naval architecture; a ship is its own universe, it must be self-sufficient when on water. Not so with a house. Or perhaps it was only because he could see the Woodside teardown taking too long to happen, who knows.
This first, exciting yet mysterious reveal was in October 2011, just two weeks after Steve's passing. But another one came some six months later, when my fellow countryman designer Philippe Starck announced in a radio interview he was working on a "revolutionary" project with Apple that would come out "in eight months". I assumed he was drunk or suicidal —the former option was probably the most likely, because after Apple denied his claims, he admitted he was in fact working on a personal project with the Jobs family: "I've come to visit him once a month for seven years in Palo Alto, and I'm actually going there next Monday, because now that he's dead, I'm working with his wife. We enjoyed exchanging about interesting things" (translated from the French by yours truly).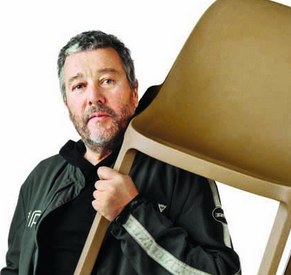 French designer Philippe Starck who partook in the Venus design
The anecdote aside, I thought it was another Jobsian move to use the services of Starck. This is because I've come to believe the theory laid out by Alan Deutschman in The Second Coming of Steve Jobs, according to which Jobs was insecure about his taste in his personal life (not so much in his work, obviously) and liked to take advice from renown taste makers to shape his own. It's possible he couldn't decide when you know he spent the better part of his youth living in empty houses. And it's also true that he used world-famous architect I. M. Pei's services to design not only the staircase of the NeXT offices, but also the remodeling of his Manhattan apartment (not that he ever lived there) and supposedly some early projects for Woodside, too. That he would call on Starck for the design of his yacht fits well within this trend.
The last Jobsian touch was actually from the Jobs family —maybe Steve had planned, or maybe Laurene did something she thought he would have done. They sent a thank you note to all the workers of the Feadship yard stating "Thank you for your hard work and craftsmanship – from the Jobs family" with a stylized silhouette of the Venus at the bottom. (The note came with an iPod shuffle which, to be honest, did remind me of one of the earliest Fake Steve Jobs pieces…)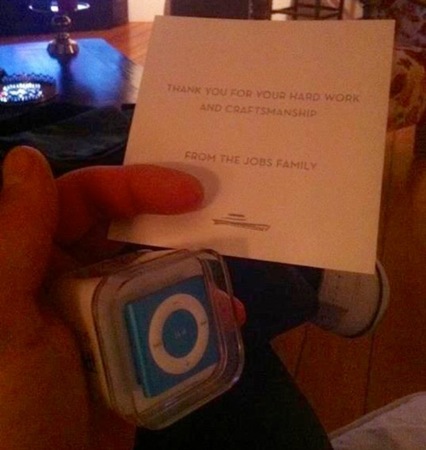 And so it is one year after her reveal, and apparently eight years since her inception, that the Venus starts sailing the seven seas. I really wonder what she will be used for. Will the Jobses actually use it and sail across the globe? Or did Laurene insist on finishing one his husband's late projects? This might stay secret as it is part of the Jobses private life. But my appetite for more details is really not about that. Indeed, many more questions have sprung in my mind from these first photos of the yacht: what is it like inside? Where and how is the equipment hidden? How does the superstructure hold? How are the navigation computer systems designed? What's the engine room look like? (I imagine it's neat knowing Steve's love for machines)… The mystery of Steve Jobs goes on.
---
Happy birthday!
As many of you probably know, Steve Jobs was born on February 24. He would have turned 57 today.
What you may not know, and shame on you for that, is that, coincidentally, I —perhaps the greatest Jobs-fanboy that ever lived— was also born on that day, some 32 years later. And, less coincidentally, I launched the first iteration of this website on my 19th birthday (Steve's 51st, follow please!), on 24 February 2006.
I had set a deadline for myself to launch the new all about Steve Jobs.com no later than today, its 6th birthday. I'm glad I could meet it.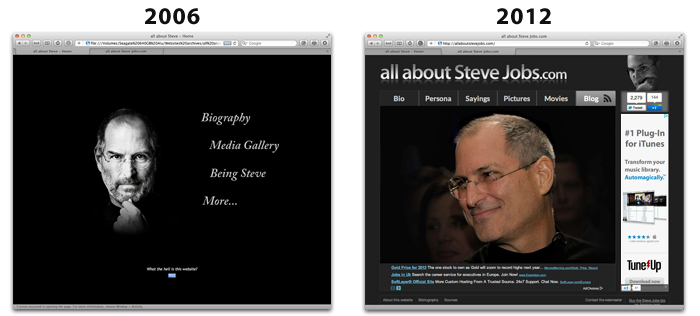 We've come a long way, baby!
---
Status report
Three weeks have passed since Steve has left us.
Never before in my life have I felt that time is our most precious resource.
Right now I am facing several time constraints. As most of you know, all my work related to Steve Jobs is done in my so-called 'spare time', time that is not blocked by professional or social imperatives. I am striving to use that time as best as I can to achieve two things:
first, keep up with the continuous influx of new information, new pictures, new stories about Steve that have come out since his death. Right now this includes reading and analyzing the much-anticipated biography by Walter Isaacson.
also keep working on the next version of all about Steve Jobs.com which has been in the works for the past two months. Obviously the two are linked, because that version will integrate, in one form or another, the aforementioned content.
The idea of a completely refurbished and much more complete website came to me this summer. It was reinforced and re-thought out in the wake of Steve's resignation as Apple CEO. Then I understood his career 'as we knew it' was over.  The website had to reflect that. Mind you, I never expected him to leave us so soon. But the outpouring of emotions from all over the world that followed his passing, which translated to record-breaking traffic to all about Steve Jobs.com, was only more evidence to me that I was on the right track. The world can't get enough of Steve Jobs — and that's a good sign.
I like to think that my work on the website is similar to Apple's approach of designing a product. This is why for this new version I am rewriting the code and redesigning the visual elements from scratch. That's also why I will not speak up on a release date, as I don't want to be constrained by my own promises. I will only release it when I am proud of the result. Let me just say that I think you will all enjoy the enhancements, both in terms of content (some of it badly needed an update) and of form.
Obviously, I do not have time to update the current website and this blog in addition. It will likely stay in this current form until the new website is ready. If you are eager to keep up with the latest news on Steve Jobs — and boy, there sure are things not to miss — I suggest you follow me on Twitter. This is the main medium through which I will communicate both SJ news and news on the website. You can also easily reach out to me through that service.
---
About blogs, biographies and apricot orchards
I have been thinking about the next version of the website for some time, and it's time for Phase I to roll out.
I have moved the website to a new host last week. It should now be faster and more reliable. And today, I moved the blog to that same host. It is now really 100% under all about Steve Jobs.com, since all things Steve Jobs doesn't seem to be catching on, and is just too confusing. Even though I am keeping the URL allthingsstevejobs.com, it will now point to localhost:8888/sqltest/blog. You might have noticed the better cosmetic integration with the rest of the website too.
I don't think any of you has missed the two big pieces of Steve Jobs news from the past two weeks:
the city of Cupertino has published the plans for the upcoming Apple 'spaceship' campus. It's not bigger than the Pentagon — but close. If you've had a thorough look at the plans, Steve's favored apricot orchards are showing up in the north east garden of the campus (see picture below).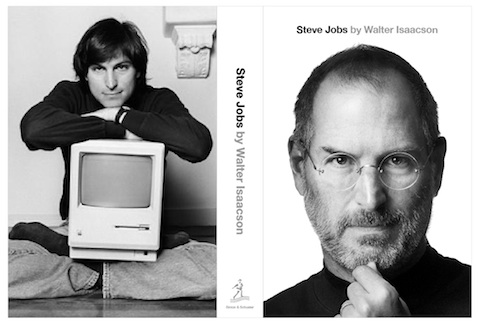 ---
Batch of 11 new vintage Steve Jobs pictures
With the thousands of pictures of Steve Jobs that are already present on the website, you might think that it's impossible for me to find new ones apart from new Apple events and iAppearances of iSteve.
But no (and frankly it continues to amaze me) — I sometimes stumble across never-seen-(by-me)-before pictures of Steve's past, and it's always refreshing.
Today is one of those occasions: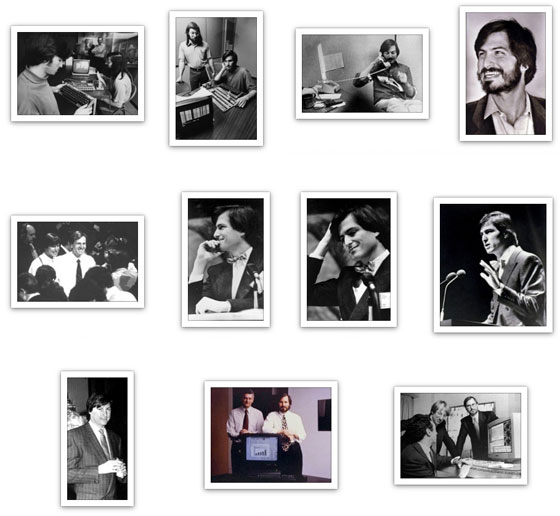 the first two pics are from the very early days of Apple, 1976. They're of very fine quality, for once.
the following two from 1980 and 1981
the following pic with John Sculley and Woz, is from the Apple IIc introduction event in February 1984. It is not new but of better quality than the previous version, and it's corrected, as I had (like many) misattributed it to the Mac introduction of January 24
the following two are from the April 24 1984 Apple event (anyone knows what that one was?)
the following is from Apple's Annual Shareholders Meeting of 1985
the following from 1988
the second to last is very interesting. I only had a cropped version of it. This is the only pic I've found of Steve with Peter Van Cuylenburg, who was brought in as COO of NeXT by investor Canon in 1992. He only stayed one year, as he betrayed Steve (even worse than Sculley) by calling up Sun's Scott McNealy to have him buy NeXT and install him as CEO. It was a professionally fatal blow to Steve.
the last pic is from Steve's 'wildest wilderness year', 1994. He is posing with Morgan Stanley execs for a NYT article about NeXTSTEP. I have found the article in the NYT archive, have a look at it, it's pretty telling that Steve is barely mentioned in there…
---
Our website featured in the San Jose Mercury News

This happened… whew, two weeks ago already.
On March 11, I got an email from Mike Cassidy, columnist at the San Jose Mercury News. He said he wanted to speak with me about the website. We talked using Skype (on iPhone, on my part) a couple of days later. The conversation itself lasted for almost an hour. I was surprised by Mike's interest, especially since I thought he wanted the story to feature in a larger piece about Apple or Steve Jobs in general.
The following week, the article was published on the front page of the Sunday Business section of the San Jose Mercury News. For those of you that don't know, the Mercury News is the local newspaper of San Jose, capital of Silicon Valley. It's basically Steve Jobs' local newspaper! Gasp. Pictured right is a scanned version of that first page.
The online version of the article is here: Cassidy: Romain Moisescot makes Steve Jobs a full-time job
For those of you wondering — Mike was very polite and courteous during the interview. All that is mentioned in the article we talked about, including the sentence 'Yes, the site can feel a little creepy' which he mentioned as an echo of Fake Steve's 2006 post (which I am very proud of). My stance on the 'creepiness' of all bout Steve Jobs.com is that I want to cover really *all* about Steve Jobs. However I have the greatest respect for Steve Jobs, so I never cross certain lines on the website or the blog (if you see what I mean — especially after the recent health episodes…). But for example since anyone can find Steve's home address simply by typing it into Google Maps, why not have it properly and neatly presented on my website? That's why I decided to cover more of Steve's private life on the website for the past two years. But I don't think that there's anything borderline on the website.
Anyway, to come back to the article, my fear of course was what would come out of it. My conversation with Mike was pretty long and I knew he would have to select what he would write about. He did choose some aspects of our conversation that were anecdotal, and distorted them a bit; I'm referring to the anecdote with the "Contact" button, the truth being that I put it back because I am more often than not amused by the emails I get from people who think I am/know Steve Jobs. But overall the article is very close to the truth and I am very happy with its portrayal of the website.
Ha, and the picture — no, it wasn't a professional photographer who flew from San Jose to my home in Paris to take a picture of me. It's actually by one of my best friends who is also a pretty good amateur photographer at his lost hours.
Anyway, an interesting remark to close this narcissistic piece. Here are two screenshots of my Analytics stats: (more…)
---
5 new pictures added
I just added five interesting pictures of Steve to all about Steve Jobs.com: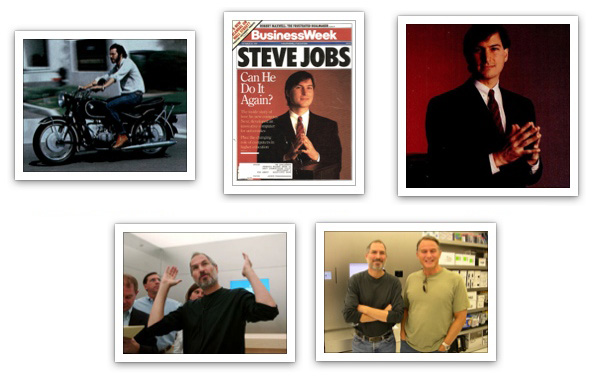 the first one kind of made a sensation some time ago on motorcycle fans forums… so that's why it escaped my careful watch. It's a 1981 picture of Steve (when he was 26) riding an old BMW motorcycle. As most of you know, he later gave such a motorcycle to the Mac team, who put it in their lobby — it might be the same one. Find the pic in the '1981' album
the two following pics are from an interesting photo shoot that was made to illustrate the launching of NeXT Cube in mid-1988. As you can see, Steve strikes his favorite namaste pose, and made it to the cover of BusinessWeek (Oct 24 1988 issue). He was also on the cover of their arch-rival Newsweek the same week. The story is, he promised both magazines exclusivity in exchange of the cover 😉 Find those in the '1988' album
the two latter pics are from the opening of the first Apple mini retail store, on October 16 2004. You can see Steve pose with his neighbor and former employee Dan'L Lewin on the second picture. Dan'l was the brilliant salesman behind the Macintosh University Consortium in 1984, then co-founded NeXT with Steve in 1986 as head of marketing. He left NeXT for Microsoft in 1991. The album is here.
---
New pictures added
Today I added 13 new pictures of Steve Jobs to all about Steve Jobs.com. Here they are: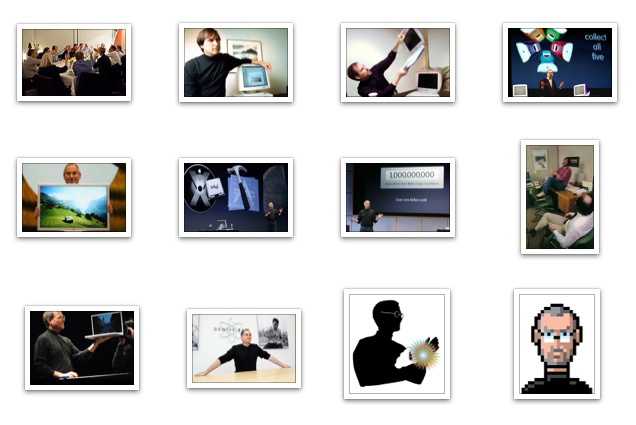 From left to right and top to bottom:
2 pictures of the recent dinner with Barack Obama (only one is shown here) in 2010+
1 picture in the gallery '1995'
1 in '1999'
1 in 'Macworld SF 1999'
1 in 'WWDC 2004'
1 in 'WWDC 2005'
1 in 'Apple event of Feb 28, 2006'
1 in '1981' (thanks Brian!)
1 in 'Macworld SF 2001'
1 in 'NY SoHo Retail Store opening' (2002)
and 2 caricatures
Most pictures are better/enlarged versions of pics I already had, with the exception of the (pretty nice) 1981 pic, the 1995 pic (with NeXTSTEP running on Intel PCs), the 2006 pic, of course the Obama pics, and the caricatures.
Hope you like 'em!
---
Our Google ranking: Oh. My. God.
…all about Steve Jobs.com is now before Apple.com's official bio in Google results for a query on "steve jobs". WOW! I didn't think this would ever happen.
Watch out, Wikipedia 😉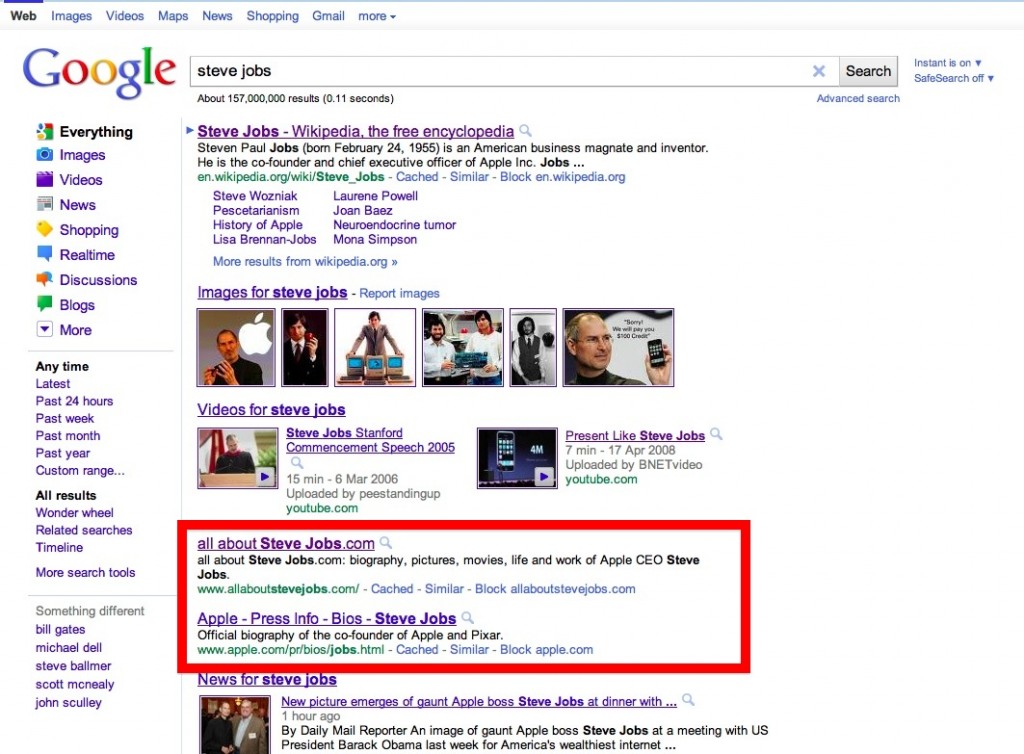 ---