Posts tagged 'all about Steve Jobs.com'
---
Two SJ infographics for your perusal
Infographics are the latest hot thing on the Internet. No one has time to read anymore, I guess.
This week we are blessed with two infographics on Steve, of differing quality:
– the one on the left has historical and grammatical mistakes and I don't like it: How Steve Jobs and Apple became #1
– the one on the right is fun, original, and has the good taste of quoting all about Steve Jobs.com as a source 🙂 : 10 things Steve Jobs could say during sex
I'll let you make your own opinion.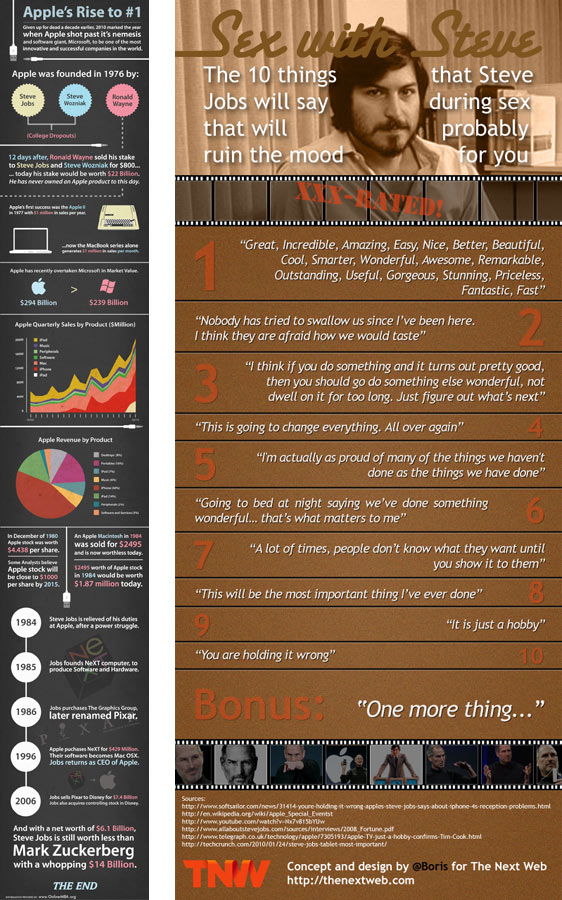 ---
New caricature and parody of Steve
I just added the following caricature to the Caricatures page on all about Steve Jobs.com: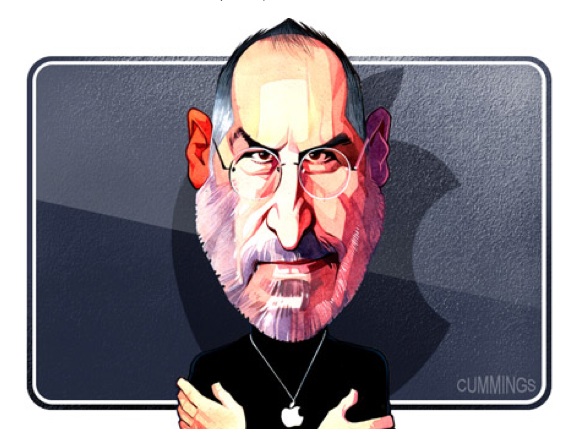 I love the little Apple necklace, remindful of the original iPod shuffle.
Also, thanks to our reader Alex, you can watch here a montage of Steve facing investors on the BBC show Dragon's Den. Pretty amusing.
---
About that "Back to the Mac" keynote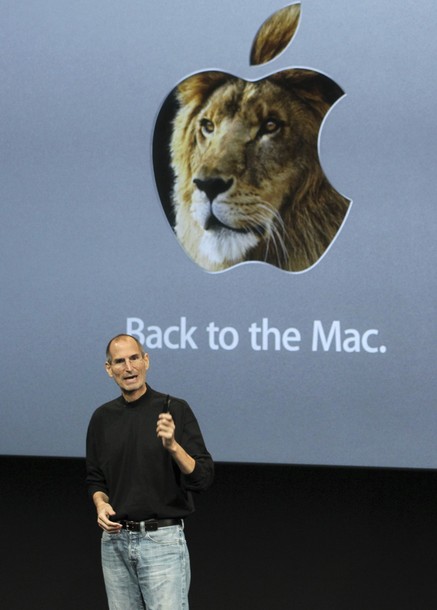 As I've stated before, this blog is not about the Mac, but solely about Steve Jobs. So I won't go back on the details of the latest keynote's announcements.
My only thoughts :
The photos of both the keynote and the new MacBook Air will all be on the new version of all about Steve Jobs (going live any day now)
Once again, Tim Cook has been given the "state of the Mac" part of the keynote, which used to be a Steve Jobs favorite. This is to me an indication that after Steve leaves, Tim Cook will probably handle the "business" part of Apple's future keynotes (I guess the "new products" part will be divided between Phil Schiller and Scott Forstall… god I hope that day never happens)
On that Mac OS X Lion UI: if Steve Jobs' past is any indication, it's very likely that the future OS will not look at all like what was presented today. The UI is always the lastest thing that Steve shows in a new OS – because it's the easiest to copy, but I guess also because it's his favorite part.
Article on TUAW whose title I find funny: Can you trust a Steve Jobs email? "Nope." because it's true that Steve denied there would ever be a Mac AppStore a couple of months ago (although when you read it again, he denied there would be an exclusive Mac AppStore, so technically, he wasn't lying……. yet nothing forced him to write back so it's obvious he wanted to trump the rumor sites).
---
About that Bloomberg TV special
Here's the full video of the Bloomberg TV special on Steve Jobs: Full video
While I was looking at the titles, I thought: OH SHIT! I know this stuff!!! I know what this is.
Indeed, in December 2009, I was contacted by a guy named Ruth O'Neill who said to me:
I'm a researcher on a new documentary series for Bloomberg Television. "GAMECHANGERS" (working title) is a half hour documentary program that explores the complex careers of the executives and thought leaders who have defined the world of technology, finance, politics and culture.
Well, I never thought it took so long to make a TV documentary. Almost a year! I thought the project had been abandoned. I helped Ruth on finding pictures of Steve and he said he loved the site (yes he did say it). How do you know it's true? Well have a look at the yearbook photo used in the documentary. It's got the exact same noise as the one on the website. It's because i's where it's from! I know it because I scanned it myself from the book The Journey Is the Reward. That's right, a picture I scanned from a book ended up on national television! 🙂
Seriously, I think the documentary picked the best people to talk about Steve Jobs, namely: Robert X Cringely (who did Triumph of the Nerds), Michael Moritz, Alan Deutschman (I love The Second Coming of Steve Jobs) and Leander Kahney (although he did make one mistake saying Steve was living in his Woodside mansion "developing the Mac" – he bought it in November 1984, 10 months after the Mac  was launched). These are exactly the same people I would have chosen, and their books are all well rated on all about Steve Jobs' sources/bibliography page. I don't know if this is related to Ruth, but since he repeatedly said he loved the site, I'd like to think it is.
---
Steve emails about Apple TV shipment
MacRumors reported yesterday that Steve sent an email to one of their readers about the soon-to-begin shipment of the new Apple TV. The style is Steve-ish to say the least.
Full exchange below :
Any update on shipment of your hobby project? Looks like it will have to ship early next week for delivery before the end of this month.
Yep.

Sent from my iPhone
Amazing, isn't it? 🙂
Seriously, I will report here any email Steve sends or is rumored to have sent. I was planning to open an "emails from steve" page on all about Steve Jobs.com but this blog is the perfect place for that. I can't believe Emails from Steve Jobs thought of it before I did.
---
Stop comparing yourself with Steve Jobs
The prestigious Harvard Business Review recently published an interesting article: Stop Comparing Yourself With Steve Jobs by Dan Pallotta. The main idea is that you should draw inspiration from the people you admire, but certainly not compare yourself with them. The reason the article uses Steve Jobs is explained in the first paragraph already:
Comparing yourself with Steve Jobs is not healthy. Never mind that it's probably the pastime of every alpha male and female businessperson on the planet these days.
There are two reasons why the article caught my eye:
– one, some people who (sadly) don't spend enough time on the website think that the section "Being Steve" refers to "how to emulate Steve Jobs". Maybe the name is a bad choice — though I like it and don't intend to change it, sorry folks. But if you spend a couple minutes on the website, you'll see it's a description of Steve's personality, things that have to be dealt with on all about Steve Jobs but have nothing to do on the biography. So — no, it's not a manual on how to "be like Steve".
– second, and more importantly, during my current studies in business school, I do have often heard Steve Jobs quoted in many a class by my teachers as a great inspiration. This is quite ironic to me.
(more…)
---
Gizmodo quotes all about Steve Jobs.com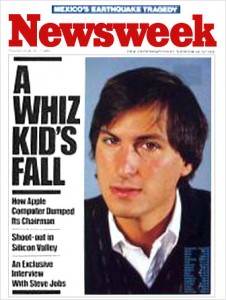 Gizmodo posted an article today in which they quoted all about Steve Jobs.com as a source:
25 Years Ago, Steve Jobs Left Apple
The article is about Steve's resignation from Apple in 1985. It is short but without errors, which is worth noting because it's so rare in mainstream media/blogs (not to mention Wikipedia). I'd like to think our biography of Steve helped in this respect 😉
Since we're dealing with all about Steve Jobs.com being quoted on popular blogs, let's not forget TechCrunch, which also used our long biography as a source two weeks ago, in their article:
Steve Jobs' Doublespeak Strikes Again: "No" Actually Meant "Yes" For Apple TV
The bio is supposed to illustrate Steve's lies regarding "Apple's forays into mobile". The thesis is that Steve is shameless about lying to the media about Apple's strategy. We'll come back to Steve's tendency to lie in a later post that is likely to be full of colorful anecdotes.
These two articles are quite a confirmation for me that I am on the right track with this blog: because they show both that all about Steve Jobs.com is gaining momentum as a trustworthy source of information regarding Steve, and that people are eager to learn more about Apple's CEO and his 35-year-long career.
Stay tuned for more Steve Jobs news!
---